4 Tips to Building an Efficient House in a Hot Climate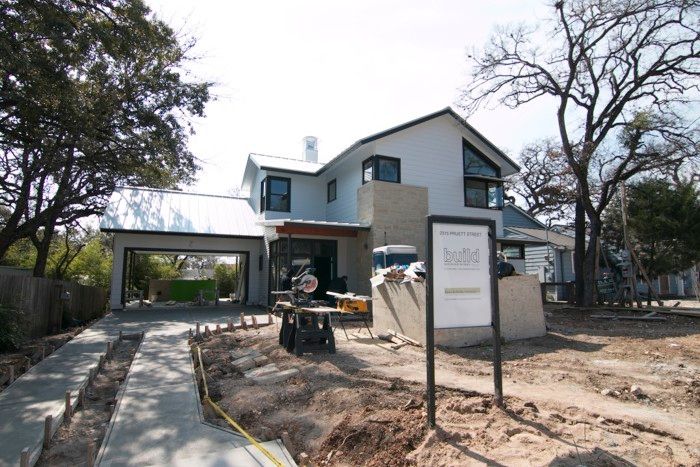 The Texas Sun is blazing where I build in Austin Texas. Let me give you four tips for building an efficient home that will stay cool even during the hottest summer.
#1. Focus on the Lid:
The roof on your house is the first line of defense against the summer sun's rays.  Think of your roof like a giant sun hat for your house. I always like to see two foot overhangs on a house, and windows with direct South & West sun can really benefit from an awning, which will protect the window from direct sunlight (& water). Most roofs on American homes are dark colored composition shingles. Those dark roofs soak up the heat and as a result most attics in the summer are 20-40 degrees hotter than ambient air temps. I'm a big fan of light colored roofs. A 24 or 26 ga silver metal roof is a terrific choice for both efficiency and durability. The light colored metal will act as a radiant barrier to reject the sun's UV rays and keep the attic cooler.
#2. Build Tight:
Hot air leaking into your air-conditioned building is a major energy drain for your house. Take measures during a remodel or new build to tighten the envelope of your house as well as your ductwork. Seal all penetrations through your walls with canned spray foam on the inside, and tape on the outside. Don't rely on caulking your siding to air seal because studies have shown that exterior sealing of your cladding to be ineffective. I also recommend a blower door & duct blast test prior to hanging sheetrock so you can verify your house meets current code airtightness standards (or better!)
#3 Duct inside your envelope.  
Most houses in the South are either Concrete Slab or Pier/Beam.  Either way, we don't usually have a full basement to install HVAC systems & ducts like Northern houses.  As a result, most houses in the South have ducts running in Attics or Crawlspaces.  These attics can easily run upward of 130 degrees on a summer day and this is a terrible place for your ductwork!  Running ducts in the attic also sets your house up for depressurization because those duct will leak cold air into the attic and your house finds a way to make up that loss by leaking air back down into the house.  It's a double whammy of inefficiency.  Be sure you can get all your ducts inside your air conditioned envelope.
#4 Choose Doors & Windows Wisely:
A major source of leaks I've found in houses is lumberyard doors. Exterior doors from your Window dealer are far tighter with respect to air leakage.  I recently completed a project with all Marvin exterior doors and they sealed up super tight.  Their multi-point locks and weather stripping were far superior and well worth the upgrade.  Likewise, not all windows are created equal.  Look for a tight sealing window.  I like casements because of their inherent air sealing due to the lock mechanism which pulls the window in while locking.  Talk to your window dealer about glass specifications that will help with cooling in your climate too. In the South, I want the lowest SHGC (Solar Heat Gain Coefficient) I can find.  (I typically use Cardinal's Low E 366 glass with an SHGC around .20)  No matter where in the US you build also look for a low U-Factor. U is the opposite of R-value. Lower U-Factors mean better insulating windows.
Follow these 4 tips and you'll be well on your way to a very efficient house. I wish you the best in your new BUILD!
Best,
Matt Risinger
Risinger Homes in Austin, TX
Visit my Blog at www.MattRisinger.com
Risinger Homes is a custom builder and whole house remodeling contractor that specializes in Architect driven and fine craftsmanship work. We utilize an in-house carpentry staff and the latest building science research to build dramatically more efficient, healthy and durable homes.
Be sure to check out my video blog on YouTube
follow me on Twitter @MattRisinger
This is a Barley Pfieffer Architects house we're building with a Galvalume Roof and Integrity Windows. Notice the awnings and overhangs.
Blower Door testing is essential to ensure you've actually built a tight house.
Spray foam at the roofline is an easy way to encapsulate your attic and bring ducts inside.
Choose windows & doors carefully. I prefer casements due to their mechanical seal which makes them inherently more air tight.