Design
A Perfect Kitchen Grows Up
An architect redesigns her kitchen to meet the needs of a maturing family.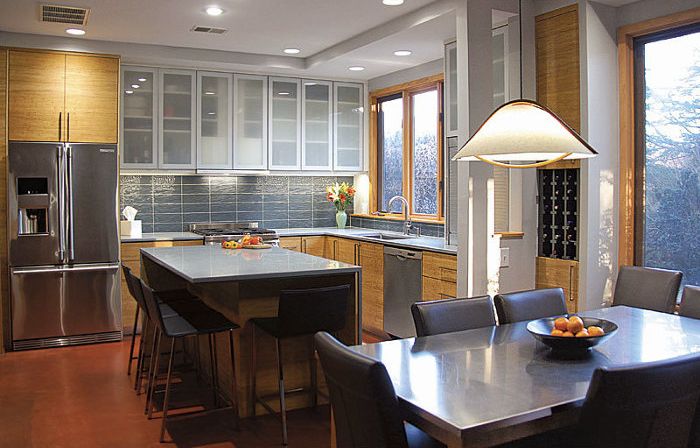 Synopsis: Architect Sophie Piesse took great care in designing a kitchen for herself and her husband when they built their first house in North Carolina. Fifteen years later,  it was evident that for all its charm, the kitchen had proven itself no match for an active family with two boys rapidly approaching high school. Taking stock of the new priorities of an active, growing family, Piesse redesigned her "perfect" kitchen with a larger island, more functional storage, and a more sophisticated look.
Had someone asked me about my kitchen in 1999, I would have said it was perfect. As a centerpiece of the new home we had just built, it met the particular needs of myself and my husband. Even several years later when our first son was born, the space continued to fit us perfectly. In fact, it matched our lifestyle so well that it was written up in two magazines as a prime example of a comfortable, functional, family-friendly kitchen.
This kitchen that we had designed for ourselves as first-time homeowners on a very tight budget had served us well when we needed little more than a modest but comfortable kitchen, centrally located, near the entry to the house. At the time, we also wanted a home with an open plan that incorporated the living and dining areas, brought in ample daylight, and felt connected to the outdoors. We wanted it to be affordable and as green as possible.
To control some of the costs, we assembled and installed the Ikea cabinets ourselves, and we chose laminate counters. We got some great deals on appliances, which allowed us to splurge on a tall and very energy-efficient 14-cu.-ft. ConServ refrigerator/freezer. In 1999, it was way ahead of the curve on efficiency, and its compact size worked well for a couple, and even a family of three.
Kitchens need to grow, too
Fast-forward to 2014. That first son had become an active 13-year-old, with a younger brother who was all energy. We'd already remodeled much of the house (adding a playroom and an expanded mudroom) to match the new family dynamic, but we also reached the conclusion that our kitchen wasn't quite as perfect as it once had been.
As a residential architect, I renovate a lot of kitchens. The conversations I have with my clients always focus on how the kitchen serves the family and how it should complement their lives. But what I also discuss with them — and what I now needed to talk about with my own family — is how our kitchens need to grow with us.
Good bones, but different needs
Fifteen years later, the kitchen's basic layout still worked great, as did the lighting, the appliance locations, the size, and the connection to the rest of the house and to the outdoors. But the kitchen now served a busy family of four. Our two boys enjoy helping us cook, and we all love to entertain and to hang out in the kitchen.
For more photos, drawings, and details, click the View PDF button below:
View PDF