Wood: The Other Timeless Countertop Material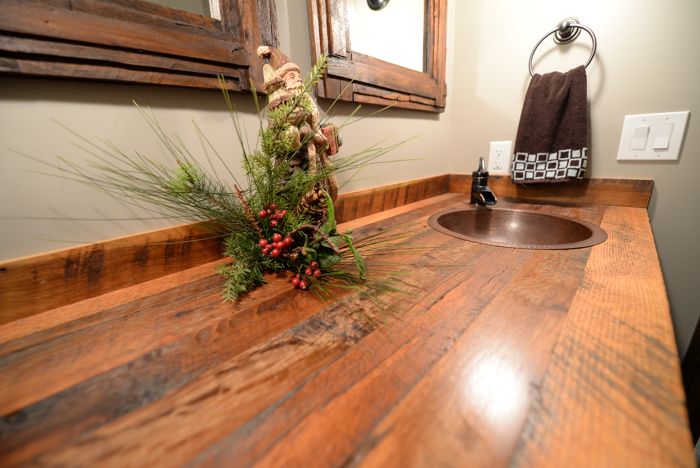 Consider this classic alternative to stone
If you're not sure about wood's durability compared to other countertop materials, you have to at least acknowledge its versatility and charm as a kitchen-cabinet or bathroom-vanity surface. Either way, you'll still probably enjoy browsing the wide selection of wood choices on Elmwood Reclaimed Timber's website . Maybe the unique grain of an antique oak or heart pine will catch your eye. Or perhaps smooth, dark boards from a recently salvaged old-growth walnut or cherry tree would fit your home's style. Whatever you like, all you need to do is find your favorite species and style, contact a sales rep, and have stock or custom milled slabs shipped to your door.
And Elmwood isn't just you're run-of-the-mill lumber reseller. The company's 21st-century facility includes a high-tech sawmill, an impressive woodshop, and a design center, all centrally located near Kansas City, MO, (and accesible through their website), for easy shipping to anywhere in the U.S. Elmwood sells more than countertops too; take a look at their products page for a wide selection of materials, including flooring, paneling, beams, and siding. Plus, watch these videos to see the whole operation in action.
Product Breakdown
Numerous species and styles of reclaimed and salvaged timbers 
Buy from their stock inventory or order a custom-made project
Milled wood is carefully inspected, precision cut, and kiln dried
All wood products are FSC certified and can count towards LEED points
$46 – $86 / sq.ft. 
www.elmwoodreclaimedtimber.com
Not just for butcherblocks
The big argument against wood surfaces in kitchens and bathrooms is that they won't hold up to the abuse that stone and synthetic materials can withstand. It's true that raw wood will weather quickly when exposed to water, wine, oil, and everything else that gets spilled daily on the average countertop, but with the right finish, wood can actually fair pretty well.
In my bathroom at home I've got an antique oak dresser that I converted into a vanity about six about 6 years ago. It's covered in two coats of spar varnish, and I sealed the inset ceramic sink to the top with a bead of clear silicone. Every day I find puddles on top from family members using the sink, and the top looks as shiny and new as the day I installed it. 
Another example comes from a kitchen in an 18th-century farmhouse where I once installed an antique oak countertop similar to the ones Elmwood offers. I gave the oak several hand-rubbed coats of mineral oil (the simplest and least permanent of the available finishes for a countertop), with the understanding that it would take some routine maintenence to keep it looking bright and clean. Five years later I was hired to give it a refresh. It looked a bit dry in spots (from lack of maintenence), and there were some stains from water, wine, and other things you'd find in the kitchen, but with some sanding and a little mineral oil I had it looking like new in no time. The owners were fine with this–they preferred the look of raw wood–but if you want a maintenence-free top, you can find a variety of durable finishes at your local hardware store or online from reputable suppliers like Sutherland Welles.
The rustic texture and warm hue of this reclaimed-timber vanity top pair well with a hammered-copper sink.
Whether you're style is clean an contemporary or rustic antique, theres a wood choice for you.
Elmwood Reclaimed Timber has this handy virtual-comparison feature in their online gallery. Pick two styles of wood and look at them side by side in the same photo to get a better idea of which one you prefer.
With the right finish, an oak countertop like this one can hold up to the wear and tear of a well-used kitchen.