Google Eases Rules for Smart-Home Developers
After restricting access to the Nest thermostat in 2019, Google has a change of heart.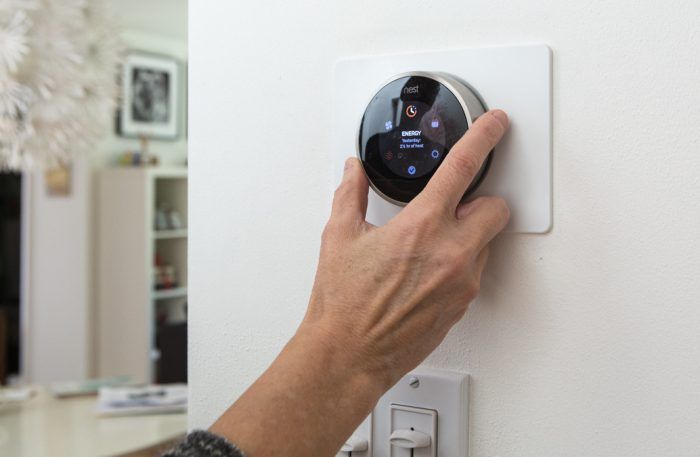 The Google Nest thermostat was a favorite for smart-home developers until 2019, when the Alphabet Inc. subsidiary tightened the rules and made it harder to integrate the Nest into smart-home networks.
As The Los Angeles Times reported at the time, the decision to stop supporting the application programming interface, or API, called Works With Nest made it difficult for developers to work Nest into their smart-home networks. As a result, builders who had been adding the thermostats to their properties stopped buying them.
Google later clarified its plans and said it would be possible for third-party developers to integrate Nest products into their smart-home platforms. Last month, Verge reported that Samsung's Smart Things would be able to support Google Nest devices beginning in January. This week, San Francisco-based Brilliant, which markets an interface that links smart-home devices like thermostats, doorbells, and door locks, also said it could once again offer the Nest thermostat as part of its package.
Mia Sapienza, Brilliant's press and communications lead, said Google's  2019 decision meant that while existing Nest links would continue to work, new ones would not as well. Instead, Google tried to steer customers who wanted to install Nest devices toward its own Google Assistant service. Customers would need to have a Google account to do so, and that turned many builders off, The Times reported.
"It really put a damper on the smart-home community at the time because there's so much competition from all of the different brands,"  Sapienza said in a telephone call. "Consumers don't want to be locked into one brand."
Google, however, said recent changes do not represent a change in policy. "We've always planned to work with partners," a company spokeswoman said in an email.
As the smart-home market expands, Brilliant's strategy is to allow consumers to choose devices made by different manufacturers and allow them to work with a single network interface. The Nest pullback, she said, "was a sour feeling for the smart-home community."
Google said in September that it was making something called the Device Access Console available, allowing secure access to Nest products with applications outside the Google software family. A number of companies have completed the Early Access Program with the Nest thermostat, camera, or doorbell, including Alarm.com, Control4, NRG Energy and Vivint Smart Home, according to Google.
"In the coming months, we expect additional devices to be supported and more smart-home partners to launch their integrations as well," Google said.
The change doesn't mean companies like Brilliant will suddenly bring in all Nest products, or that the door is wide open to any smart-home developer who wants to add Nest to its smart-home package. But it does represent a gradual widening of the market for Nest products in integrated systems and more flexibility for developers.
The development comes at a time of growing interest in smart-home technologies that allow homeowners to access and control a variety of devices around the house remotely, Sapienza said. The list of devices now runs in the thousands representing hundreds of different brands, according to Verge.
"We're right about there, not at the tipping point, but at the taking-off point," she said.
She likened the growth of the smart-home industry to what's happened in the auto industry.
"Think about a car," she said. "Ten years ago, not everyone had a GPS in their car. They just had the radio. But now your bottom-line car is coming with Apple Car Play. Smart homes are really going to have the same trend as a smart car. It's not going to be a smart car. It's just going to be a car.
"One day, it's not going to be a smart home," she continued. "It's going to be a home. And if it doesn't have these devices, that's going to be weird."
---
Scott Gibson is a contributing writer at Green Building Advisor and Fine Homebuilding magazine.