How-To
Sheathing the Roof
Sheathing takes teamwork — cutting, moving the panels out, placing, and then nailing.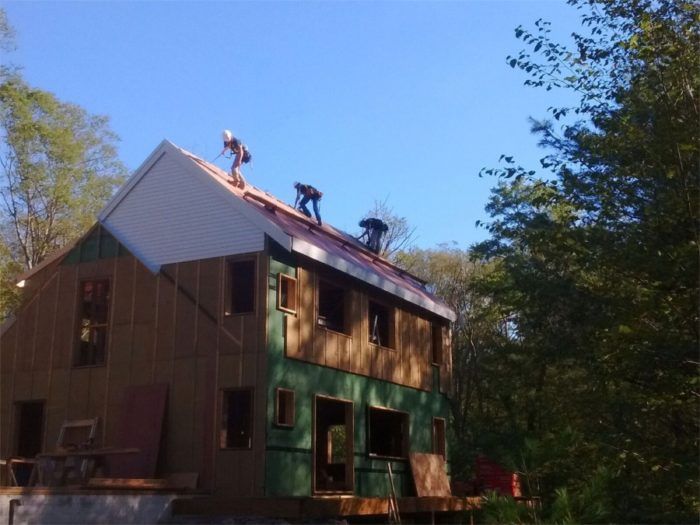 I loaded the attic joists with 46 sheets of 5/8-in.-thick T&G Huber Zip panels before we started framing the roof. This gave us a good work platform to set the Microllam beams and TJI rafters. But once the rafters were up, the space seemed crowded. Though the roof is big, there isn't much headroom beneath the rafters.
WACTC students broke up into teams to sheath the roof. Three harnessed up and stepped out onto the 10-pitch roof to place the panels, while two others worked inside the attic cutting and handing out the sheets.
It was a challenge jockeying the sheets around the beams, braces, and rafters in order to pass them out onto the roof.
Handling the Zip sheets on the roof isn't as hard, but working around the lifelines keeps each student within a vertical zone. Nailing off the sheets is quick with the MAX coil sheathing nailers. They're pretty light, and the coil baskets hold about 250 nails, minimizing downtime for reloads. The engineer specified 8d ring-shank nails spaced 4 in. o.c. on any panels and rafters within 4 ft. of the rake edges, and 6 in. o.c. within 4 ft. of the ridge and eave. To keep it simple, I suggested nailing off anything within 4 ft. of any edge of the roof at 4 in. o.c.
Eventually we'll pass all of the sheets out onto the roof, leaving us only the ceiling joists to stand on.