Tools & Materials
Installing MemBrain
MemBrain vapor variable sheets are installed to the ceiling joists to block air movement into the attic.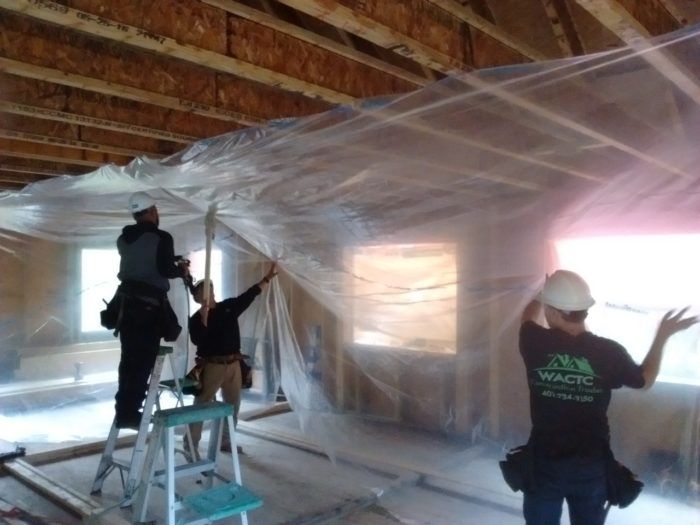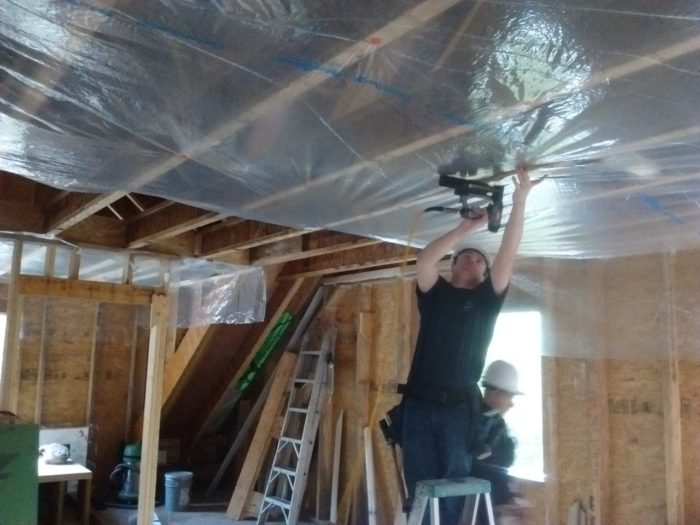 While a couple crews worked on the porch, garage and roof, the crew working with Mr. Haynes tackled one of the most important steps in the project — sealing the living space from the attic. The second floor ceiling has to be installed in an air-tight fashion. On this project we're using Certainteed's Membrain 'smart' vapor retarder to block air from moving between the living space and the attic. To look at it you'd think it was ordinary polyetheylene plastic but Membrain has variable permeability to permit moisture vapor to move through while blocking air movement.
Cameron, Matt and Derek used cap staplers to tack the sheet to the ceiling joists. Cap staples are better than using hammer-tacker staples when you're trying to minimize holes. The caps help protect the sheet from being damaged by the nose of the stapler.   And the caps prevent the Membrain from tearing out at the staple legs and crowns.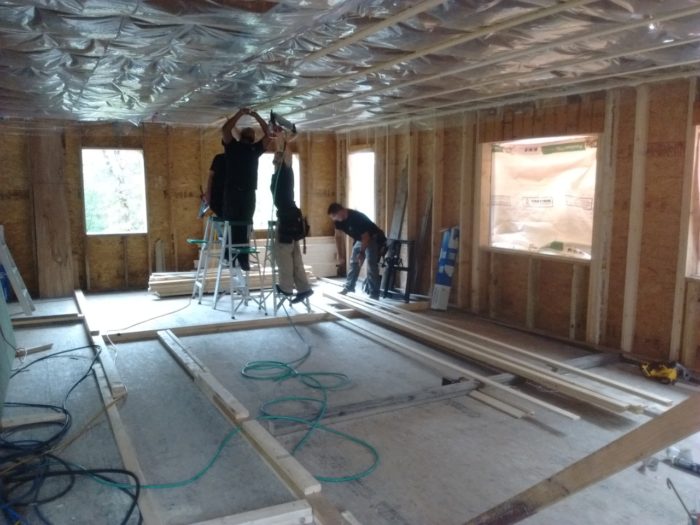 After the sheet was tacked up, the crew nailed 1×3 furring strips over the Membrain. The furring strips serve a couple functions: they hold the Membrain in place, they protect the material from damage when the interior partition walls are erected, and they create a space where some wires can be run without penetrating the Membrain.
The Membrain still needs to be tightly sealed to the exterior wall plates and to a strip of Membrain that Bruce and I positioned over the center bearing wall before placing the ceiling joists. The crew used TiteBond's WeatherMaster Ultimate MP sealant. It's super-sticky and bonds well to wood and plastics.
After the windows and doors are installed, we'll use a blower door and smoke to find any leaks in the Membrain and seal them with tape or more WeatherMaster.