Episode 18: Linear Drains, Exterior Weatherization, and Mudsill Repair
Is wood flooring a practical bathroom choice? FHB editors Justin Fink, Rob Yagid, and Brian Pontolilo debate the merits.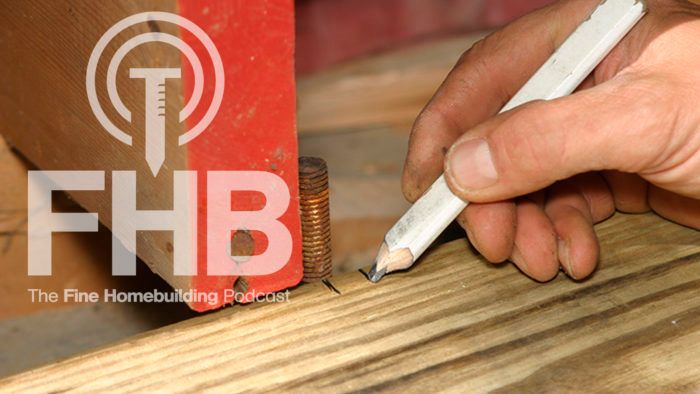 In this episode, host and managing editor Justin Fink talks with editor in chief Rob Yagid and design editor Brian Pontolilo about wood flooring in a bathroom, as well as pressure differentials and air movement in a house. The show is driven by our listeners, so please subscribe and rate us on iTunes or Google Play, and if you have any questions you would like us to dig into for a future show, shoot an email our way: [email protected]. Also, be sure to follow Justin Fink, Rob Yagid, and Fine Homebuilding on Instagram, and like the magazine on Facebook.
The Fine Homebuilding Podcast embodies Fine Homebuilding magazine's commitment to the preservation of craftsmanship and the advancement of home performance in residential construction. The show is an informal but vigorous conversation about the techniques and principles that allow listeners to master their design and building challenges.
LINEAR DRAINS
"Linear Drains for Custom Showers" by Justin Fink.
"Disappearing Drain" by Deb Silber.
"Old-School Path to a Wide-Open Bath" by Tom Meehan.
"Build Up, Not Down" by Jake Bruton.
EXTERIOR WEATHERIZATION
VIDEO: How to Install a Ventilated Rain Screen
"What's the Difference: Control Layers" by Allison Bailes III
"Flashing Windows in Rain-Screen Walls" by Martin Holladay
"Keep Siding Dry With a Vented Rain Screen" by Justin Fink
VIDEO: Lstiburek's "Perfect Wall" explained by Matt Risinger
"How to Build a Perfect Wall" by Scott Gibson
John Straube's doctoral thesis: The Role of Small Gaps Behind Wall Claddings on Drainage and Drying
MUDSILL REPAIR
"Replacing a Rotten Mudsill" by Mike Guertin