How-To
Trimming Curved Stairs
Site-laminated handrails, flexible skirtboards, and off-angle miters are standard on winding walkways.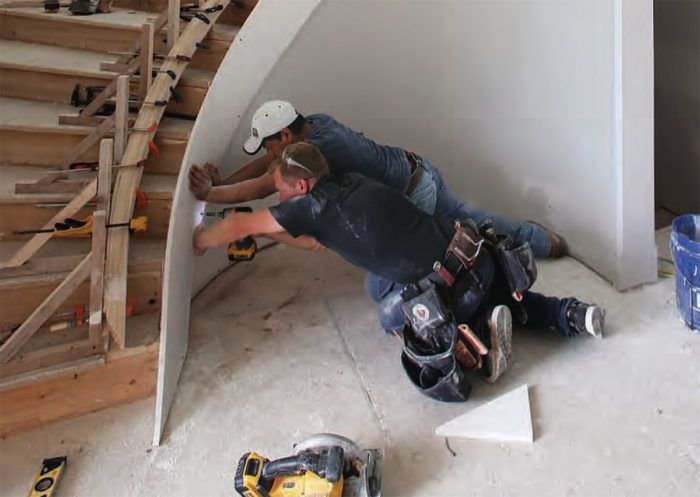 Synopsis: Trim carpenter Jason Mollak is used to trimming basic stairs, but he always enjoys the extra challenge of working on curved stairs. In this article, he lays out the steps he takes, from bending the handrail, to installing a flexible PVC skirtboard, to dressing up the treads and risers, to prepping and fitting the handrail.
Most of the whole-house finish carpentry my crew tackles includes basic stair packages — skirtboards, false treads for the ends of the rough risers and treads, one or more newels, and a handrail with balusters. So it's a nice change of pace when we're thrown a curve.
While I don't recommend that your first set of stairs be curved — or even your fifth — the skills needed to do this work aren't new to finish carpenters, the process is just slightly different than that of a standard stair. Rather than treads with a consistent depth, you're faced with pie-shaped treads. The 45° miters on open-stringer nosings on a standard stair are replaced with off-angle cuts to bridge the curvature of the skirtboard, which must be bent to fit the ascending curve of the stairway rather than just following a simple rise and run on a standard stairway. The key to all of this curved work is to think of the framed stairway as your template. Following this method, and using materials suited for the job, your task is simply to bend, measure, and fit the pieces to the curved template provided by the framers.
It's common practice here in Nebraska for stairs to be fully carpeted, so the framers usually set the stage with particle-board treads that have a rounded front edge. But many jobs, including this one, are trimmed to accommodate false tread ends and a swath of carpet that mimics the classic look of a carpet runner. Our process starts with cutting off the radiused front edge on both sides of each tread to make way for false tread and riser caps.
On straight stairways, we normally use prefabricated false treads, which are squares of plywood with solid-wood molding attached to the edges. These caps are cut to fit along both sides of each rough tread, leaving space for the carpet to be fastened between. The concept is the same on curved stairways, but those false treads have to be fabricated on-site to fit the off-angle joint between tread and curved skirtboard.
The stairs are the bending form
The best way to create a handrail that matches the curve of the stairway is to bend it using the stairs as your guide. To do this, you need bendable railing stock — a profiled handrail made up of strips of wood that are glued together on-site — and rigid brackets to form the rail against. (We sourced this and other stair parts from fitts.com.)
Some carpenters have metal brackets for this task, but I've done fine with site-made versions assembled with clear framing-lumber offcuts. Whatever your bracket type, make sure they are built square, positioned the same distance from the end of each tread, and screwed down securely. When forming the rail, you can push it tight to the treads, but we like to add angled spacer blocks to the brackets to raise it up off the treads for easier clamp placement. Whichever method you use, I recommend reinforcing the uppermost and lowermost brackets with lateral bracing because these supports are susceptible to rolling as the handrail is pushed into place.
For more photos and details, click the View PDF button below:
View PDF