Tools & Materials
Roof Sheathing Cut Man
Guide rails help make roof sheathing cuts more precise.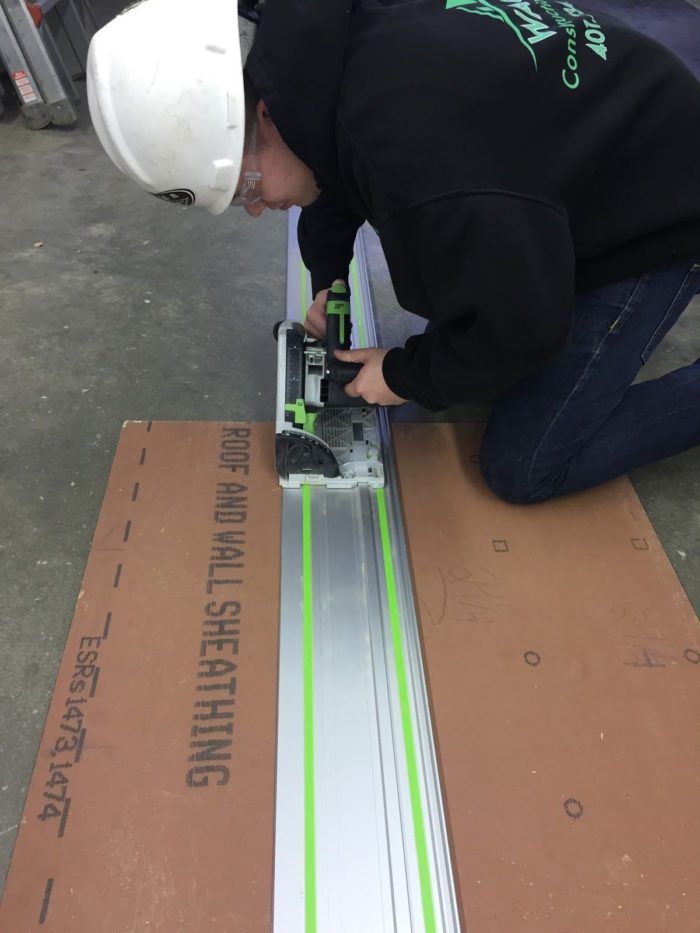 During the roof sheathing at the FHB House I was the designated "cut-man." I used the corded Festool TS-55 track saw to cut the Zip Roof tongue and groove sheathing.  I had to cut sheets for a 10/12 slope with one regular valley and one irregular valley. The track saw made it much easier to make long straight cuts than using a regular circular saw. With the Festool, I put the track down, lined it up to my pencil marks and zipped right through the material.
The track saw was really good when it came to cutting the angles on the valley sheets. I made fewer mistakes than if I had used a circular saw and tried to follow a pencil line.
When I was cutting the sheathing for the garage, builder Mike Guertin brought out the cordless Festool HKC 55, and it was even better. I didn't have to worry about where the cord was and if I was going to slice it or get the cord stuck on the track at the end of the cut. It allowed me to cut through the piece and could put it aside without the cord in my way.
Cameron Martins is a senior at Pilgrim High School and he is in his third year in the Warwick Area Career and Technical Center's (WACTC) Construction Program. After he finishes high school he hopes to work in construction full time. His favorite parts of construction work in the WACTC program have been framing and siding. One of his least favorite jobs is roofing. Cameron doesn't plan on going to specialized training beyond his WACTC program but that may change over time. Over the past three years at the WACTC he has worked on seven houses — four new homes and three remodels.