Roof for Outdoor Unit
Snow can reduce the efficiency of the HVAC system, so we built a roof to shelter it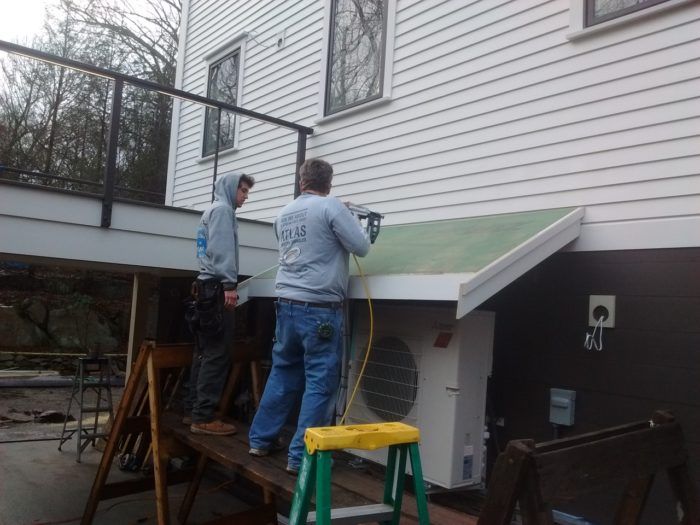 The outdoor unit of the Mitsubishi heat-pump system can freeze up in the winter or become bound up with snow. When these things occur, the system may start a defrost cycle and use considerably more energy, or it may just not work efficiently.
To ward off potential problems we did two things: First, we elevated the unit several feet off the ground. While deep snow is usually not a problem in our area, there have been times when accumulating and drifting snow can reach 3-ft. or more deep. And we built a roof over the unit to shed most of the rain and snow.
The roof wasn't on the original house plans so we copied the design of the roof over the door to the deck. There are three linesets for the system that puncture the wall. It was hard to route the linesets tight to the outdoor unit because of structural beams and posts inside. Bruce came up with an idea to conceal the long lineset furthest away from the unit by making it part of the roof design. We copied the diagonal bracket design of the deck door roof but added 4×6 boxes under the wall leg of the post. This makes the box appear that it is intentional—even though it's on the large side. A horizontal box conceals the linesets to the back of the unit. Later the remaining lineset will be covered by a low-profile half-round cap.
Bruce and Max mounted the pre-built roof frame without the sheathing on top so they could screw the ledger to the rim joist. After the sheathing was installed they applied the Boral rake and fascia trim, and TruExterior channel siding on the underside.
After the roof shingles were applied, Max and Bruce slipped the wall leg of the horizontal flashing under the course of lap siding. Since the siding is blind-nailed, this was a simple process.
Three days after the roof was finished we got 14 inches of snowfall. The roof overhangs the unit substantially enough to shed most of the snow away.