Tools & Materials
Insulation Installation — By Others
CertainTeed sent building scientists and installation specialists to ensure the FHB House insulation was installed perfectly.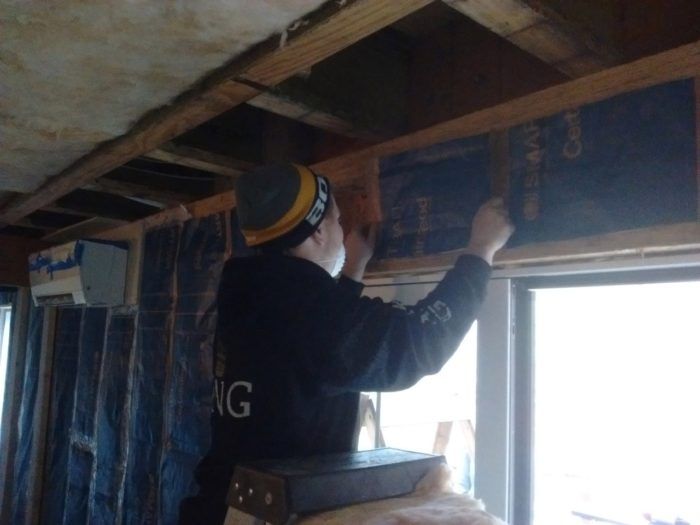 The exterior walls of the FHB House are insulated with CertainTeed's SMARTBATT R-21 fiberglass batts. Some builders shy away from fiberglass batts, especially when trying to build an energy efficient home. But installed correctly and coupled with a tight air control layer, fiberglass batts perform well. The attic received 22 inches of CertainTeed's InsulSafe blown-in fiberglass for an R-60 blanket.
I had planned on installing the insulation myself with Bruce's and the WACTC students' help but CertainTeed sent some of their building scientists and installation trainers to do most of the installation.
The first thing they did was conduct a blower door test to check the air tightness. I think they were surprised how tight the students got the house at the frame stage: 0.40 ACH50.
It took about two days to complete the insulation. Cameron and Damian and I worked one morning installing batts in the basement. Neither had installed insulation before. After just cutting and installing one stud bay they had the routine down and finished half a wall.
When the insulation was complete and CertainTeed tested out, the blower door result came in a little lower, at 0.39 ACH50.
Two days after the insulation was complete, outdoor temps plummeted down to the low single digits at night and barely broke 20° F for daytime highs. I just turned on the Mitsubishi wall unit in the basement to 61° F and the whole house warmed right up to the mid- to upper-50s. If this is any indication, the insulation system is working great.