Episode 33: Keep Craft Alive and Running Your Business at the 2017 International Builders' Show
Fourth of four casts from the International Builders' Show.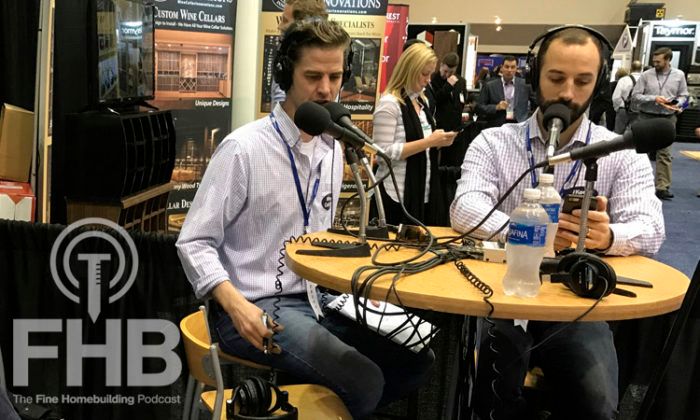 Fine Homebuilding editorial director Rob Yagid, editor Justin Fink, and their expert industry guests talk about what's happening at IBS 2017, especially the Keep Craft Alive initiative and how to bring new people into the trades. Also, the guys discuss house sheathing and tapes. The show is driven by our listeners, so please subscribe and rate us on iTunes or Google Play, and if you have any questions you would like us to dig into for a future show, shoot an email our way: [email protected]. Also, be sure to follow Justin Fink, Rob Yagid, and Fine Homebuilding on Instagram, and like the magazine on Facebook.
In this episode, Allen Sealock, Huber's product director for Zip System sheathing and tape, came on the podcast to chat about his company's R-sheathing, acrylic-based stretch tape, and overdriving nails.
Justin and Patrick were joined by FHB ambassadors Tyler Grace and Shawn Van Dyke. Tyler owns TRG Home Concepts in New Jersey. Shawn is a consultant and business coach who has worked as a COO, construction manager, general contractor, real estate developer, and engineer.
With the launching of the Keep Craft Alive initiative, these industry experts offered thoughts on coaching people who are new to the trades, and how training and teaching your workers is so important, even if they may someday break off to start a competing company. The conversation moved on to other business topics, such as …
Figure out the value of your time.
Finding new employees through social media.
Ways to deal with clients.
How to set pricing.
The Fine Homebuilding Podcast embodies Fine Homebuilding magazine's commitment to the preservation of craftsmanship and the advancement of home performance in residential construction. The show is an informal but vigorous conversation about the techniques and principles that allow listeners to master their design and building challenges.
ALL OF FHB'S IBS 2017 COVERAGE
Please click on this link for all of Fine Homebuilding's reports from the show, including tool and material news, photos, video, links to podcasts, and much more.
#KeepCraftAlive