Student Electricians Finish Basement
Dramatic difference in the basement with lights and other fixtures installed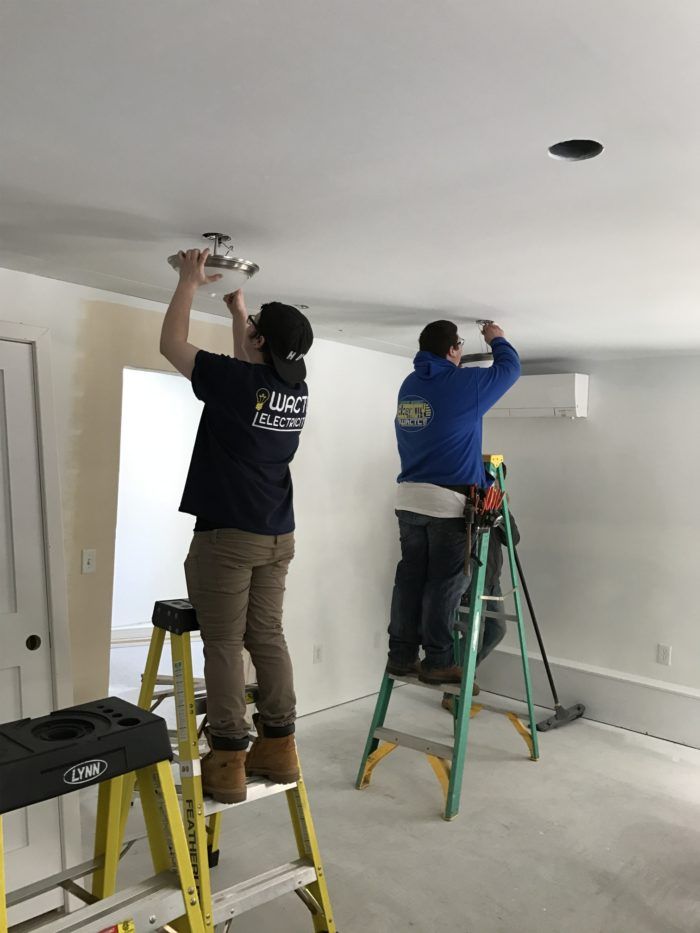 Electric students from WACTC rough wired the FHB House basement in early October and came back this week to install outlets, switches and fixtures.
Two classes stopped by the house last week to see how the project is going and plan their work for this week. Mr. Valletta and I showed them around the first and second floor and discussed the Mitsubishi mini-split heating and AC system, Haiku lights, the lighting scheme in the kitchen, the appliances, and the efficiency of the house.
The electric plan for the walkout basement is laid out for future use like a full bathroom, a bedroom and a large kitchen / dining / living area. Students installed GFCI outlets in the kitchen, bath and on the exterior wall, several single pole, 3-way and 4-way switch circuits. And there were plenty of light fixtures — mostly ceiling mounted integrated LED and a few medium base fixtures that the students installed LED bulbs in.
I was working elsewhere on the days the students worked at the house so it was dramatic when I stopped by in the evenings to flip up a new light switch. The basement looked better than I imagined with finish lighting and all the black holes filled with finish switches, outlets and cover plates. Finally we can put the temporary drop lights away.
And unlike my regular electricians who leave wire jacket cuttings, fingerprint smudges and boxes of trash around, the WACTC electric students left the house cleaner than when they arrived.