Best Remodel 2017: Colonial Transformation
Improved flow, more natural light, and a connection to the outdoors modernize a creekside Minnesota home.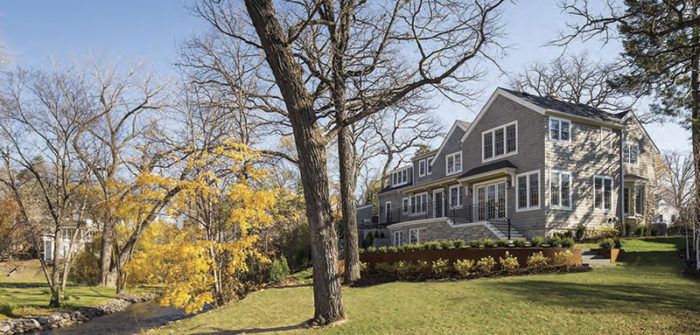 Our 2017 Best Remodel Award goes to Mark Larson and Kari Nelson of Rehkamp Larson Architects. The Minneapolis team skillfully turned a ubiquitous and outdated colonial home into something fresh and timeless with updated finishes, inviting spaces, better flow, and a stronger connection to the beautiful backyard that had long been disengaged from the interior.
All too often, older homes have weathered multiple renovations, leaving them clunky in appearance and congested in flow. These were the issues facing Dave and Kara Walter, the owners of a dated colonial home in Edina, Minnesota. The house was fragmented—too many doorways and multiple level changes impeded flow. Plus, there were missed opportunities. For example, the house's design pinched the gorgeous views of its creekside setting.
Architects Mark Larson and Kari Nelson of Rehkamp Larson Architects were hired to address the shortcomings.  The homeowners wanted to smooth over the rough edges, open up the transitions between living spaces, add extra room to accommodate their three children, and better integrate the home with its surroundings. "Our goal was to put together a thoughtful design to make the most of the bones and form of the existing house and reconnect it to the beautiful site," said Larson. The planned improvements would offer more daylight, better views of the creek, additional space where needed for circulation and function, and an overall refresh.
Click below for the full article.
View PDF