A Love of Carpentry and Building Starts One Summer Working With Dad
At ten years old, I was handed a Makita circular saw and taught how to properly use it.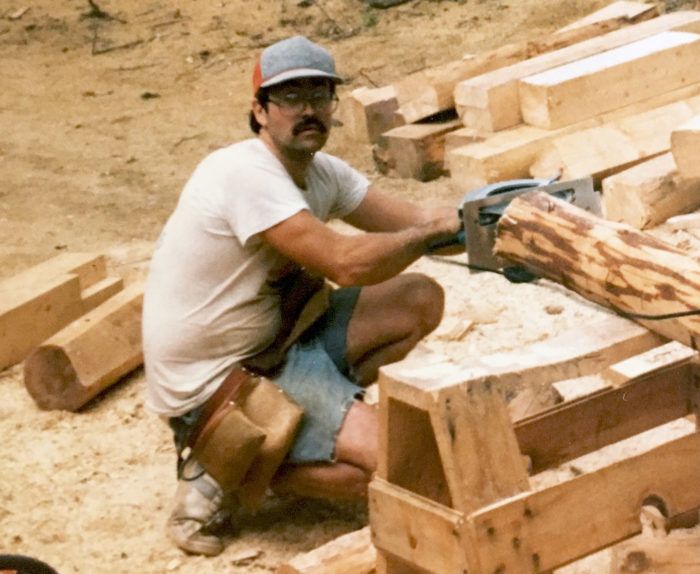 In 1980 when I was five, I "helped" my dad strip the roof and gut demo the chimney as we
renovated an old Federalist house in the Lakes Region of New Hampshire. He dressed me in a "tool belt," gave me a "hammer" and invited me to work alongside him.
In 1985, my parents bought some acreage a few miles away from Lake Winnepausaukee in Meredith, N.H. It was that summer that I participated in my second major building project. My father was going to build the dream log home my mother had always wanted. Again, he asked me to help, even offering to pay me an exorbitant salary of one dollar per hour.
My love of the trades, working with my hands, and with wood started when my dad invited me to work beside him. He didn't just give me chores. He wanted help. At ten years old, I was handed a Makita circular saw and a Makita 6-in. planer and taught how to properly use them so I could attempt to be his cut guy as we built a log cabin that summer in the woods. I watched my dad with a sense of awe. I wasn't afraid, and it didn't feel like work. I felt like a partner with tiny hands and so much to learn.
This has always been the way of my father, Arthur Butt. He welcomes you to join him. He teaches you, empowers you to succeed, and he rallies you to work as hard as he does.
My love of carpentry and building and my desire to teach started that summer way back working with my dad from dawn until dusk as he taught me how to build.
---
We're looking for stories for our website and for a special-edition Father's Day newsletter, and we're inviting our readers to submit stories about the fathers (or other mentors) in their lives who have influenced their passion for home building and construction.
You can send a photo of a tool that your father gave you, sparking your passion for building. Or you can talk about an experience or project executed with a teacher who inspired you to pursue this path. You can write about carrying on your grandfather's legacy if he were in the trades. These are personal stories. Inspirational stories.
These don't have to be long.  A visual would be terrific, and a write up of a 200-300 words would be great. We want to get the word out to our communities to strengthen the bonds that we all share around the generational ties that run deep through home building.
If you are inspired, send us your stories and photos as soon as you can, or by June 15 at the latest. Just click this link to our Reader Project form to participate:
Reader Project Submission Form: Tell us your story for Father's Day!
We're also giving a Father's Day discount in the Taunton Online Store as a thank-you to those who submit stories — so be sure to include your email address in the submission!