Father's Day Tribute
How his father's family influenced a contractor's career.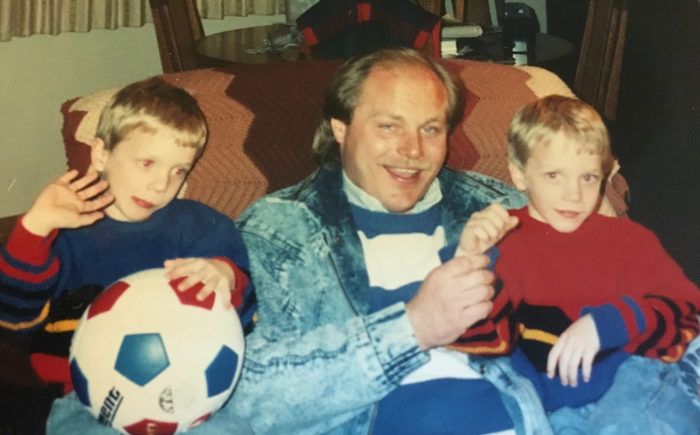 My father's side of the family (the Mollaks) are mechanics. They have worked on cars and built cars since I can remember. As a kid I grew up watching them fix vehicles, and I would help my Dad with a car in the garage on the weekend or head to my uncle's or grandfather's shop and just watch. I loved watching what they were doing, and it was awesome to me that they could take a car or truck that wasn't running or had problems and fix it. It was and is their passion — and all of them could rip an interior out of a vehicle, with wires strewn out all over, and know that they could put it all back together. That was astonishing to me. I really looked up to them, and still do.
With all that being said, I know nothing about cars. For some reason I never got into them much. What stuck with me instead is when I started working with my dad on household projects, like fixing up our condo and building a deck between the garage and the house. We used a Craftsman corded drill and circular saw, and he would let my brother and I screw decking down. I probably stripped every single screw we installed, but I loved every second of it. I remember getting my first woodworking set, turning balsa wood on a tiny lathe that also had a little band saw with it. I helped to repaint the exterior of the house and would try to go too fast, spraying paint all over the place. We also helped to build a play set from scratch using just a bundle of lumber.
My Dad did a lot of the work himself on our home: reinstalling vinyl flooring in the kitchen, painting all the walls and then changing them again years later, and of course repairing the drywall and damage from my brothers and sister throwing things around and breaking things as we grew (like that window we broke with a soccer ball). As I got older, I started to get into the projects more. In high school shop class I started realizing how much I really loved them. I wanted to be in "Woods Class" or shop the entire day. We built a mockup of an interior wall and tore it down, and I didn't want to leave when the hour was over. I started watching "New Yankee Workshop" (every morning before school) and "This Old House" when they were on.
I always thought it was cool that my dad, his brothers, and his father were all so into cars. I think watching them working with their hands, covered in oil and grease, was a huge factor in me doing what I do now. It's just that I'm covered in sawdust. I could never figure out how they learned to do what they did — it all seemed and still seems very foreign to me. I still call my dad to figure out what's going on with my vehicles, and he'll drop everything and run over and troubleshoot what's going on. In a sense, that's what I now do with homes and building.
Thanks Dad, for everything — and Happy Father's Day all!
JPM Construction
Follow us on social media
Instagram @jpmconstructioninc  – www.instagram.com/jpmconstructioninc
Facebook – www.facebook.com/jpmconstruction
LinkedIn – Jason Mollak