Readers' Choice 2018 Finalist: Fitch Renovation
2018 HOUSES Readers' Choice Candidate: Pemaquid, Maine.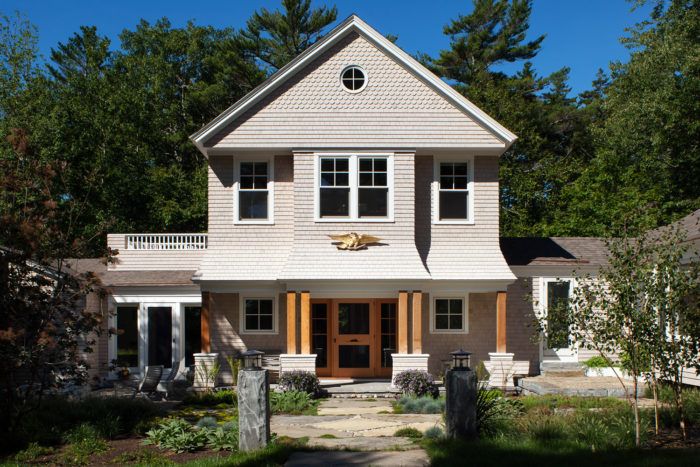 Architect: Phelps Architects
Builder: Bruce Laukka, Inc.
Originally the site of the Edgemere Hotel, this property went through several building fires. The necessity to rebuild allowed for the most recent renovation upgrades to better provide for entertaining and family gatherings. The building conditions were also upgraded and winterized to allow for year-round living conditions. The new design also needed to accommodate two families in separate wings of the same house.
The South Wing renovation features a new chef's kitchen. Simple, elegant white cabinets were crafted by a local Maine cabinetmaker and a stunning gray-granite countertop grounds the space. Traditional wide pine flooring was installed throughout the house, stained to give the impression of aged wood. A small residential elevator was included in the construction, a feature that is becoming more common to allow for long-term easy access to the upper floor.
On the second level, the master-bedroom suite features a vaulted Douglas-fir ceiling that gives the impression of the hull of a boat. The suite's private balcony allows for views of the property and the bustling community harbor. The custom master bathroom has a heated floor, his and hers vanities, and a walk-in shower. A finishing touch on the second floor is a large sliding barn door that closes off the public space and allows for more privacy while providing a quiet office space. The renovation plan also made use of the attic space as a fun hideaway and play area for the kids, complete with a handmade ship's ladder that accentuates the nautical feel of the entire home.
Work on the North Wing was limited to winterization and exterior repair—however, there is a future renovation in mind that was included in the thought process during the upgrade. The exterior facade is finished with traditional bleached white-cedar shingles, with white trim and fir accents.  An inviting stone courtyard with plantings installed by the owners was thoughtfully created to marry the two wings. A final personal touch is the custom fir screen door with the silhouette of the old Edgemere Hotel.