Readers' Choice 2018 Finalist: Harmony Ridge
2018 HOUSES Readers' Choice Candidate: Nevada City, Calif.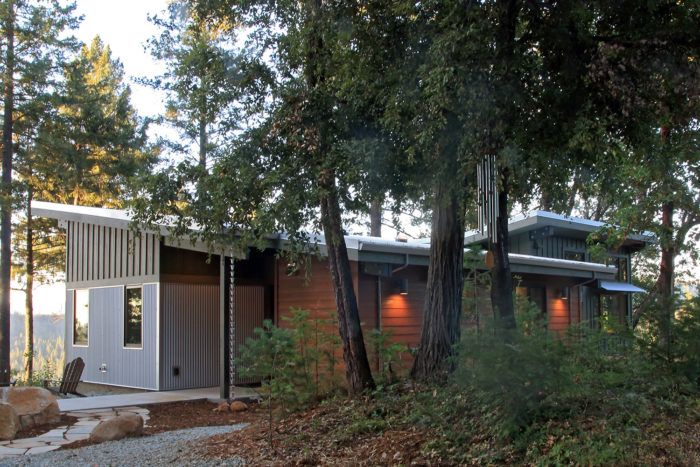 Architects: Nir Pearlson and Tony Rosas
Builder: Josh Moore Construction, Inc.
This small, energy-efficient home is the culmination of an eight-year quest to find the ideal community, home site, and house design for the homeowners' eventual retirement. After acquiring this 10-acre ridgetop property, the homeowners hired a LEED-accredited contractor who employs advanced framing and other green construction techniques. Priorities were to build a small, green, single-story contemporary house with rustic finishes that would blend into the wooded ridgetop setting. The homeowners also wanted to preserve as many trees as possible, and make the most of the expansive, long-range view to the north while taking advantage of passive solar energy from the south. They also wanted the house to be inexpensive to operate and easy to maintain, and to allow them to enjoy a debt-free retirement. All but the final objective was satisfied with this house.
At 1463 sq. ft. of conditioned space, the house is the perfect size for two and feels considerably larger due to its high ceilings and many large windows and doors that bring the outside in. Exterior siding is a combination of board and batten, lap siding, and corrugated metal, and earth colors in the green/gray family were chosen for exterior paint and stain finishes. To achieve a contemporary look, the design incorporates clean lines, an unobtrusive, low-slope shed roof, quartz countertops, the absence of a kitchen backsplash, and narrow window and door trim. Rustic finishes include cement fiberboard siding, interior beams, kitchen cabinets that resemble reclaimed wood, and engineered smoked-oak flooring. California's Title 24 (California Energy Code) requirements were exceeded by over 25% by using low-e2 windows, robust insulation (including blown-in fiberglass insulation in the exterior walls and closed-cell spray-foam insulation beneath the roof and slab), an on-demand water heater, a variable-speed heat pump, and an ERV ventilation system. The house also features a hot water recirculating system. The energy- and water-saving features, together with all-LED lighting, help reduce operating costs.