Readers' Choice 2018 Finalist: Timeless Tradition
2018 HOUSES Readers' Choice Candidate: Weston, Mass.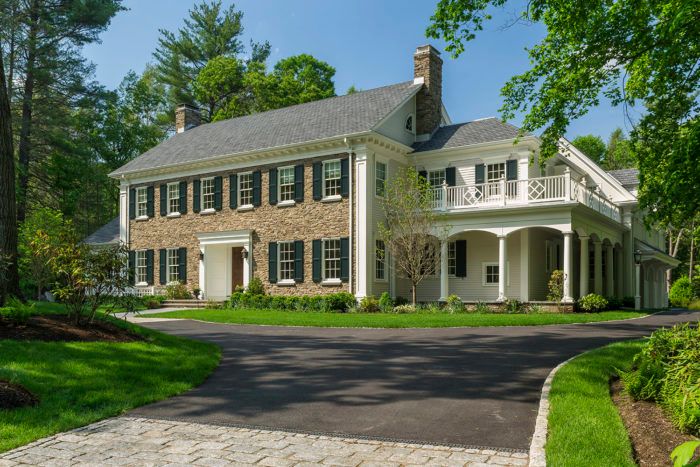 Architect: Jan Gleysteen Architects, Inc.
Builder: Kistler & Knapp Builders
The traditional aesthetic was not only a good fit for the neighborhood, but also for the personalities of the client. This home strikes a delicate balance between tactile and approachable, but also elegant and refined. To do so required an intimate knowledge of vernacular New England architecture and a close collaboration between the architect, landscape architect, builder, and interior designer. One of the home's most striking features is the warm-brown fieldstone facade framed by paneled corner boards and capped with a dentiled eave. Oversize windows and an inset front entry punctuate the solid facade. Another feature is the mudroom porch. Its arcaded design breaks the solid massing of the main house and carries around the corner to the arched garage doors. The porch uses traditional column, arcade, and railing details to create an inviting entrance for the family.
The rear of the house features large windows and French doors opening onto the generous rear garden. A colonnade screened porch opens off the family room and library onto the bluestone patio. The landscape architect worked closely with the site contractor to preserve mature elements of the existing landscape. The result lends a sense of implied history to the new home and provides a rare level of privacy in an established residential neighborhood. The home's interior contains all the expected traditional elements—formal dining and living rooms flanking the center entrance, an elegant central staircase, wood-burning fireplaces, and coffered and beamed ceilings. A thoughtful palette of materials and colors brings a soft, tactile quality to even the most formal living spaces. Textures and colors pop against a warm palette of Parisian beiges, helping to create an approachable and comfortable family home. The most challenging elements of this project were overcome by close collaboration and teamwork among the design team and craftsmen who were equally invested in creating a timeless home for this young family.