Editor's Choice 2018 Photo Gallery
The traditional meets the novel in Colorado: This house is not large, yet it contains multitudes.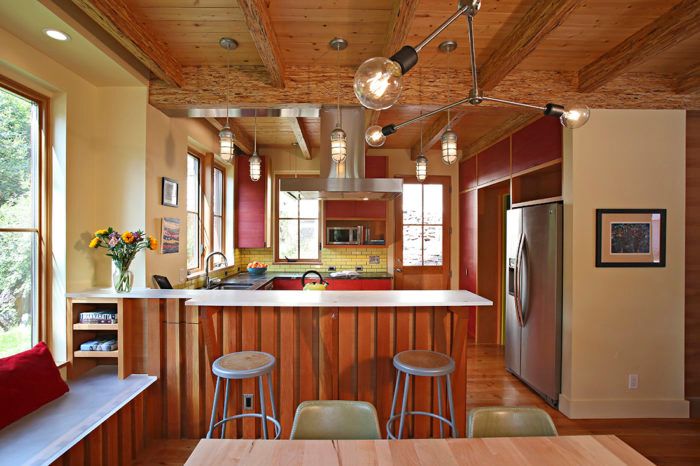 At first glance, this house appears to be precisely designed to blend in to the Telluride, Colo., historic district where it is located. It has the basic Victorian form of the traditional homes built in western mining towns of old. But a closer look reveals details that reflect the modern ski-town aesthetic and the expectations of today's homeowners, and even some edgy details that would only be right for these particular homeowners, Bernie and Erica Tershy. Designed by Arkin Tilt Architects, and built by Ryan Tougher, this house was given our 2018 Editor's Choice Award.
Photos by Trent Bell.
Please click the Launch Gallery button below for a slideshow featuring this home, and also read the full article in FHB #275 for more.
Telluride's inclusion in the National Register of Historic Places is based on a period of significant development from 1878 to 1913. During this time, most new homes were one- or two-story Victorians. This house fits the district, with its main gable facing the street, covered porch, and simple trim and siding details. A bit more modern are the metal roofing and the shed dormer that offers a third-floor bedroom a mountain view.
In snow country, it's common to replace the welcome mat with a metal grate that allows homeowners and guests to knock the snow from their boots without making a mess outside the front door. The metal handrail and metal-chain-gutter downspouts are more modern details.
Window seats are used to create cozy, light-filled spaces. This acrylic window-seat bench actually allows light to flow into the basement below. To carry the design into the kitchen, the same acrylic panels are used for the peninsula top.
To modernize the timber-frame look, the architects spec'd parallam beams instead of traditional timbers and livened up the kitchen with red-stained cabinetry and a yellow subway-tile backsplash.
The homeowners' oldest son, Raven Tershy, is a professional skateboarder. He's good enough to have his own wheels, which the architect and builder used to create very personal door stops for the house.
A metal bridge helps navigate the grade in the backyard and the bump-out is clad in Ranchwood prefinished Douglas-fir siding. With the change in siding and trim materials and design, the bump-out appears as an addition to an original house.
Edged out by a stone retaining wall, there is a small patio outside the kitchen. The metal bridge detail is used again to keep snow from piling outside the door.