Podcast Episode 112 — How to Hire a Contractor
Primers, sealers, paints, sprayers, and rollers; soapstone and concrete countertops; greenwashing and the true costs of net-zero homes; and woodworking and rocking chairs.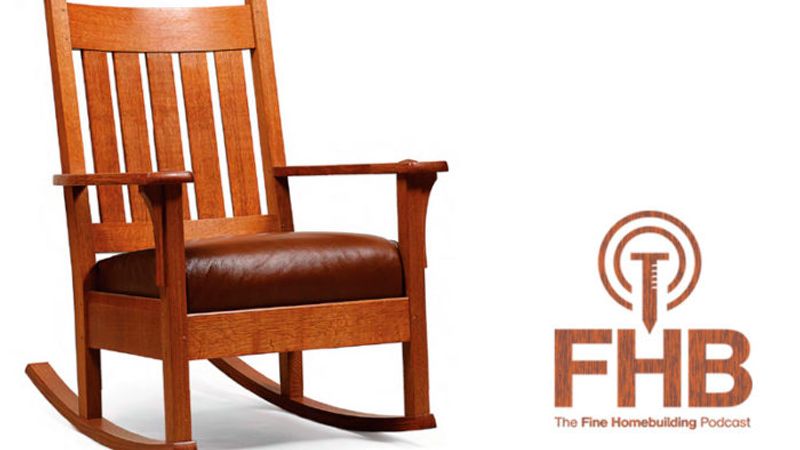 Our regular podcasters, Justin, Rob, and Brian, start the episode by catching up on their own recent projects. Rob is priming and painting drywall; he explains why he used an 18-in. roller, not a sprayer. Justin has been doing some woodworking — two Craftsman-style rocking chairs.
Listener Jeff recalls Episode 28 and asks, "Do you have any tips on finding the right contractor to do work on your house? It feels like a leap of faith sometimes. I guess it's a trust issue, based on past experience."  Justin suggests, "Become versed in the general area that you are hiring someone for." Brian says that a contractor's quote does not tell you about the quality of the contractor's technique, so ask some leading questions about method and practice. Rob talks about getting references and opinions from people you trust.
Listener Mike is interested in soapstone countertops — and whether concrete is better. The guys talk about working with soapstone.
Listener Tim opens up a can of worms by asking about the truth behind the greenwashing of net-zero projects that do not take into account the true energy costs. Plus recycling PV panels makes them a less than environmental. That's all about the embodied energy of building materials, for example. Check out the links below for more.
---
This episode of the podcast is brought to you by Benjamin Moore.
Everyone can paint. This is true. But not everyone can get the project done right. And Benjamin Moore knows that's why you're on the job. You're more than a paintbrush and a ladder. Your client can buy those things at a hardware store, but they hired you for your skills and expertise. You know every paint job is different and that it takes more than one coat for the best finish. Benjamin Moore believes in doing things the right way. Because everyone can paint, but to do it right, it takes an expert contractor, it takes more than one coat, and it takes Benjamin Moore. Paint like no other.
We hope you will take advantage of a great offer for our podcast listeners: A special 20% off discounted rate to subscribe to the Fine Homebuilding print magazine. That link goes to finehomebuilding.com/podoffer.
The show is driven by our listeners, so please subscribe and rate us on iTunes or Google Play, and if you have any questions you would like us to dig into for a future show, shoot an email our way: [email protected]. Also, be sure to follow Justin Fink, Rob Yagid, and Fine Homebuilding on Instagram — and "like" the magazine on Facebook. Note that you can watch the show above, or on YouTube at the Fine Homebuilding YouTube Channel.
The Fine Homebuilding Podcast embodies Fine Homebuilding magazine's commitment to the preservation of craftsmanship and the advancement of home performance in residential construction. The show is an informal but vigorous conversation about the techniques and principles that allow listeners to master their design and building challenges.
Links related to this episode: