Episode 28: Boots on the Ground, Nails in the Walls
Work boots, attic ducts and insulation, weather barriers and over-driven nails, and reusing building materials.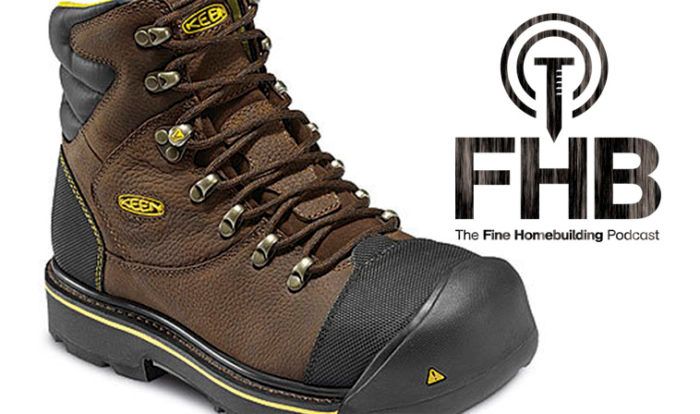 In this episode, the discussion ranges over topics including managing editor Justin Fink's work boots and design editor Brian Pontolilo's ongoing attic ductwork and insulation project. Listener issues include weather barriers, over-driven nails, wall sheathing, and liquid flashing — as well as the pros and cons of reusing material.
The Fine Homebuilding Podcast embodies Fine Homebuilding magazine's commitment to the preservation of craftsmanship and the advancement of home performance in residential construction. This episode takes that goal a step farther with a deep discussion of the Keep Craft Alive movement, building off of editor-in-chief Rob Yagid's recent editorial.
"This 'college for everyone' philosophy that's been pumped from the top down is an utter and complete failure. Not everyone is going to be a computer programmer, and that's fine," says FHB editor Aaron Fagan in this episode. "Our labor is not valued in the way it should be."
The Fine Homebuilding podcast is driven by our listeners, so please subscribe and rate us on iTunes or Google Play, and if you have any questions you would like us to dig into for a future show, shoot an email our way: [email protected]. Please follow Justin Fink, Rob Yagid, and Fine Homebuilding on Instagram, and "like" the magazine on Facebook.
Be sure to tune in for four podcast episodes that will be broadcast from the 2017 NAHB International Builders' Show, Jan. 10-12, 2017. Click here to find out more about that and other FHB reporting from the show.
Also, here are some links and articles on topics mentioned in the podcast:
WORK BOOTS
ATTICS
LIQUID FLASHING
WHAT'S OLD IS NEW
KEEP CRAFT ALIVE