Tools & Materials
DeWalt's 60v Saw Is Not Quite Ready for Production Framing
A very nice piece of gear that would serve many carpenters well. But not in a production-framing environment.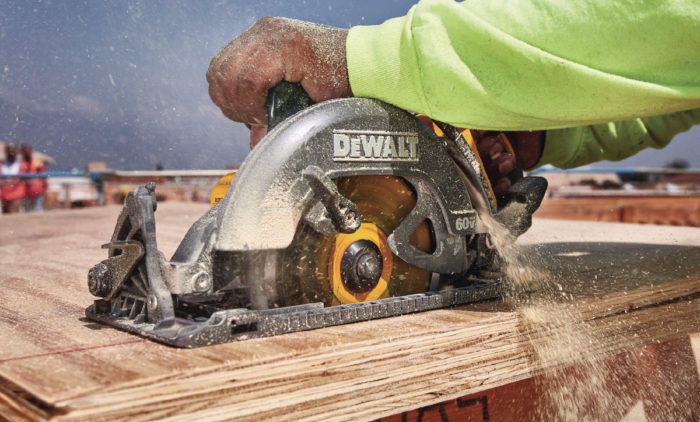 When I first saw DeWalt's new 60v cordless framing saw, I wanted to get my hands on one right away. Like most carpenters, I love the convenience of cordless saws, but I've been waiting for something that would be up to the rigors of a full day's work on my framing crew. I figured if any battery was going to let me cut the cord, a 60v battery would be the one.
In addition to good ergonomics, the saw is fully equipped with all the features I demand from a modern framing saw: a large rafter hook, a fast-acting blade brake, a guard that doesn't snag, a magnesium baseplate, a 2-3⁄8-in. depth of cut, and a generous 53° bevel capable of cutting through 2x stock.
I put the saw to work at our current build by cutting and installing stairs. I framed two stair landings in the morning and when I put the battery on the charger at lunch, it still had one of the three LED battery-level bars lit. At the end of the day, it was back down to a single bar, but I had finished the other two stair-landing frames. I was impressed by how far I could go on a single charge.
It was on the second day, faced with 32 stringers, marked and ready to cut in quick succession, that the saw simply could not keep up. By the fourth stringer, the battery was spent and the charge time was becoming a problem at that level of constant use. I found that it takes roughly 90 minutes to fully charge DeWalt's 9-amp/hr 60v battery and about an hour for the 6-amp/hr batteries. I had to give up and retrieve my trusty corded worm drive to finish the job. Later in the day, when all three batteries were fully refreshed, I put the saw back into play breaking down 3⁄4-in. plywood for temporary stair treads. With the near-constant ripping, I again began to deplete my batteries faster than I could charge them. This is a very nice piece of gear, and I suspect it would serve many carpenters very well. But in a production-framing environment you would need to have at least three 9-amp/hr batteries and a second charger to get through a busy day, and even then I'm not convinced it would be enough. When I consider that the cost of a setup like this is going to run roughly $700, I deem it a luxury I just can't afford.