Podcast Episode 118 — Inches and Feet
More on the metric system, paint, humidity, sheds, and foundation work. Plus, when is it okay to work on your roof without shoes?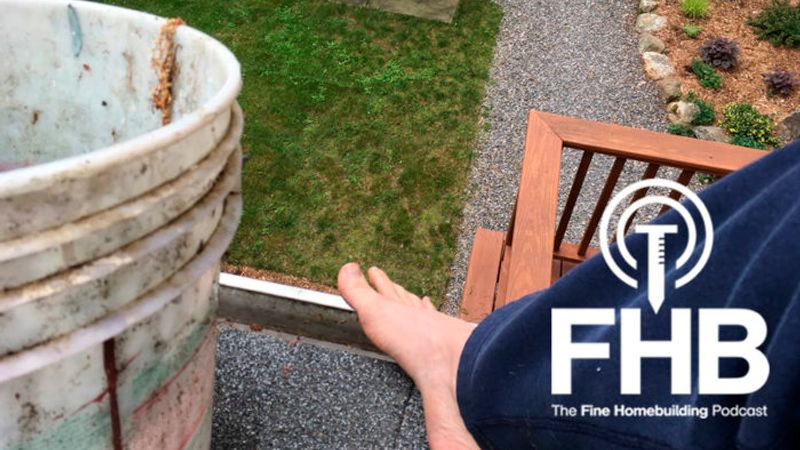 In this episode, Justin Fink, Brian Pontolilo, and Rob Yagid tackle the metric vs. imperial debate again (see episode 116), and then move to reader questions. We had asked listeners to weigh in, especially if they are using inches or metric measures. We got some great comments from a listener in Canada and in Great Britain, including this photo of a tape measure showing both inches and centimeters:
---
The guys also talked about Rob's five-day push on his home remodel. He put in some serious work on his flooring, doors, trim, paint, and baseboards. Meanwhile, Brian was up on his roof clearing leaves out of his gutters … in bare feet:
Brian says, in his own defense, "Bare feet are naturally slip resistant. I was sticking to my roof like spiderman with my bare feet, even though it was slightly wet that morning. Anyway, we should probably move on to something a little more practical."
---
Listener Jared asks about his detached unconditioned garage, which is too humid. Fresh slab, just mudded — Justin says, let it dry completely, and it will be fine. Optionally, run a dehumidifier to help it along.
---
Listener Scott wants advice on how to kid-proof his house after renovating and painting. He wants to prevent sticks, balls, and bodies from destroying the walls, trim, and even the ceiling. First, no flat paint. Even a satin is good, and some gloss is even better. There are also dent- and impact-resistant drywall that you can use. Brian sees this as a parenting question rather than a building question. "Scott," says Brian, "If the worst your three rambunctious boys do over the years is mark up your walls a little bit, you're doing great! Get on with your life, and fix it up when they move out!"
---
It's time for our new segment, in which we feature gems published in the past …
Favorites From the FHB Vault: Best tip you ever got from our Tips and Techniques column.
Justin's choice is A big table for a portable tablesaw. There's a video version here.
Brian's pick is Plywood sheet-metal brake.
Rob liked this one: Flashing dispenser. There's also a video version here.
Want to submit your own tip? Click here and send your best tip to us!
---
A listener is building a shed on a slope. How does he make it work with a 22-in. difference in height from one side of the project to the other?
---
This episode of the podcast is brought to you by our sponsors, LP Shed and Marvin.
Whether you're looking to add a storage unit or an art studio to your backyard, LP offers beautiful and durable products that can help you turn your shed into a stylish extension of your home. Because at the end of the day, your shed says a lot about who you are. Why not shed it your way? For inspiration and to learn more, visit LPShed.com.
Integrity Windows and Doors from Marvin are the toughest on the market. Made with virtually indestructible Ultrex fiberglass, and boasting the industry's best fiberglass finish, these windows and doors are the definition of durable. They won't crack, dent, chip, or fade, and they're battle-tested in climates across the United States. Visit IntegrityWindows.com to learn more.
We hope you will take advantage of a great offer for our podcast listeners: A special 20% off discounted rate to subscribe to the Fine Homebuilding print magazine. That link goes to finehomebuilding.com/podoffer.
The show is driven by our listeners, so please subscribe and rate us on iTunes or Google Play, and if you have any questions you would like us to dig into for a future show, shoot an email our way: [email protected]. Also, be sure to follow Justin Fink, Rob Yagid, and Fine Homebuilding on Instagram — and "like" the magazine on Facebook. Note that you can watch the show above, or on YouTube at the Fine Homebuilding YouTube Channel.
The Fine Homebuilding Podcast embodies Fine Homebuilding magazine's commitment to the preservation of craftsmanship and the advancement of home performance in residential construction. The show is an informal but vigorous conversation about the techniques and principles that allow listeners to master their design and building challenges.
Links for this episode: