A Big Table for a Portable Tablesaw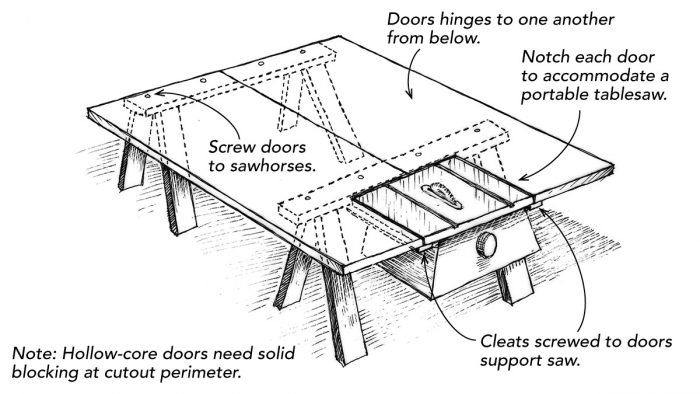 Portable tablesaws are great when it's time to set up a job-site shop, then break it down again for transport. The problem is that they're not so great in between for some important tasks, such as cutting a sheet of plywood. The table is just too small for cumbersome workpieces.
The drawing below shows my solution to this problem. I hinge together a pair of doors from below, lay them atop a pair of sawhorses, and make equal cutouts in each door to create a notch for the saw. The finished notch should allow a 1/4-in. gap on the sides and a 1-in. gap at the back. The saw is supported by a pair of 3/4-in. cleats screwed to the doors from below. Provide blocking as needed around the notch to anchor the cleats, and shim as necessary to get the saw's table flush with the doors. Screw the doors to the sawhorses, and you're ready to rip.
The weight of the doors and the far sawhorse typically carry the cantilevered weight of the saw. But if you start ripping heavy sheet goods like MDF or if you stack tools on the saw end of the table, add a couple of temporary legs to each side of the saw.
When you're not using the saw, you'll appreciate the playing-field-size table for assembling cabinets, window casings, and door jambs.
David Kalin, Kaneohe, HI
Edited and Illustrated by Charles Miller
From Fine Homebuilding #197