Design
Midcentury-Modern Minute
Additional photos of "Updating Midcentury Modern" houses.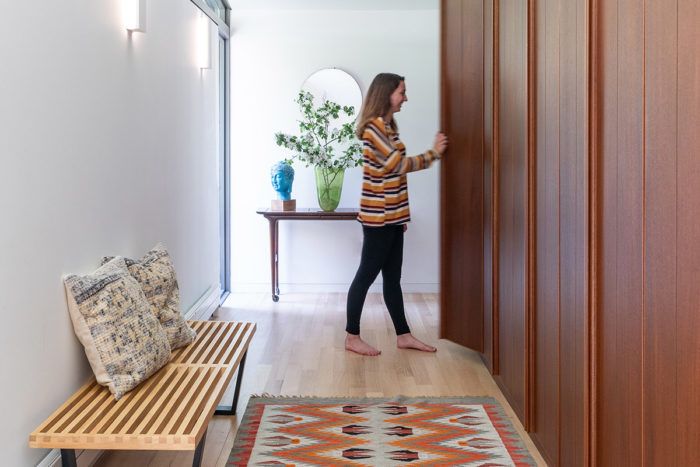 In Fine Homebuilding issue #277, Katie Flynn took a close look at three remodels that embodied elements of midcentury-modern design, including, for example, an exposed structure, natural materials, low-slung roofs, modest scale, indoor/outdoor connection, clean lines, open floor plans, extensive glass, and a lack of ornamentation. Here are more photos of each of these intriguing homes.
Case Study One
The Mid Mod Eichler House by Klopf Architecture features painstakingly sanded and oiled original wood wall panels (a signature element of the midcentury-modern style) that characterize many of the interior spaces. By removing the yellowed patina that had accumulated with age, they were able to restore the rich natural color. Outside, several inches of rigid insulation were applied above the roof assembly and tapered down towards the fascia across the roof overhang, making for a slim fascia profile.
Case Study Two
Designed by architect Stephen Moser, The William Landsburg House is exceptional for the way in which it merges inside and out—one of the great appeals of midcentury-modern homes. The exterior facades comprise a rich array of modest materials, each doing what it does best. Stone and stuccoed concrete form the heavy walls of the first story, while a lighter-weight cedar-clad box with great expanses of glass sits above. The interior wood floor gives way to a coplanar cedar deck, which leads to granite steps and a stone patio, where the family enjoys entertaining. The landscape is designed to expand the home's living spaces by creating outdoor "rooms."
Case Study Three
To provide shelter from New England's harsh weather, the clients at the Peacock Farm House envisioned a kind of portico at the front facade. Hisel Flynn Architects answered the call in the form of a deep roof overhang, which works beautifully with the flat roofline that typifies midcentury-modern residential architecture. Marvin Contemporary aluminum-clad units are used for operable windows, while the large fixed trapezoid windows at the front are custom IGUs with cedar frames.
For more on midcentury-modern style and these three homes, check out "Updating Midcentury Modern" in FHB issue #277. And click here to see 5 Iconic Midcentury Modern Homes.