Podcast Episode 125 — French Doors, Kitchen Remodels, and the Gamification of Home Building.
Archways, restored glass, hardware, plate racks, cabinets, moisture control, and a broken tablesaw.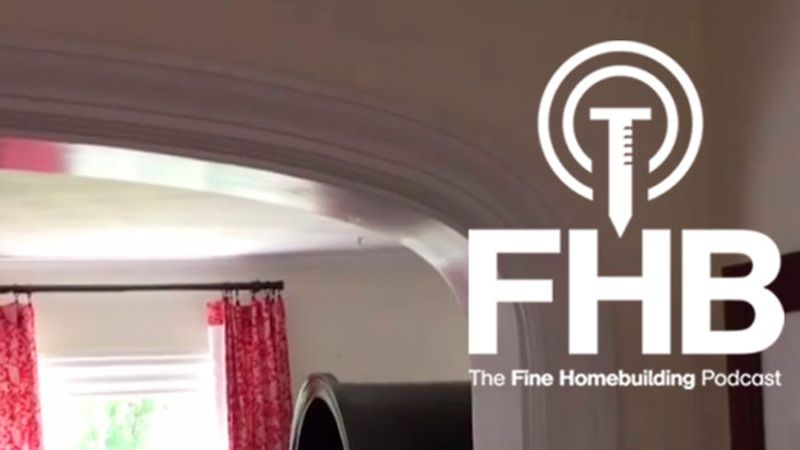 Today the show features regulars Justin, Rob, and Brian as they tackle listener questions and dig into the archives. But first, Justin has details on a double door project he is building into an elliptical archway. Here, take a look at a video he shot and posted on Instagram:
Meanwhile, Rob is busy with painting trim and installing bathroom fixtures for his own remodel.
---
And today's questions … Alex, who has some skills but is not a pro, writes, "Where does one even start with a kitchen redesign? Do I hire a kitchen designer, an interior designer, do I just DIY the design based on the things I know I want?"
Kitchen remodeler Brian says that if he are just replacing and updating, but not moving walls or fixtures, then Alex and a friend can probably do the job fine. No need for a designer, unless the remodel is extreme and the floorplan is changing. Still, a cabinet maker might be worth consulting … but maybe just read a little magazine called Fine Homebuilding, as Brian mentions.  😉
---
Greg has a great question that kinda stumps the guys: "PT furring strips seem to be the rule in coastal construction against block walls but how does this affect drywall screws? They are not ACQ or CaC rated as a general rule, so do I need to worry about corrosion?"
Justin has a drywall-spray-adhesive-plus-screws suggestion; Rob is not so sure. Justin also suggests using corrosion-resistant screws.
---
It's time for our old favorites segment; this episode, it's a look at video …
Rob's is the 2015 Ultimate Deck Build series, in Woodbury, CT.
Brian's pick is The Passive House Build.
Justin recommends an old Larry Haun video: How to Raise a Wall.
Enjoy!
---
Listener Pete has a complex set of questions about creating the right moisture barrier for a cinder-block wall. Check out the podcast to really did deep into basements and dimple mats and foam and glue and fasteners.
---
Finally, Jesse has a question about a pal who busted a favorite portable 10″ Bosch tablesaw. Time to buy a new one, the guys conclude. Sorry, Jesse.
---
This episode of the podcast is brought to you by our sponsors, Rockwool, BuildDirect, and Wasco Windows.
Life is loud. From noisy kids to blaring electronics, it's a big challenge. Cut the noise with Rockwool Safe 'n' Sound stone wool insulation. Made from rock, it naturally blocks sound. So no matter what video game the kids are playing, the rest of the family can enjoy a quieter, more comfortable space. To learn more about Rockwool Safe 'n' Sound stone wool insulation, visit Rockwool.com.
Looking for quality flooring materials at wholesale prices, but also want to cut out that time consuming "looking" part? Stop driving from store to store searching for a product that might not even be in stock. Let BuildDirect PRO do it for you. For free. As a BuildDirect PRO you'll be connected with a personal account rep that sources your products to spec, at the lowest tiered price, and manages the logistics and delivery of your order directly to your jobsite. Plus you get added perks like unlimited free samples delivered overnight, and up to $5000 credit on product purchases throughout the year. Join for free at BuildDirect.com/BDPros.

Wasco Windows produces beautiful, multi-functional European-style windows and doors right in their own Milwaukee factory, using the best components from Germany and the United States. These windows and doors offer superior thermal, air infiltration, and structural performance, making them the best choice for passive, net-zero or other high energy performance buildings. Wasco's European windows are available as single tilt and turn windows as well in a variety of multi-pane designs. Visit www.wascowindows.com and find out why, if you have Wasco windows, you know the Wasco difference!
We hope you will take advantage of a great offer for our podcast listeners: A special 20% off discounted rate to subscribe to the Fine Homebuilding print magazine. That link goes to finehomebuilding.com/podoffer.
The show is driven by our listeners, so please subscribe and rate us on iTunes or Google Play, and if you have any questions you would like us to dig into for a future show, shoot an email our way: [email protected]. Also, be sure to follow Justin Fink, Rob Yagid, and Fine Homebuilding on Instagram — and "like" the magazine on Facebook. Note that you can watch the show above, or on YouTube at the Fine Homebuilding YouTube Channel.
The Fine Homebuilding Podcast embodies Fine Homebuilding magazine's commitment to the preservation of craftsmanship and the advancement of home performance in residential construction. The show is an informal but vigorous conversation about the techniques and principles that allow listeners to master their design and building challenges.
Links for this episode: