Design
The Passive House Build, Part One: Designed for Success
One architect's approach to designing a house to meet the country's most stringent energy requirement.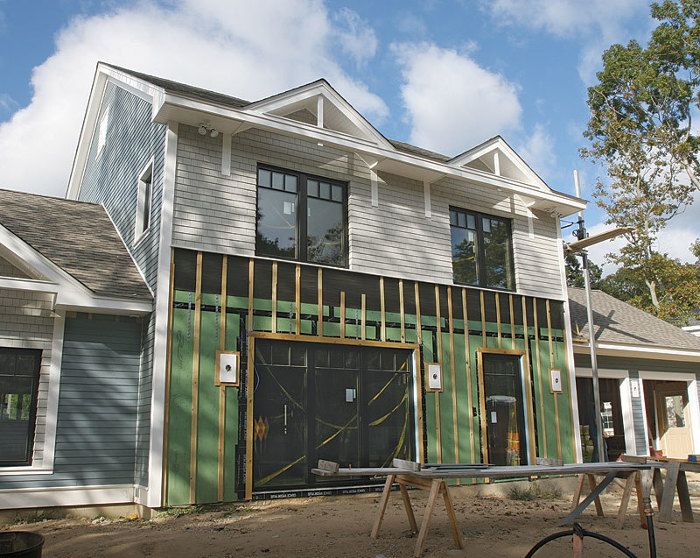 For the first part of a new FHB series exploring the construction of a new Passive House in Falmouth, Mass., architect Steve Baczek writes about his design philosophy for creating one of these highly energy-efficient homes. Baczek strives to design Passive Houses that blend in to their communities, but focuses on energy efficiency throughout the design process. Because Passive Houses have such strict performance tolerances, Baczek creates a set of construction drawings that are highly detailed and specific. After the plans are done, Baczek likes to meet with the builder, carpenters, and subcontractors to discuss the plans, answer questions, and explain details. He also discusses the building sequence, which is often tweaked to help the crew test air-leakage rates at different stages of construction. This article includes sidebars describing the guidelines for a Passive House and an illustration highlighting details that make up a Passive House.
According to Baczek, "When I'm designing a house to perform at a high level of efficiency, I like to simplify the energy equation to one mind-set: Convert the energy as inexpensively as possible, and then hold on to it as long as possible. The beauty of this approach is that as my energy conservation efforts increase, my energy needs decrease. As the energy needs decrease, the conversion of that energy becomes more efficient, and so on."
He adds, "I break the performance of a house into four categories: insulation, windows and doors, air-sealing, and mechanical systems. My goal during the design process is to keep all four categories proportional so that I'm improving the house as a whole, not just a few spots. It doesn't make sense to have R-50 walls and an R-80 ceiling and then to install standard double-glazed windows. This proportional concept is important because it forces me to design the house around the energy goals rather than trying to apply energy efficiency as an afterthought. The success of an energy-efficient house lies in the idea of integration, not application."
Watch the videos and read the articles in this series (links below), then head on over to GreenBuildingAdvisor.com to join the conversation with the designer of this house, Architect Steve Baczek.
---
All articles in this series:
"The Passive House Build, Part One: Designed for Success" (FHB #240)
"The Passive House Build, Part Two: Air-Sealed Mudsill Assembly" (FHB #241)
"The Passive House Build, Part Three: Superinsulated Slab" (FHB #242)
"The Passive House Build, Part Four: Framing for Efficiency" (FHB #244)
"The Passive House Build, Part Five: Installing High-Performance Windows" (FHB #245)
All videos in this series:
Passive House design
Airtight-mudsill assemblies
Superinsulated slab
Double-stud walls and insulation
Windows and doors
To read an article about the passive house, click the View PDF button below.
View PDF