3 Ways to Rank Higher in Google
This article shows you the three sections of the Google search results, and what that means for your business.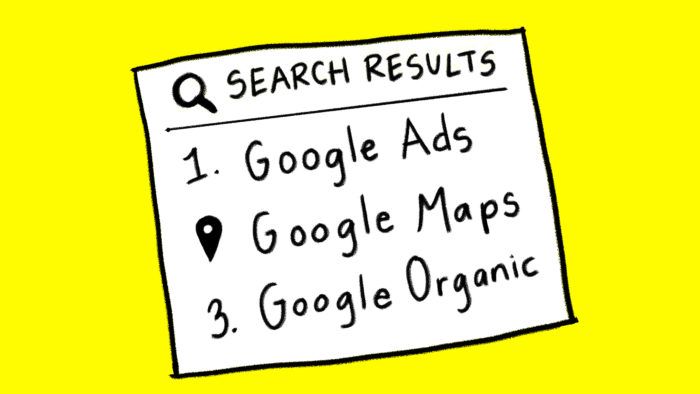 It's 2018, and even though the Internet is here to stay, the way we use it is constantly adapting. The online factors that are important to contractors—how we advertise, how we sell, what search engines we use—these things change with the times. However, even with all the changes taking place, the importance of ranking high in the Google search results as well as the three ways to do that pretty much stay the same.
The three ways to rank in Google search results are Google Ads, Google Maps, and Google Organic—in that order!
The purpose of this blog post is to bring a little clarity to your mind about these three sections of the Google search results, and hopefully spark your interest to pursue at least a couple of them with your business.
1. Google Ads
If you're anxious to get on the first page of Google right away, run some Google Ads. The first page of Google is pretty important for getting your website found—seventy five percent of internet users never scroll past it. (Junto, 2017). Google ads will put you there immediately.
The Google AdWords engine is getting smarter and smarter, and it's not all that hard to get started today. The only downside to this, is that Google AdWords can be a bit pricey. If you don't have a large budget to work with, then one or both of the following options would be best for you and your business.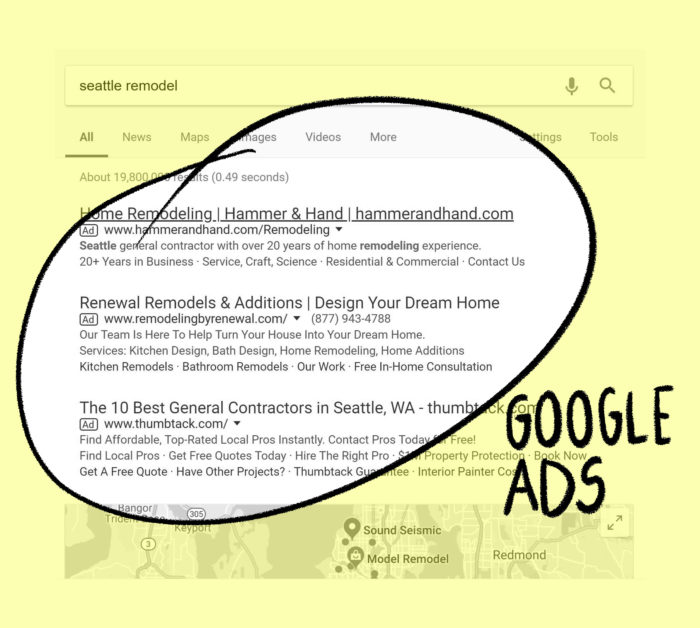 (For a sweet infographic on how Google Adwords works, click here.)
2. Google Maps
The Google Maps ranking engine is built with the purpose of providing local people with local search results. When you search a business or service on Google, the search results will include the Google Maps results right below the Google Ads. So, if you have a local business, then you definitely need to be optimizing your business in Google maps. You should be trying to rank #1 for your service in your city!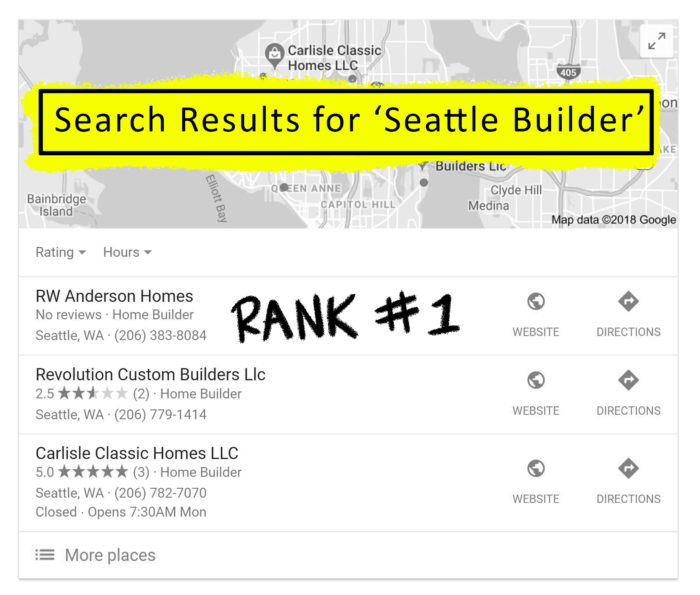 When potential customers make a Google search for 'Seattle home remodel' or 'Houston custom homes' and the Google Maps top 3 businesses are laid out below the ads, your name should be first one they see! If you want to be found by people in your locality, be where they can find you!
To optimize your business on Google Maps, go to Google My Business to begin the process. Start by naming, claiming, and verifying your business. Then create a good quality description, include your location (vital for being found in your own city), and collect local, verified reviews. These steps will help you rise in the search results and be seen by people in your city!
3. Google Organic
Google Organic—here's where all the rest of the search results hang out. Organic search results are the natural results for every Google search. The results that rank below the Google Ads. Every directory and their mother and brothers are here, but if you know what you are doing you can still outrank them over time. Over time, following SEO best practices, you can pull ahead and eventually start leading the pack in the organic search results.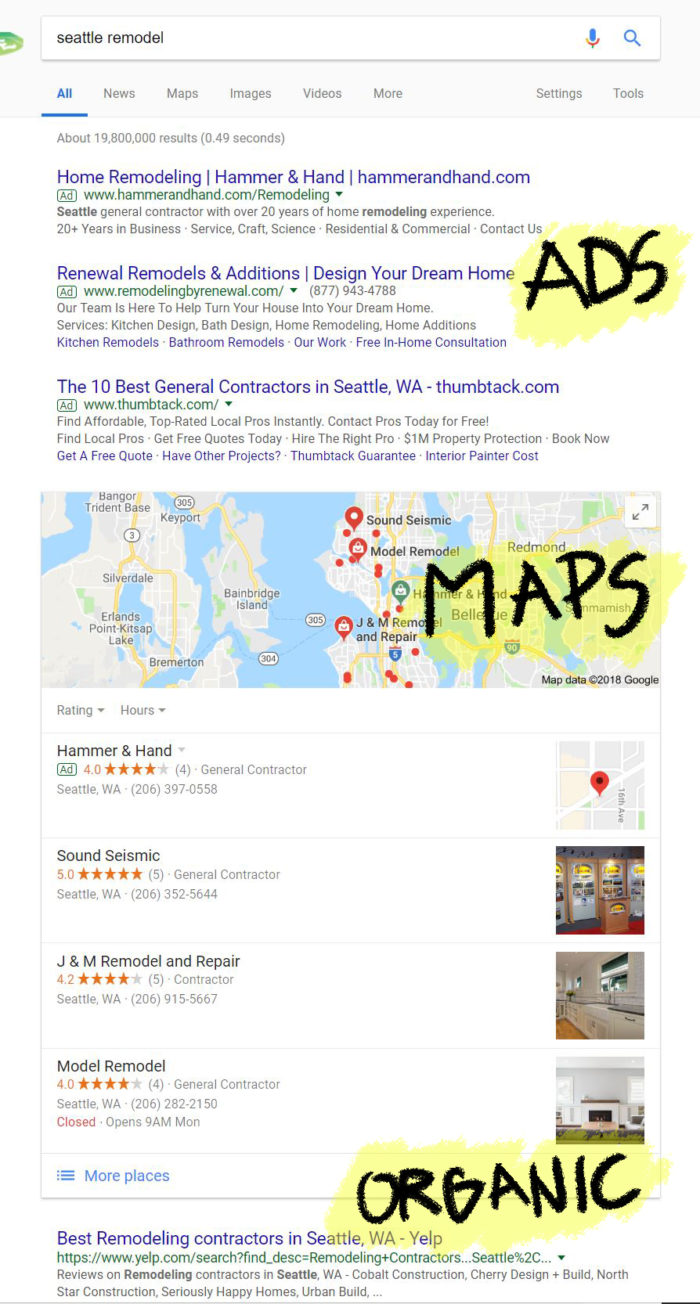 An interesting side note is this—the time and effort you put into SEO for Google will also pay off on the other search engines as well. For instance, as you see your rankings increasing on Google, you'll see your page rank increasing on Yahoo and Bing too. It's like running an ad on CNN, FOX, and NBC all at the same time.
Summary

Google Ads, Google Maps, and Google organic are the three ways to rank on Google. I highly recommend that every contractor work on at least the last two sections. You can hold off on Google AdWords for now, but don't hold off on Google Maps and Google Organic. Investing time and effort into these platforms will help your business get found online and in your local region. The more available your business is to the online traffic, the more value it has, and the more leads you will receive!
More on Building Business
Get Google to Pay Attention to Your Website – The Google search engine has over 200 different factors determining how they rank a web page. This article looks at the TOP 4 factors and how it applies to your website.
Why Contractor SEO Matters So Much – Having a website is the foundation of your online presence, but a website alone is not enough. Your website needs good SEO so that it can be found by your best customers.
Building Business – The foundation for your bottom line.