Podcast Episode 126: Wave Goodbye to Plywood?
Louisiana-Pacific interview: OSB, siding, sheds, studs, and other structural building products.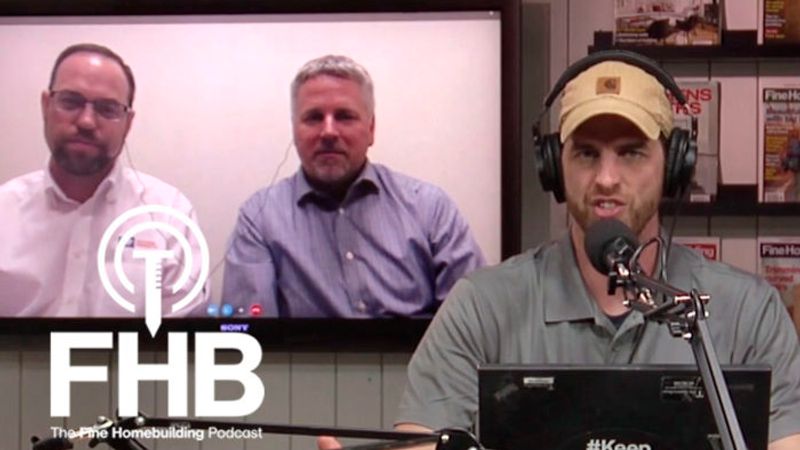 This special edition features Fine Homebuilding editor Justin Fink interviewing two LBM experts from Louisiana-Pacific. They are Brian St.Germain, director of quality and tech for engineered wood, and Scott Lockyear, national sales manager for specified markets. Brian and Scott are on the show to talk about engineered lumber.
They talk about oriented strand board (OSB) and related products, such as I-joists. OSB sheathing comes up too, especially in a competitive market. Justin asks about the limitations of plywood, and pressure treatment vs incorporating preservative directly into the OSB as part of the manufacturing process.
The conversation turns to siding, where LP offers a lightweight solution that is both strong and easy to cut. And the guys talk about sheds, which is another product line for Louisiana-Pacific.
Then Justin takes the guys deep into engineered lumber and engineered products. They look to a future with engineered studs and dimensionally stable wall systems. Finally, the talk turns to tools (specifically, using nailers and saws with engineered lumber) and big pieces, like 60-ft. long studs.
---
This episode of the podcast is brought to you by our sponsors, Rockwool, BuildDirect, and Wasco Windows.
Life is loud. From noisy kids to blaring electronics, it's a big challenge. Cut the noise with Rockwool Safe 'n' Sound stone wool insulation. Made from rock, it naturally blocks sound. So no matter what video game the kids are playing, the rest of the family can enjoy a quieter, more comfortable space. To learn more about Rockwool Safe 'n' Sound stone wool insulation, visit Rockwool.com.
Looking for quality flooring materials at wholesale prices, but also want to cut out that time consuming "looking" part? Stop driving from store to store searching for a product that might not even be in stock. Let BuildDirect PRO do it for you. For free. As a BuildDirect PRO you'll be connected with a personal account rep that sources your products to spec, at the lowest tiered price, and manages the logistics and delivery of your order directly to your jobsite. Plus you get added perks like unlimited free samples delivered overnight, and up to $5000 credit on product purchases throughout the year. Join for free at BuildDirect.com/BDPros.

Wasco Windows produces beautiful, multi-functional European-style windows and doors right in their own Milwaukee factory, using the best components from Germany and the United States. These windows and doors offer superior thermal, air infiltration, and structural performance, making them the best choice for passive, net-zero or other high energy performance buildings. Wasco's European windows are available as single tilt and turn windows as well in a variety of multi-pane designs. Visit www.wascowindows.com and find out why, if you have Wasco windows, you know the Wasco difference!
We hope you will take advantage of a great offer for our podcast listeners: A special 20% off discounted rate to subscribe to the Fine Homebuilding print magazine. That link goes to finehomebuilding.com/podoffer.
The show is driven by our listeners, so please subscribe and rate us on iTunes or Google Play, and if you have any questions you would like us to dig into for a future show, shoot an email our way: [email protected]. Also, be sure to follow Justin Fink, Rob Yagid, and Fine Homebuilding on Instagram — and "like" the magazine on Facebook. Note that you can watch the show above, or on YouTube at the Fine Homebuilding YouTube Channel.
The Fine Homebuilding Podcast embodies Fine Homebuilding magazine's commitment to the preservation of craftsmanship and the advancement of home performance in residential construction. The show is an informal but vigorous conversation about the techniques and principles that allow listeners to master their design and building challenges.
Links for this episode:
See More Podcasts
Podcast Episode 65 — Of Mice and Matt – Summer upstairs ventilation, OSB vs plywood, and insulating rim joists.
Podcast Episode 96 — Engineered Wood and New Products – They guys highlight the best products they found at the International Builders' Show. Plus grievous bodily harm, demonstrated.
The Fine Homebuilding Podcast – Fine Homebuilding magazine's commitment to the preservation of craftsmanship and the advancement of home performance in residential construction. It's hosted by the magazine's editors.