Tools & Materials
Steel Beams and a Metal Pan Deck
Borrowing from the commercial building world, we use steel to prep for an elevated concrete slab.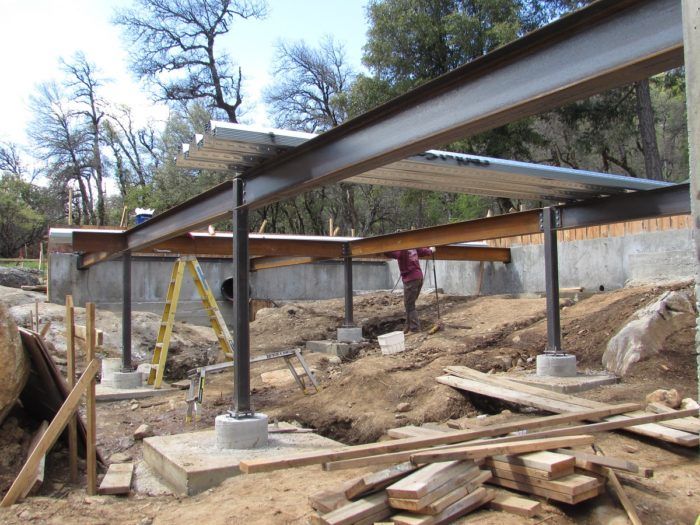 We chose to use steel framing to elevate a slab over the land because of the seasonal creek that would otherwise cause issues in a crawlspace. Also, we are designing for durability (fire, pests) and zero maintenance. The W10x22 girders (10-in. flange; 22-lb./ft.) are supported between the foundation walls by 4-in. by 1/4-in. steel posts.
We cut and tacked the posts for the Ace Welding steel crew who laid the girts with their crane and completed the certified structural welds. This frame will support the pan decking that is the base of the concrete slab to come.
On top of the steel frame we lay out a metal pan deck to support the concrete slab. Each pan-deck panel is 36 in. wide with six 3-in.-deep corrugations. The panels click together with a male and female seam on each panel. The seams can be field welded or crimped—we chose welding. The panels are also "puddle-welded" to the steel girders from above.
The shiny galvanized undulating surface became our next daily encounter. It's a step above the mud and rocks of the past, but blinding. It was like snow that gives you sunburn under your nose.