Framing the First Floor Over the Pan Deck
The penalty for a durable elevated slab is a time-consuming framed floor assembly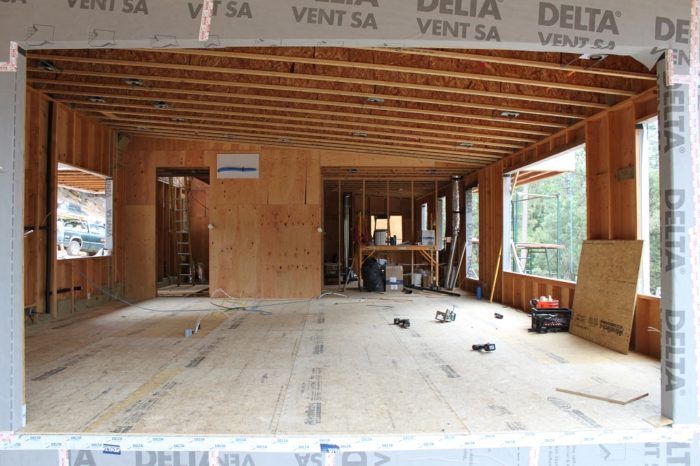 The first floor is framed with TrusJoist TJIs in a combination of both structural and nonstructural applications. It's this feature that has changed up the sequencing compared to our normal builds. After we framed the walls, the second story, and the roof, then we went back to frame the first floor.
The floor over the mechanical pit is the structural portion of the first floor and is framed with 16-in.-deep TJIs 24-in. o.c. The depth of these joists sets the finished floor height for the first floor.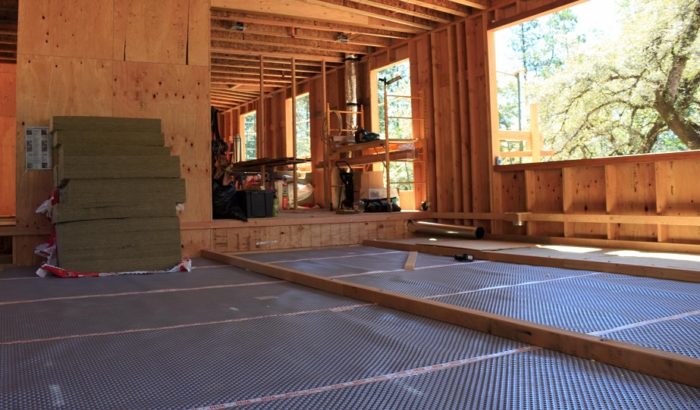 The vast majority of the first floor is the nonstructural portion and it is the bane of the whole project! The trade-off for the pan deck's durability (a necessity because of ground water) proved to be a major pain for construction sequencing. Fitting all of the MEP (mechanical, electrical and plumbing) into a floor framed over a slab is a knee twisting, joist walking, bent-over task and it seemed to go on forever. Then we had to fit the insulation into the bays from above around all of the MEP. The Rockwool is such a nice insulation to fit as it cuts precisely and easily with a bread knife. And I think it is the best performing and environmental option today. However, after days of this we found ourselves wishing it was a blown-in product!