Podcast Episode 140: Getting the Details Right When Re-Siding
Advice for new siding over T&G cedar, adding to an outbuilding, replacing worn out replacement windows, and hiring a home inspector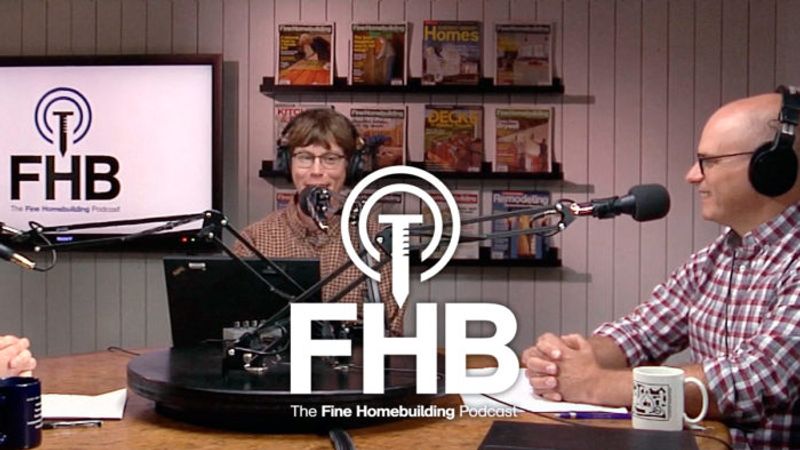 Editors Patrick McCombe and Matt Millham welcome Fine Homebuilding's new Digital Brand Manager, Rob Wotzak, to the podcast this week. The team discusses topics ranging from how far to dig into an old wall to get the weatherproofing details right when re-siding, what steps are essential when tying in a new roof to an old one, and what types of replacement windows make the most sense.
---
Question 1: Residing with vinyl
Michael writes: I live in a home that was built in 1984. I am going to install vinyl siding on the house because the existing western red cedar is becoming too much to maintain and keep looking good.
The existing construction of the home is 2 x6 framed walls with R19 batt insulation. The sheathing is 1 inch R-max foam with metal strapping used to cross brace all corners to provide lateral support. On top of the R-Max is the 1 x 8 tongue and groove cedar. There is no rain screen behind the cedar and neither is the R-Max taped at the seams or sealed at the bottom or top plate. I have encountered some shrinkage of the cedar over the years but cupping is very minimal. The finish has deteriorated and is now peeling.
Since I plan on applying the vinyl over the exiting cedar, would it be best to apply a house wrap over the cedar? Also from an insulation stand point, is the insulated vinyl worth the extra cost in this particular case? Your expertise would be greatly appreciated.
---
Question 2: Adding to an outbuilding
Andrew writes: Hey guys, Love the podcast. I'm planning an extension on my existing garage to make room for an art studio for my wife and have a lot of questions. My plan is to have the gable end of my garage extended by 10' to allow for a room to be built at the back. The room will be insulated from the rest of the garage so only that room needs to be heated in the winter ( Thunder Bay, Ontario. Zone 7)
Info on existing garage:
20×28 (gable end is 20' wide)
poured concrete slab with concrete block perimeter
8' 2×4 walls that sit on block perimeter
osb walls/ceiling
vinyl siding
ashphalt shingles
1) I will have a pad poured by a contractor to extend the existing pad from 20×28 to 20×38. What are some things I should confirm the contractor does to make sure the two pads don't shift away from each other.
2) Would it be possible to frame the extension while leaving the existing gable front on so all my tools can stay safe inside? I was thinking removing the siding and doors and blocking with osb to temporarily block it off. Then I can install the new frame as normal and then after complete, dismantle the existing wall? There is a second door on the side that can be used for access. I guess most of my light tools I can always take inside, and the heavy machinery would be safe as they are very heavy.
3) Can the existing gable truss be left in place or should that be reused and a normal common truss be installed in its place? When adding new trusses, should they be connected to the existing trusses by temporary bracing then sheathing? As if it was a normal installation. Or would i butt up a common truss to the existing gable truss? Allowing me to leave the existing room sheathing in place, and start the new sheathing from there.
4) How do you install the new shingles/ice and water/under payment to allow for a water tight install? Do I lift off a column of shingles and then lap over by 12"?
5) I'm looking for a way to insulate more. My plan was to at least install 2×3, cut to 2", to the existing 2×4 studs allowing me for more insulation. I want to remove the osb interior and install drywall for a cleaner look anyways. After thinking about it more I'm wondering if installing 1/2 foam strapping then a 2×2 over the foam would be easier and stop thermal bridging. My second idea was to just go with the wood strapping to allow for 2×6 insulation then install mineral wool boards to the exterior, giving more insulation and stopping thermal bridging. In this case because it's air permeable I can add only 1" allowing for a cheaper installation then 2" of poly foam. My only concern is having to remove the siding. But because some new windows are being installed and two existing windows are being relocated, I would need to redo some siding anyways. My question for that is wether I would need to reinstall house wrap due to all the holes from existing siding install. If you have better idea I'd love to hear them. I've ran through other idea of installing foam or mineral board on the interior but I don't like the idea of not having a full stud to nail too as I like to hang a lot of tools on the walls.
6) When removing a window, what is the proper method to cover window opening. Frame over the cripple between the header and sill or remove header and sill and install my studs? After installing sheathing should I tape the seams or just tape after house wrap?
7) When insulating the new room, should I apply a vapor barrier to the inside of the walls? The remaining portion of the garage will be heated but only to around 8°C (47° F) in the winter when not in use.
---
Question 3: Replacing replacement windows
TJ writes: Hi guys, I looked back through the old podcasts and couldn't find much info on this so I thought I would ask. I live in a 1950's Cape style house in Rhode Island. My current windows are vinyl replacement windows that are on their last legs. Most have broken vacuums and at least 1 broken lock mechanism. They don't slide the greatest either. I'm not sure of their age but they are at least 15 years old. I am looking to replace them this fall and hope to get some guidance on replacing them with either replacement windows or new builds.
More info because I know you guys like more info. The exterior of the house is vinyl siding over the original wood shingles. The siding will be replaced in a year or two with new vinyl siding and trim around the windows. The interior is plaster walls with standard 1x stained trim around the windows. I haven't taken the interior trim off yet to look at the rough opening yet. I don't know the state of air sealing around the window opening either.
In the past I helped my father replace the original windows on his cape with new build windows (cedar shingle siding). I am comfortable with with work required to flash and install new builds but I don't have any experience with replacement window installation and flashing. Lastly, if I go the replacement route, do I hire out the work or do it myself?
Thanks in advance for the help and I look forward to hearing your thoughts.
---
Question 4: Thoughts on home inspectors
Brandon writes: Hi guys, Thanks for the great podcast. I've found it a really fun listen while I'm in the wood shop since I've made my way through all of the shop talk live podcasts. I've learned a lot from the fine homebuilding podcast and have found the information you guys dispense invaluable.
You guys are the best, keep up the great work! I am curious on your thoughts on Home Inspectors, have any experience with them? Any recommendations for finding good ones? Or should you skip them?
---
This episode of the podcast is brought to you by Benjamin Moore, Titebond, and Versetta Stone.
This episode of the Fine Homebuilding podcast is brought to you by Benjamin Moore. Everyone can paint. This is true. But not everyone can get the project done right. And Benjamin Moore knows that's why you're on the job. You're more than a paintbrush and a ladder. Your client can buy those things at a hardware store, but they hired you for your skills and expertise. You know every paint job is different and that it takes more than one coat for the best finish. Benjamin Moore believes in doing things the right way. Because everyone can paint, but to do it right, it takes an expert contractor, it takes more than one coat and it takes Benjamin Moore. Paint like no other. Visit BenjaminMoore.com.
This episode of the Fine Homebuilding podcast is also brought to you by Titebond. Bonding heavy materials to vertical surfaces is a real challenge. To meet that challenge, you need a durable adhesive with grabbing power you can trust. Titebond's Ultimate TITEGRAB Adhesive has twice the vertical strength of most other adhesives, and is uniquely designed for bonding a wide variety of building materials, including, stone, brick, and concrete. TITEGRAB is ideal for indoor and outdoor applications, and is 100% waterproof. Available at building supply stores, lumber yards and home improvement stores. Visit TITEBOND.COM for more details.
This episode of the Fine Homebuilding podcast is also brought to you by Versetta Stone. Re-creating the beauty of stone starts by creating a revolutionary product. Versetta Stone is a one-of-a-kind, mortarless, cement-based stone veneer that installs with screws or nails. This unique panelized design allows contractors ease of installation, saving time and money without sacrificing beauty. Accomplish exactly what your customers are looking for with Versetta Stone. To learn more about Versetta Stone, visit VersettaStone.com.
We hope you will take advantage of a great offer for our podcast listeners: A special 20% off the discounted rate to subscribe to the Fine Homebuilding print magazine. That link goes to finehomebuilding.com/podoffer.
The show is driven by our listeners, so please subscribe and rate us on iTunes or Google Play, and if you have any questions you would like us to dig into for a future show, shoot an email our way: [email protected]. Also, be sure to follow Justin Fink and Fine Homebuilding on Instagram, and "like" the magazine on Facebook. Note that you can watch the show above, or on YouTube at the Fine Homebuilding YouTube Channel.
The Fine Homebuilding Podcast embodies Fine Homebuilding magazine's commitment to the preservation of craftsmanship and the advancement of home performance in residential construction. The show is an informal but vigorous conversation about the techniques and principles that allow listeners to master their design and building challenges.
Links for this episode: