Design
3-Tiered Checklist for Aging in Place
Incorporate as many of these design considerations as possible to build a home that is accessible and comfortable for people of all ages and abilities.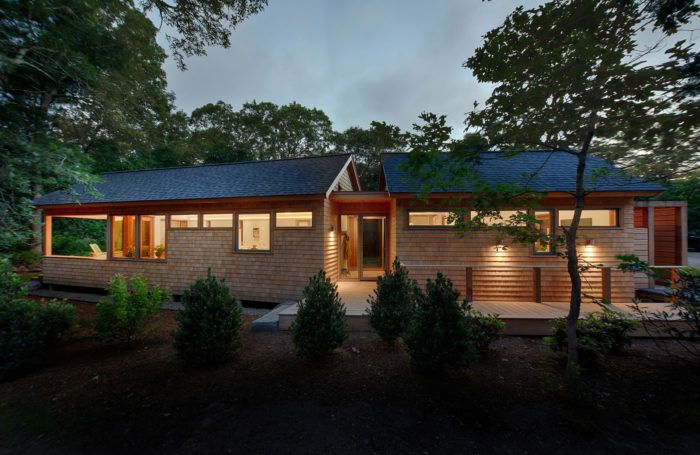 Based on Martha's Vineyard in Massachusetts, South Mountain Company (SMCo) is an integrated architecture, engineering, building, and renewable energy firm whose mission is to do exemplary work, strengthen community, and cultivate positive change. To that end, they customize their clients' homes to comfortably fit and support their lifestyles.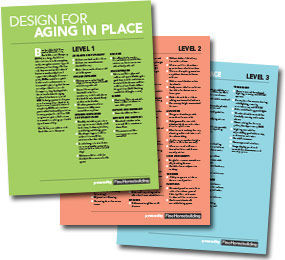 In recent years, SMCo noticed an uptick in the number of homeowners interested in planning their homes around possible future needs. In response, they developed this three-tier checklist for aging in place. It has become part of SMCo's design process and is presented to every client. Each level represents an increase in cost and complexity. SMCo tries to incorporate all of the Level I provisions in every project. Levels II and III are given as options if clients are interested in notching up visitability.
This checklist was included in the recent article, Small Home Harmony.
---
Design for Aging in Place – Level 1
Absolutes for Visitability
At least one bath on first floor
At least one zero-clearance threshold entry
32-in. clearance for doors at all visitable spaces
Site and Entrance
No-step route to be 1-in-12 slope; pathway slope of 1-in-20 minimum preferred
Accessible entry-door threshold to be 1 in. maximum, with bevels above finished floor (at finish floor) surface on both sides
Weather protection from elements to fully cover accessible entry door
Interior Circulation to Visitable Spaces
Readily visitable spaces via a no-step route to include a full bathroom, bedroom, kitchen, and dining and living space
Cased openings to be 32 in. wide minimum (34 in. minimum for door slab)
Level changes in circulation route to visitable spaces via a ramp to be less than a 1-in-12 slope
Minimum 38 in. wide (to finish) halls to serve visitable spaces
Bedroom
First-floor bedroom (or future bedroom) with 36 in. minimum clearance on one side of bed preferred
Half-Bathroom
Minimum 3/4-in. plywood walls or adequate blocking for grab bars at toilet and shower in visitable bathroom at 33 in. to 36 in. above finished floor for grab bars (2×12 blocking needed for fiberglass units)
Floors
Maximum 1/2-in. thresholds between floor surfaces in accessible spaces
Fixtures and Hardware
Switches and Controls
Electrical switches to be centered 48 in. maximum above floor
Thermostats at 48 in. maximum or remote controlled
---
Design for Aging in Place – Level 2
Site and Entrance
Access to waste and recycling on accessible route
Interior Circulation
Minimum 40-in. width (to finish) for designated accessible passages and halls
Minimum 32-in. clear width at all designated accessible passage doors, with 18-in. clear space adjacent to handle side on both sides with 48 in. clear in front of door
Turning radius of 60 in., or space for a T-turn required in kitchen, full bathroom, bedroom, and living/dining area
Porches and Decks
Selected additional porches or decks to be accessible
Accessible Bedroom Clothes Storage
Adjustable shelving and hanging-rod height to accommodate universal reach range (15 in. to 48 in. above finish floor)
Drawers to be mounted on full-extension slides
Place to sit when dressing (minimum 18 in. high by 15 in. deep by 30 in. wide)
Easily accessible full-length mirror
Accessible Bathroom
Blocking or plywood layer behind all shower walls and toilet for grab-bar installation
Adequate maneuvering space in front of each fixture (minimum 30 in. wide by 48 in. deep)
Slip-resistant flooring
Outswing doors for rescue access
One accessible shower or tub
Customized countertop height fit for user, or more than one countertop height (30 in. seated/36 in. standing is standard)
Shower
Curbless, with seat (or blocking for seat) adjacent to controls
Minimum 4-ft. by 4-ft. or 3-ft. by 5-ft. shower stall
Adjustable height, hand-held showerheads with 60-in. long hose
Tub
Tub deck with 15-in. transfer surface at the foot of tub (opposite showerhead) for seated entry
Toilet
30-in. clear space to one side of toilet
No separate toilet rooms
Option to create privacy: storage unit or wall that can be removed to create the 30-in. side clearance
Comfort-height or wall-hung toilets at 17 in. to 19 in. at finish floor
GFCI outlet for addition of personal hygiene system
Plumbling
Clear space under vanity tops or easily removable vanity cabinets for future knee space (27-in. minimum vertical clearance)
Single-lever water controls at plumbing fixtures
Sinks and traps designed to allow for future wheelchair use
Kitchen
Full-extension glides on all drawers
Pullout shelves behind any base cabinet doors
Minimum 48-in. clear floor space in front of cabinet faces
Waste and recycling container on pullout drawers in lower cabinets
Pulls or touch latches rather than knobs
Easily removable base cabinets that allow for future use as knee space
Pocket doors below sink or rolling cart instead of cabinets
Countertop height customized for user
Appliances
Ranges and cooktops with controls at front or side
Refrigerator/freezer with side-by-side doors rather than drawer-style freezer
Glass/ceramic cooktop for easy cleaning and/or induction unit for safer cooking
Appliances at comfort heights (15 in. to 48 in. for controls)
Microwave and wall ovens located within reach from a seated position
Sinks and Faucets
Single-lever water controls on all plumbing fixtures
Pot-filler faucet adjacent to cooktop
Windows
Ability to operate windows from a seated position
Electrical
Electrical panel on main floor with a front clear space of 36 in. by 48 in. with main breaker at 48 in. maximum
Rocker switches in all accessible living spaces
---
Design for Aging in Place – Level 3
Site and Entrance
All entries and passages to be level
All patios, porches, or decks nearly even (approximately 1/4 in.) with first-floor level
Package shelf at front door at 15-in. to 48-in. reach
Circulation and Stairs
Stairs to accommodate future lift or space for future elevator (minimum 42 in. wide)
Continuous handrail at stairs to extend 12 in. beyond the top and bottom risers and continuous at landings
Minimum 60-in. turning space in all rooms (or T-turn)
Color changes, pathway lighting, and other visual cues to indicate surface planes (e.g., painted risers and natural treads)
Kitchen
Smart appliances
Continuous stretches of countertops for easy sliding of heavy objects between sink, refrigerator, and cooking area
Pipes protected where exposed under sinks
Integrated rolling carts in place of base cabinets to facilitate wheelchair
Accessories such as roll-out shelves and pull-down uppers to improve wall- and base-cabinet storage access
Glass doors or open shelves in upper cabinets for visual access to contents
Bathroom
Offset controls in tub/shower with adjacent 30-in. by 48-in. clear space for seated users
Water controls within reach of shower seat
Hand-held showerhead with shutoff on shower end
Carefully located grab-bar locations
Lighted magnifying mirror
Hardware
Locks and hardware operable with closed fist, requiring minimum effort
Keyless locks
Laundry
Side by side front-loading washer and dryer with front controls (48-in. clearance in front of units)
Access to folding surface
Multiple light sources with adjustable controls
Higher illumination levels on dimmers
Electrical outlets at minimum 18 in. high
Lighting and Color
Contrasting colors to better distinguish changes in surfaces
Integrated lighting and color for wayfinding
Luminous model switches or night-lights
Programmable lighting fixtures, thermostats, and outlet
Technology
Remote control for selected lighting, security, and HVAC systems
Smartphone for communicating with lighting, security, entertainment, and HVAC
911 switch/flashing porch light
Visual and audio controls for doorbell, security, and smoke alarms
Direct wiring for alarm to police, fire department, EMS
Lighting controls for adjustability, gradual intensity, and motion activation
Doorbell intercom
Power-operated windows
Large display panel and controls for thermostats and security system
---
More about aging in place and retirement homes:
Photo: Bob Gothard, courtesy of South Mountain Company
View PDF