Must-Have Router Jigs: Cut Clean, Straight Dadoes With this Simple Guide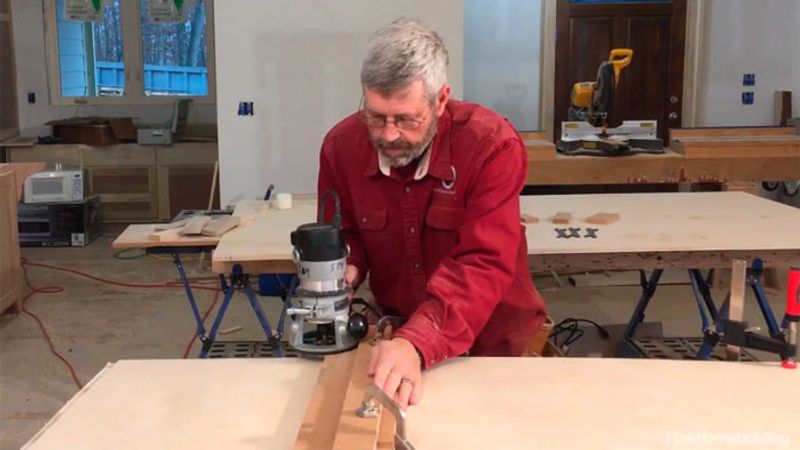 I'm Gary Striegler and this is one of my favorite routing jigs. It's used to make dadoes, for instance like on this small shelving unit that I'm getting ready to put together. Now, a router is absolutely the cleanest way that I know of to cut dadoes, especially in plywood. So here's how this jig works. It's just a couple pieces of material that are tacked together. I have some of these that are 4ft wide, or over 4ft wide, for cutting across a full sheet, but this one is smaller. When I first put this together there was about an 1/8-inch of material here on the outside. To get the jig where it fits specifically to this router I made a pass that removed that extra material so now that edge tells me exactly where this router bit is going cut every time. All I need to do is set the depth that I want to cut and I'm ready to go. The round part of the router base just rides against here. Another thing I like about this jig, it doesn't really matter even if I do this, I'm still pretty well cutting a perfectly straight line. I've laid out these pieces, I'm just going to line up this edge with my 2 layouts and clamp it in place and I'm ready to go.
The only thing I have to remember is which side of my layouts I want the dado to be on. I always set the jig to the left-hand side until I get to the very top.
So that's how I make clean uniformed depth dadoes without having to do any kind of fancy layout or offset. Just line the edge up, clamp it, and cut.
More Must-Have Router Jigs:
Cut Clean, Straight Dadoes With this Simple Guide
Read Gary's article Job-Site Router Jigs from issue #280