Tools & Materials
Hyperportable tablesaw
Milwaukee's lightweight cordless 2726-21HD saw is great for remote job sites, but portability comes with a few trade-offs.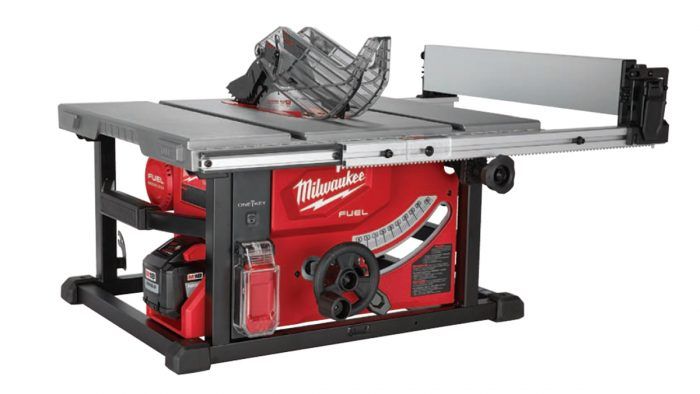 I've had a few months to use Milwaukee's new cordless tablesaw, and I've found its brushless motor has plenty of oomph to rip through knotty 2x framing lumber and 3⁄4-in. OSB floor sheathing. This saw's blade is smaller than a typical tablesaw (81⁄4 in. vs. 10 in.) and it has a narrow kerf (1⁄16 in.), but unless you're cutting material thicker than 21⁄2 in., the smaller blade is not a shortcoming.
Miraculously, the rip fence was square to the blade right out of the box, but it's easy to adjust should you need to. After some test cuts to verify it was square, I put the saw to work. Not yet convinced that it was up to the rigors of framing, I tasked it with ripping down 3⁄4-in. sheets of hardwood ply for some built-ins. I'd purchased the saw without the stand, and what I see as the saw's biggest shortcoming was clear from cut one: without the stand, it's prone to tipping over when ripping heavy material. This seems to be a result of two factors: the saw's light weight (45 lb.) and the location of the blade, which is pushed about as far back on the table as possible.
The blade location gives you more room up front for lining up material, but probably contributes to the overturning problem. Even when I went slow, the friction alone was enough to make it tip over like a drunk uncle. This led me to get the stand ($80), which solved the tipping problem. The stand clips to the bottom of the saw, enabling you to pick the whole thing up as a unit to move it.
With a 12-amp/hr battery, the saw can run for quite a while on a charge, but you'll want a second battery if it's the only saw on site on a rip-heavy day. As you might imagine, the battery takes longer than a lunch break to charge. An adapter for corded operation would be nice, but (so far, anyway) that's not an option.
The saw's rack-and-pinion fence adjustment is fast and smooth, and the same goes for the blade adjustments. It takes just 14 turns to fully raise the blade, and the lever for changing the bevel angle is next to, rather than on the same shaft as, the blade-height adjustment, making it easier to adjust than other job-site saws I've used. Blade changes require just one wrench, which stores on the frame along with the miter gauge.
The saw's stock blade cut cleanly through everything I put through it, with one exception: No matter how fast or slow I fed finger-jointed material, the blade vibrated slightly when it hit the joints. And while the riving knife was fine most of the time, material hung up on it reliably when making narrower rips for face frames. The only solution seemed to be to remove the knife, which a lever release at the back of the saw made it a cinch to do.
These weaknesses, while relatively minor, were enough to conclude that this isn't the best job-site saw for finish work. But it is a fantastic rough-carpentry saw, and despite its small size, it's at least as good at that job as its corded peers. The only real issue with this set-up is cost. This saw is at least $150 more (not including the stand) than an equivalent corded saw, making it a bit of a luxury unless you're regularly without power or already heavily invested in Milwaukee's 18v tools.
Milwaukee 2736-21HD
Table size – 22 in. wide by 173⁄4 in. deep
Blade diameter – 81⁄4 in.
Max depth of cut at 90° – 21⁄2 in.
Max depth of cut at 45° – 13⁄4 in.
Price – $550 with 12-amp/hr battery and charger
Matthew Millham, associate editor 
Photos: courtesy of Milwaukee
From Fine Homebuilding #282