Radial-Arm Saws: The Tool That Just Won't Die
This powerful shop tool's peak is long past, but the folks in Britt, Iowa, may not agree.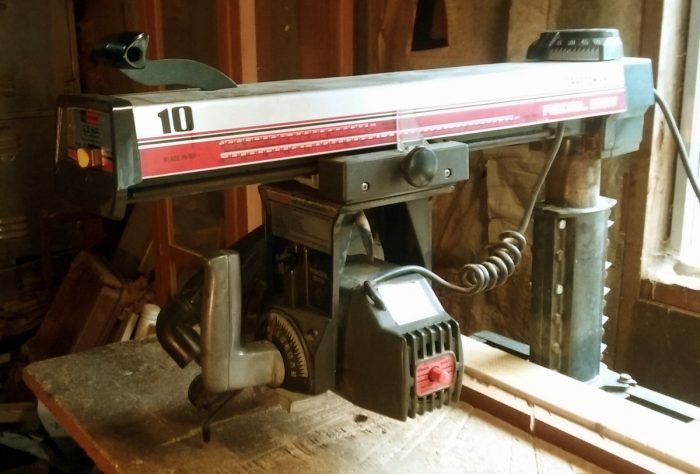 Is there an American-made power tool that has fallen on harder times than than the radial-arm saw? Once the centerpiece of many thousands of home workshops, the radial-arm saw has seen its influence steadily shrink as ever more capable tablesaws and compound miter saws take over.
There is but a single U.S. company still making the radial arm saw: the Original Saw Co. of Britt, Iowa. Two Italian-made models, manufactured by Maggi and Omga, are imported by U.S. distributors, but annual sales are measured in the hundreds, not the thousands.
And somehow the radial arm survives, if only for a specialized and loyal following that still admires its versatility, small footprint, and capacity for hard work.
A long and storied history
The radial arm is the invention of Raymond Elmer DeWalt, who founded his eponymous company in Leola, Pennsylvania, in 1924 and patented what would be sold as the Wonder-Worker radial-arm saw in 1925.
Then, as now, the motor and attached sawblade were mounted on a carriage that rode back and forth on a heavy beam over a fixed table. The beam pivots to make angled cuts while the head rotates to allow bevel cuts, giving the saw the capability of making compound miters.
Additionally, the blade can be swung 90° to allow the operator to rip stock lengthwise. Even relatively small radial-arm saws may have a crosscut capacity of 24 in., and unlike a tablesaw they can be pushed up against a wall to save room in a small shop.
DeWalt has gone on to produce a very long list of stationary and hand-held power tools, both corded and battery-operated, in its familiar black and yellow color scheme. But a radial-arm saw is not one of them.
Other than what's available on the used tool market, the familiar names stamped on radial-arm saws in the past—Black & Decker, Rockwell, Sears Craftsman—are history.
Still a loyal following
The design lives on with the Original Saw Co. The company bought rights to the design—everything but the DeWalt name—from Lancaster Machinery and opened shop in 1990. It proudly carries on a legacy now nearly a century old.
Even though the company's base model starts at about $4800, sales are on the rise, says Mike Stevens, an 11-year veteran of the company who now runs the service desk.
"The word is getting out in the industry that they're all hand built," Stevens says in a telephone call. "They're as American made as we can make them. We don't like to put anything foreign on that saw if we can help it."
Many components come from local machine shops. Original Saw has two employees whose job is to add the copper windings to the motor cores by hand. Rotors are die-cast in house.
According to Stevens, Home Depot puts Original Saw radial arms into its stores—not for sale, but for employees to cut lumber for customers. The retail chain's big competitor, Lowe's, is doing the same thing.
You're unlikely to see a radial-arm saw on one of the Saturday morning DIY shows, Stevens says, but cabinet shops continue to love the 12-in. model called the 3512. It comes with a 12-in. blade and a 3-hp. motor, and has a 24-in. crosscut capacity—perfect for a shop that frequently cuts kitchen counters and other wide, heavy materials.
"Old-timers" are especially devoted to the radial arm because they grew up with them, he says.
"Men that are really into their woodworking, once they have a 3512, they'd almost get rid of their wife before they'd get rid of that saw," Stevens says.
Two models from Italy
Business at the two U.S. distributors of Italian-made radial-arm saws is apparently brisk enough to keep them in stock even as the industry shifts to saws that are viewed as easier or safer to use.
Maggi saws are distributed by J & G Machinery Inc. in Sanford, North Carolina. The sales department says small shops employing up to 20 people seem to be the strongest market, but in general interest seems to be shifting toward "upcut" and automated saws.
Maggi's base model is the Junior 640, a 447-lb. saw with a 15-3/4-in. blade capacity and a 21-1/2-in. crosscut capacity. It sells for $4790, not including shipping.
There's also the Omga, made in Italy and distributed by its U.S. subsidiary located in South Bend, Indiana. Its RN 450, out the door for about $4200, has a crosscut capacity of 17-3/4 in., a 4-hp. motor, and a 12-in. blade.
The company sells hundreds of its radial-arm saws each year through a dealer network, but concedes the market is shrinking as woodshops look to a newer generation of tooling.
Maybe so, says Stevens, but it's not gone yet.
"It sells itself," he says. "It's fun to sell something that's so well made. I tell customers, keep it clean and wire it correctly and I'm not even going to hear from you. I'm going to be like the lonely Maytag repairman."
"I hate to see anybody get 'em dirty," he adds, "they're so doggone nice when they leave here."
More about radial arm saws: