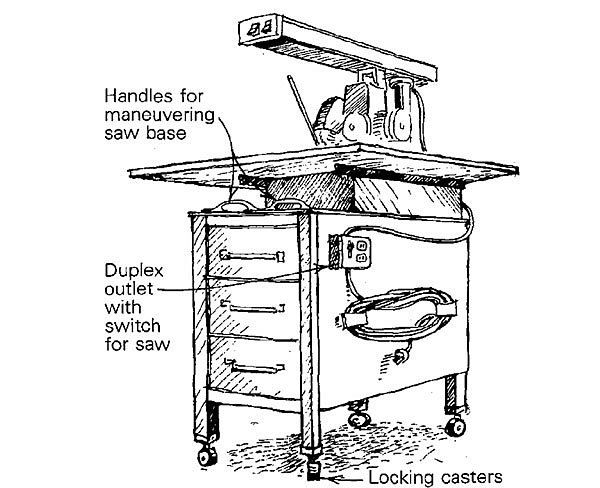 My radial-arm saw came with a rickety bolted-together sheet-metal base. Whenever I moved the saw to a new job site, the base racked and twisted enough to throw the saw out of adjustment, wasting my time and causing me frustration. Clearly, this saw needed a sturdier base.
My search finally led me to a store that sells second-hand office furnishings. There I found old steel desks that consisted of a top that spans a pair of pedestals. Most of the pedestals I found are of robust, welded construction, and they make ideal bases for saws, jointers, shapers, and other standing power tools. The pedestals with four legs are the easiest to adapt, requiring only a plywood top and large, locking-type casters on each leg.
My saw base now has a permanently connected 50-ft. electrical lead and side-mounted duplex outlets (ground fault circuit-interrupter type) for plugging in small power tools (see drawing). I added sturdy locks to each drawer so that I can secure blades, bits, and hand tools. The unit is stable and rigid, and although heavy, it's easily loaded on and off the truck with a couple of 2x10s as ramps.
Karl Juul, Slingerlands, NY