NWFA is Making Sweeping Changes to Their Wood-Flooring Installation Guidelines
The National Wood Flooring Association has been working with experts throughout the construction industry to create a new and better guide to successful flooring installations.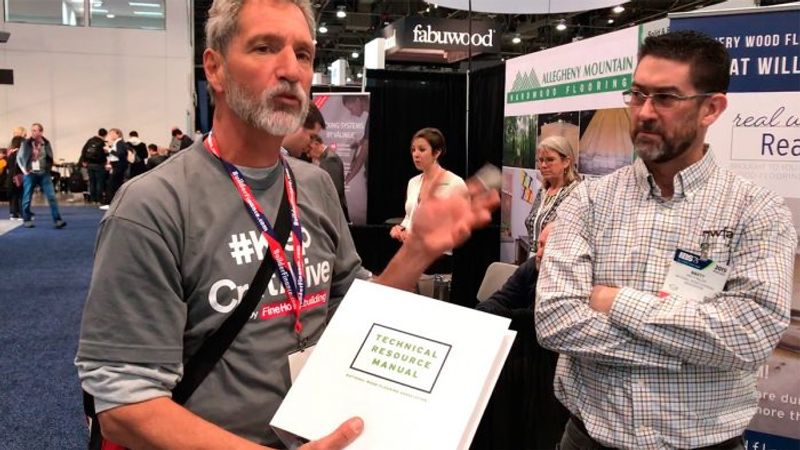 Do you put tar paper or asphalt-saturated kraft paper underlayment down over wood subflooring before installing hardwood flooring?  If so, why?
For moisture or vapor control!
As a "decoupling" membrane!
Because that's the way I've always done it!
I've heard lots of explanations over the years. The only one that made sense is, "It's required by the National Wood Floor Association installation guidelines"—the industry standard for wood-flooring installation. You don't want to risk not following an industry standard should a warranty issue develop.
Well, I stopped installing tar-paper underlayment over 20 years ago and have been castigated numerous times for the decision. This coming this summer I'll have the NWFA guidelines on my side. The association has been doing a full rewrite of their suite of industry standards over the past few years, and the capstone will be the installation guide.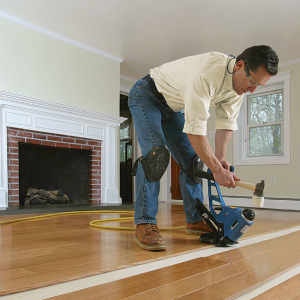 If you attended the Builders Show last week, chances are you walked right by the National Wood Flooring Association booth.  There was a table, a three-ring binder, a stack of Hardwood Floors magazine, and Brett Miller, VP of Education and Certification. I asked Brett why tar-paper underlayment is required, and a knowing smile crossed his face.
According to Brett, the installation guidelines have undergone numerous updates since they were first published in the 1930s, but until now, there hasn't been a cover-to-cover reexamination of what was included. Brett has pulled together a host of industry stakeholders—flooring manufacturers, installers, finishers, finishing manufacturers, subfloor manufacturers, wood scientists, building scientists, HVAC folks, etc.—and there will be lots of changes to the installation guide. One of them will be dropping the requirement for tar-paper underlayment in most cases.
Keep your wood-flooring knowledge up-to-date
You can stay informed about upcoming changes via the NWFA website www.nwfa.org and by visiting or subscribing to Hardwood Floors magazine. Free digital and print subscriptions are available at hardwoodfloorsmag.com.
Video Transcript
Mike Guertin: One of the pavilions that NAHB set up this year is the wood-flooring area. And one of the things that I found when I go around to the different booths is you talk to the manufacturers, and behind any manufacturers are associations. The National Wood Flooring Association has a bunch of members that are all manufacturers.
Any installer knows that their installation guide has pretty much been the same for many, many years, with slight tweaks here and there. Well something's coming up this summer you're going to want to know about. I spent almost an hour talking to Brett, who has been working on these changes to the guidelines. He can tell us a little bit more about those.
Brett Miller, NWFA: Our guidelines, as you said, date back to the early 90s when they were put together and they've been patched over the years to address minor issues here and there. But the biggest thing that I wanted to do as we rewrote these was start from scratch and make sure that what we do put in  isn't just developed by a group of wood-flooring industry experts, but also includes a collaboration of every industry that is affected by this. For example, I've pulled together the wood-panel industry as well as fastener manufacturers and the radiant-heat industry. And we've done that with just about every chapter throughout this publication. We're expecting this to come out this summer. This is a guideline that hasn't just been written by the wood-floor industry solely for the wood-floor industry, but has been written with all industries in mind that that ties together with our wood-floor system and how it all works. The consistency in terminology and consistency in reference to code and test methods is really at the forefront of why we did this and what we put together. I think these changes that are coming forth are going to be very impactful for our industry. Some are a totally different way of thinking from what we've always considered to be normal for an installation process for a wood floor. The reason is not because so much has changed outside in the world, but within our industry technologies have changed, flooring products have changed, and building styles have changed.
Mike: How can people find out more and keep on top of when this will be introduced?
Brett: One of the biggest efforts that we have with this is that our members get this guide for free. We put together a great program with NAHB to make sure that builders have access to this set of guidelines. But we are also going to be working with all of these industries to make sure we can get the word out that our guidelines are out there. As many manufacturers start to reference our guidelines as the standard, it's going to be changing the way a lot of a lot of our industry works together to make sure that we have a successful install.
More wood-flooring resources: