Design
A Closer Look at Solid-Wood Flooring
The ins and outs of an enduring favorite.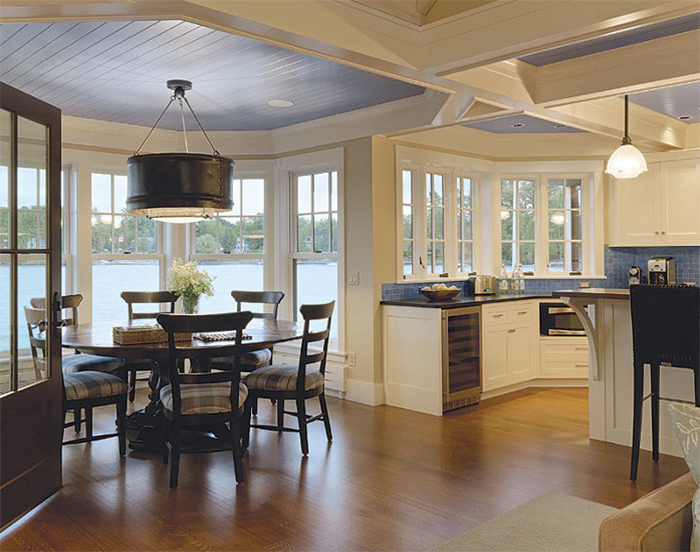 Synopsis: Author Anatole Burkin sheds light on what to look for in solid-wood flooring. Additional information on wood movement, finishes, trends, and hardness round out this overview of what can be found in solid-wood flooring.
Solid-wood flooring has enjoyed a reputation for durability and beauty for centuries. Many older homes sport original flooring that's still in excellent condition after enduring generations of activity. With traffic and time, a wood floor develops a character and charm that's hard to beat, making it a perennially popular choice.
Whether the flooring is new or reclaimed, domestic or imported, wood offers an almost unlimited variety of finishes and can be sanded and refinished several times over its life span. The finish can simply draw out the natural character of the wood, or in the case of dye, stain, or pickling, it can color the wood. Depending on how it was cut, it can range from mild to wild in appearance. The surface can be sanded smooth (no "crumb catchers" in the kitchen), or it can be left with or given a rustic and textured look. In residential construction, solid-wood flooring is used extensively, especially in higher-end homes, because of its many creative installation possibilities, its long life span, and its purity.
In the April/May 2015 issue of Hardwood Floors (the magazine of the National Wood Flooring Association), contractors reported that red oak had 43% of the U.S. market, followed by white oak at 26%. According to the NWFA, traditional 2 1⁄4-in. red-oak strip flooring is still the favorite, but there's been a trend toward wider and longer planks and toward random-width installations (a mix of 3-in., 4-in., and 5-in. planks). Also, gray colors are currently popular, as are highly figured woods containing mineral streaks, prominent grain, and knot holes.
More imported species are coming to market as well, most of them tropical woods. Flooring companies sometimes like to give them common names, but American cherry has about as much in common with Brazilian cherry as an old fashioned does to a caipirinha. Both are fine choices but wholly different flavors.
Properties and parameters
In the marketing of flooring products, you may see the phrase solid wood to describe materials that contain real wood layered onto processed substrates; that product is known as engineered flooring. Solid-wood flooring as discussed here consists of 100% real wood with no substrates.
Solid-wood flooring for residential construction is typically 3⁄4-in. thick, with tongue-and-groove joints along the edges. It can be refinished (sanded and coated) four or more times before needing replacement. The sanding process removes approximately 1⁄16 in. of material. Because the solid-wood layer is thinner on most engineered products, it is likely that it can be refinished only once or twice.
Brett Miller, vice president of education and certification at the NWFA, explains how a solid-wood floor can last for such a long time: "Aesthetically, the thickness of a floor makes no difference at all. Once it's installed, you won't be able to tell. The thickness of the wood above the tongue, however, will ultimately determine how many times the floor can be sanded and refinished during its service life. When properly maintained, wood floors can last for hundreds of years, and if repairs or sanding are required, a wood-flooring professional will remove only a small fraction of the actual flooring material. The thicker the flooring above the tongue, the more times this can happen."
For more photos and details, click the View PDF button below:
View PDF