Same Square Footage, but Bigger
When converting this house on Martha's Vineyard from a two-family to a single-family, LDa Architecture & Interiors reworked the floor plan to make the home feel more spacious.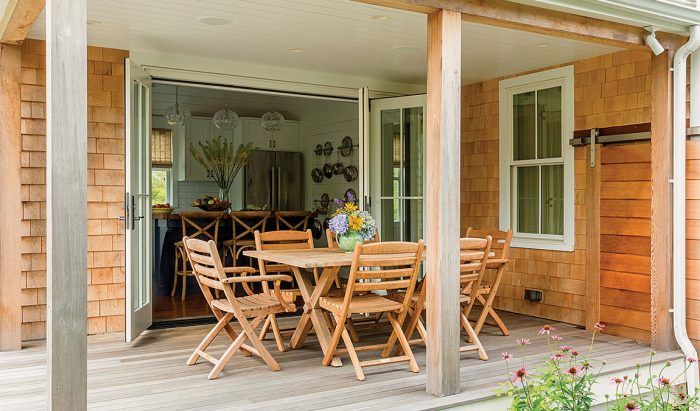 The current homeowner grew up in this classic agrarian cottage on Martha's Vineyard. When she inherited the property, she decided to convert what had become a two-family house back to a single-family residence, similar to the one she remembered. The challenge was to make the 1200-sq.-ft. home feel bigger than it is. LDa Architecture & Interiors's design plan eliminated redundant spaces to create a cohesive single-family layout.
To start, they gutted compartmentalized spaces to make living areas feel roomier. Cased openings allow common areas to overlap while remaining distinct, and vaulted ceilings in the kitchen and porch add volume. They also changed the circulation; rather than cutting through rooms, occupants now walk along the edges, which makes floors look wider. To enhance natural light, dormers were added to the second floor, and a new porch in the knuckle of the two forms expands the kitchen into an outdoor dining area. Simple materials and light paint colors keep the small spaces from feeling cramped.