How-To
Building for Floods
A New Orleans prototype home may provide a path for builders looking to design and construct houses that can withstand rising sea levels and intense storms.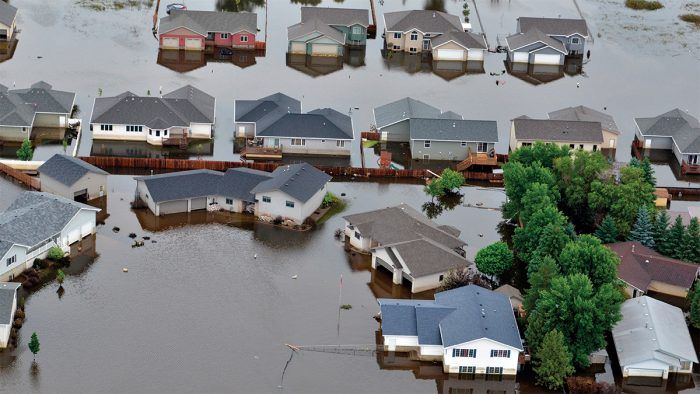 Synopsis: With sea levels rising and hurricanes causing catastrophic flooding, it makes sense for the residential design market to plan for resilient homes that anticipate storms and the rising waters that follow, but these projects remain outliers in the current market. This article describes some of the obstacles to creating more resilient houses, including decisions by insurance companies, high costs, and risk-averse builders. It describes how the Green Dream 2 prototype home in New Orleans, built in the aftermath of Hurricane Katrina, directly answers uncertainties about how to design in areas prone to flooding. A detailed drawing explains the flood-hardy assembly, including hurricane ties, adjustable concrete piers, impact-rated windows, and fiber-cement siding over foil-faced polyiso, housewrap, and treated plywood sheathing and studs.
---
According to Vol. I of the Fourth National Climate Assessment, a comprehensive federal climate report released in 2017, the global sea level has risen 7 in. to 8 in. since 1900—three of those inches since 1993. A study from the National Academy of Sciences predicts that by the year 2100, global sea levels could rise by at least two more feet, resulting in more frequent and severe flooding. At the same time, storms like Hurricanes Harvey, Maria, and Florence, which set various state and national rainfall records, are increasingly responsible for catastrophic flooding.
With these floods come devastated communities. Research from the Union of Concerned Scientists estimates that as many as 2.4 million homes, worth roughly one trillion dollars, could be at risk by the end of the 21st century. As these major storms intensify and families in flood zones prepare for potential destruction, you'd think the residential design market would be teeming with plans for resilient homes that anticipate not only hurricanes but the rising waters that follow. Surprisingly, you'd be wrong—these projects remain outliers in a market in which cost is still king.
That said, a prototype for reasonably "future- proofed" homes has stood tall in New Orleans since 2010. Known as Green Dream 2, it is a single-family house built in the aftermath of Hurricane Katrina that directly answers uncertainties about how to design affordably and resiliently in areas prone to flooding. Its mere existence raises the question: Why aren't there more like it?
Strategies and hurdles
The Green Dream 2 project was led by Building Science Corporation (BSC) in partnership with the Louisiana State University Agricultural Center (LSU AgCenter). It was sparked by a request from Portland Community College and Catholic Charities's Operation Helping Hands. It was preceded by Green Dream 1, a similar New Orleans–based project on a smaller scale that was also designed by Betsy Pettit, FAIA, and her team at BSC.
"The Green Dream concept was to build a home with not only high energy efficiency but also a resistance and resilience to local natural hazards, to a level above the code and ordinance minimums," says Claudette Hanks Reichel, Ed.D., director at the LSU AgCenter and advisor on the project.
At 1944 sq. ft., the one-story Green Dream 2 house is modest in both size and presentation. It was built to "code-plus"—beyond minimum requirements—but rather than hire an engineer, BSC chose to follow the 130-mph prescriptive guide in the American Wood Council's Wood Frame Construction Manual, which provides a tested system that was fairly easy to construct. Reichel calls it a "cookbook approach" that hews more conservative but is considered builder-friendly.
From Fine Homebuilding #284
To view the entire article, please click the View PDF button below.
More about weather-resistant homes:
View PDF