How-To
Build an Antique-Style Post-and-Beam Shed with Modern Construction Details
Sturdy metal hardware takes the place of traditional, time-consuming timber-frame joinery in this contemporary take on the classic storage shed.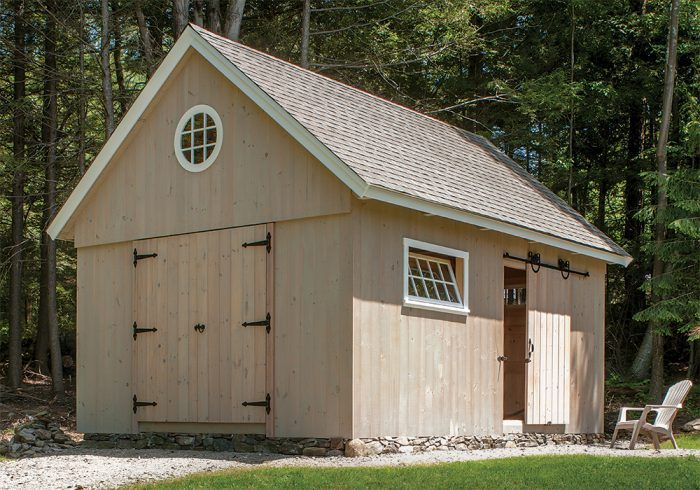 Synopsis: In this excerpt from his book Building Sheds (The Taunton Press, 2016), Joseph Truini gives instructions for building a modern post-and-beam shed with a conventionally framed 2×6 floor, assembled with metal fasteners called T-Rex connectors from Connext Post and Beam. He describes three jigs that help frame the shed, and then explains the process of raising the frame, siding the shed, and installing windows and doors. Illustrations give details of the frame and door assembly.
---
Unlike in a traditional post-and-beam structure, there's not a single scarf joint or mortise-and-tenon joint in this whole shed. Built on a conventional 2×6 floor, the frame is assembled with metal fasteners called T-Rex connectors. Each connector's flange is screwed to a supporting member, and its leg slides into a post or beam with a slot cut to receive it. These joints are held together with aluminum pins. This modern construction method might not impress timber-frame purists, but it does provide a quick and strong way to build a beautiful post-and-beam structure. While it's attractive on the outside, what makes this build truly special is what's visible on the inside: an exposed frame of large white-pine timbers that would warm the heart of any barn builder.
The timber frame
This spacious 14-ft. by 20-ft. post-and-beam shed melds traditional architecture with modern building methods, resulting in a timberframe building that goes up surprisingly fast. The floor is framed fairly conventionally with 2x lumber (see inset), and topped by a frame of rough-sawn, full-dimension 6×6 posts, 6×10 beams, and 4×8 rafters, with a few other sizes mixed in for girts, plates, and bracing. The walls are braced with diagonal 4x5s, and the window and door openings are framed with 4x4s and 4x5s. All of the timbers are white pine, sourced from a local sawmill. Other species of wood can work just as well, although most are heavier.
Buy-and-build kit
All the metal connectors, building plans, and jigs needed to erect a post-and-beam frame can be purchased through Connext Post and Beam (ctpostandbeam.com). T-Rex connectors are available for various sizes of posts and beams, including both rough-sawn lumber and standard nominal lumber.
Raise the frame
The 6×6 posts attach directly to the floor framing, and support an overhead framework of horizontal timbers: two 6×10 plate beams that span the length of the barn (the ends of the plate beams overhang the end posts by 2 in.), three 6×10 crossbeams that run perpendicular to the plate beams, and three 6×6 joists that fit between two crossbeams to frame the loft. a dozen 4×8 rafters spaced 44 in. apart—flanked by 4×6 fly rafters on the gable ends—come together along with a 2×10 ridge to form the gable roof.
From Fine Homebuilding #284
To read the entire article, please click the View PDF button below.
More about sheds:
View PDF