Podcast 187: Missing Ductwork, Rooftop Decks, and Waterproof Mechanical Rooms
Kiley, Matt, and Patrick hear from listeners on insulating brick buildings and being a good apprentice, and then take questions on improving the function of a furnace, keeping the living space under a deck dry, and what to do about attic ductwork.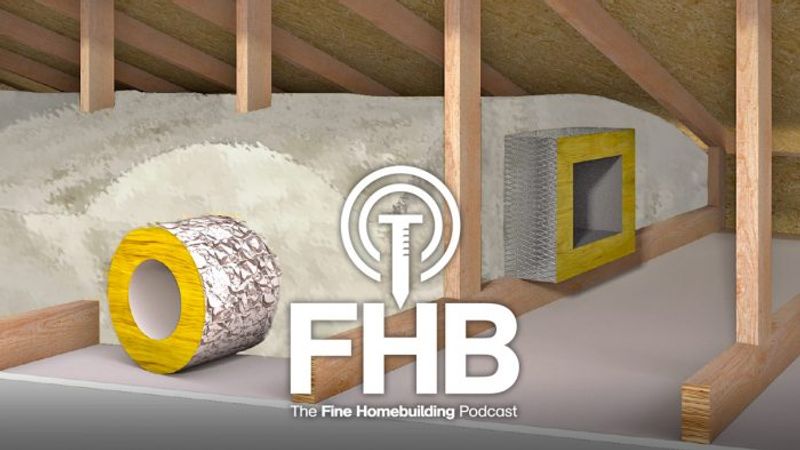 Follow the Fine Homebuilding Podcast on your favorite app. Subscribe now and don't miss an episode:
The gang hear from listeners about insulating brick buildings and how to be a good apprentice before tackling questions about about missing ductwork, construction details for a watertight deck, and a 15-point plan for improving a heating and AC system.
---
Reader Feedback
Jon writes,  Hi Guys, I just listened to Podcast 184 that covered insulating brick homes. I am a contractor in Newburgh, NY which is the second largest historic area in New York outside of New York City and we predominately deal with brick homes in our renovation and restoration projects.
Because we live in a historic area we are limited by the ARC (architectural review committee) about how we can deal with exterior facade work. In addition to those requirements many homeowners like the look of brick and want to maintain the brick facade.
I think everything put forward from Martin Holladay's GBA article was very informative although there is one great detail that could be added – when we frame out new walls on the interior of a masonry building we will pull the framing 1″ off the brick to allow closed cell spray foam behind the wood framing and eliminate thermal breaks. Cutting the pocketed beams back is also a must to avoid wicking, while engineering a revised load path into the basement.
Keep up the great work; can't wait to hear the next episode!
Ian also writes about episode 184, Your Bay Area emailer touched on a topic that I believe plays a major role in keeping craft alive—how we as established tradespeople train the next generation in the field. I strongly believe that those of us in the field are a point of leverage for making a difference. I have some advice for apprentices based on my time as an apprentice.
I'm calling this Ian's 8 commandments for apprentices
Nothing is learned from constant success. Try it, screw it up, think about it, repeat. After 30 or 40 years of this, retire.
Ask every stupid question you think of. But never ask more questions than you can give considerate thought to the answers.
Show up early. Learn how to set the job up. Better yet, ask at the end of the day how to set the job for tomorrow.
Watch how the experienced people in your trade set up their work. How do they store their tools, set up their work station, arrange their material. If you cannot figure out why, ask. Most guys would love to tell you.
Understand that you will likely be seeing and experiencing things out of sequence. Until proven otherwise, you are viewed as cheap labor and will get bounced around. Reading, watching videos, and helping someone from the crew on a weekend project will begin to fill in much of the rest.
Make peace with the following; If you learn how to build a shed, then you know how to build a shed. If you learn how cut straight and square, read a tape measure and a level, use a square, make accurate marks, and apply right triangle trigonometry (easier than it sounds) then you will possess the foundation needed to build anything.
The correct answer to "how much lumber can you carry?" Is "two more sticks than the boss"
If an employer or a crew is not giving you what you need to learn, find one that will. It is ok to move around when you are learning this business (IMHO).
Ian Schwandt, Lead Carpenter/Estimator, Hudson Valley Preservation
---
Editor Projects
Patrick: Flooring restoration project and new wardrobe cabinet.
Kiley: Labor of love 1835 brick house.
​Matt: Garden shed windows & doors; and new gazebo project​.
---
Question 1: Is it possible to paint metal siding?
Aaron from North Dakota writes,  Great show! I really enjoy listening in the car. Everything here in North Dakota is so spread out I can easily get through the episodes. 😉
We live in the small town of Max, ND. We recently purchased a two story home built in the early 80s. Our home inspection revealed there's a furnace installed and an air-conditioning condenser outside, but we have no ducting throughout the house. The furnace only circulates cold air. We're not even connected to natural gas. Instead our home is heated entirely by electric baseboard heaters. We have plans on getting gas service and fixing the ducting. Currently the air is blowing directly into the floor joists in between the first and second floor.  What a mess. This is on my DIY to do list. Any suggestions would be appreciated.
Here's my main question, our house has very nice steel siding. There are no issues with it. Except my wife hates the color. Is it possible to paint metal siding?
Thanks!
Related links:
---
Question 2: What's the best way to build a rooftop deck over living space?
Troy from Oregon writes, FHB Podcast Team, I currently have a small roof-top deck over living space (7′ x 10′) that is OK, but will obviously need replacing sometime soon. The current surface is a felt membrane of some sort over plywood. We currently stay off of it, since I assume the felt isn't made for foot traffic, and it feels a bit spongy when I walk on it. I'm fairly sure I have a rotted mess under there that will need to come out. I inspected the underside when I remodeled the kitchen below, and the joists and base layer of plywood were both sound and dry, but water stained in spots.
I want to install a bullet-proof solution that will last a long time. The house is on the Oregon coast, where we get about 90 inches of rain a year (and 15 minutes of sun). We also get a lot of corrosion from salt spray. My alternatives are a membrane of some sort with a floating deck, or a waterproof substrate and tile. Maybe there is an alternative I haven't thought of. Since it's a small area and the cost impact of failure is high, I'm not concerned about the budget for it. I'm looking for best-practice. Wood deck / membrane, tile, lots of blue tarps – what do you all think?
I've been a listener since episode 1 – it's a great show. Thanks for the effort you put into it.
Related Links:
---
Question 3: How can I build a waterproof mechanical room to protect the rest of my basement from potential water leaks?
Dave in Michigan writes, Hi FHB, My wife and I have plans to build a home in the next year or two, so I love to listen to your podcast and get ideas of the best way and products to use when building a house.  I get all kinds of great ideas from you guys, your guests, and other listeners.
One of the ideas I had for our next house was a waterproof mechanical room.  The goal would be that a water leak or spray of any device in this room would be contained and never have the chance to damage any wood products.  It would be located on the basement so the floor would be concrete with a slight slope to the drain.  The walls would be covered with 4×8 plastic wall panels, and the walls baseplate would be elevated on a concrete berm.  The one detail I have a question about is if I should and how I could add a 2-4″ concrete berm.  I would assume this would have to be a small second concrete pour after the flat work is done.  I would probably use some rebar to dowel the two separate pours together.  How would I waterproof the joint between the two pours?  Would an epoxy floor coating on the horizontal surface and up the berm be resilient enough to remain watertight after any natural movements.
Related links:
---
Question 4: How can I improve the forced-air HVAC system in my new home?
Paul from Oregon writes, I am purchasing a 2600 sq. ft. two-story home in Bend, Oregon with a natural gas furnace in the attic.  I know!  But it's still happening.  I've read what I can.  The house is 9 years old and has both heat and AC and flex duct everywhere that looks unsealed. At least there was no mastic on the one flex duct that wasn't attached.  There looks to be about R35 insulation in attic. Crawlspace is vented with moisture barrier and insulation under floor.
I've created a 15 or so point plan on what I am going to do to improve the situation but would love to get some confirmation/advice before I start working away.
Right now there is a combo of blown in fiberglass and batts in different areas in the attic.  The ducts are located in the blown-in section.  The batts area is over a two-story living room so no registers over there. Some smaller ducts run on the floor of the attic with just a couple of inches of insulation on top and some are attached to the attic celling with straps.  The return duct is attached to the ceiling.  I've read that since Bend, OR is a low humidity area the ducts can run on top of the existing insulation (won't be a condensation problem) and I can cover them with more blown-in insulation.  As of now, that's my plan.  I am going to use a lot of blown in insulation on top of them as long as I am confident I am not going to block the air flow.
I am not sure how much heat this 80% furnace is releasing into the attic but I'd even consider a high-efficiency furnace if somehow that makes sense from a functionality and efficiency vs. cost number.
Lastly, I think it's interesting that the industry talks about how fast you will "recoup" your investment via energy savings and ignores that money not spent on a new furnace will remain invested with Warren Buffett.  It's really harder to break-even with money spent than the industry makes it look.
Paul's plan
Determine a plan on how ducts should run in attic.
Shorten them or redirect them or drop them to attic floor as needed.
Seal all ducts with mastic, fiberglass tape, nylon fasteners and possibly HVAC metal tape as necessary.
Air seal entire attic with great stuff, foam board for chase etc.
Use leaf blower to clear insulation off of soffits
Add insulation throughout attic. Use cellulose blown in and/or unfaced fiberglass bats.
Put thermostat with remote in attic to monitor air temps and determine if I want to add gable vents. Snow blocking existing roof vents may be another reason to add gable vents.
Replace square plastic roof vents.
Insulate all three attic hatches with four 2" layers of foam board and weather stripping.
Crawlspace
Create a duct plan. Make sure they are running optimally.  No big sags, turns, must be taught etc.
Seal with ducts with mastic like in attic.
Air seal entire subfloor.
Check insulation for needed repairs.
Fix vapor barrier with 6mm vapor barrier where needed.
Fix floor squeaks.
Related links:
---
Learn more and register for the Fine Homebuilding Summit.
---
#KeepCraftAlive

KeepCraftAlive hats help celebrate the value of true craftsmanship–plus 50% of all proceeds from every hat sold go to the #KeepCraftAlive Scholarship Fund, supported by Fine Homebuilding and SkillsUSA.
Buy a #KeepCraftAlive hat or t-shirt
---
We hope you will take advantage of a great offer for our podcast listeners: A special 20% off the discounted rate to subscribe to the Fine Homebuilding print magazine. That link goes to finehomebuilding.com/podoffer.
The show is driven by our listeners, so please subscribe and rate us on iTunes or Google Play, and if you have any questions you would like us to dig into for a future show, shoot an email our way: [email protected]. Also, be sure to follow Justin Fink and Fine Homebuilding on Instagram, and "like" the magazine on Facebook. Note that you can watch the show above, or on YouTube at the Fine Homebuilding YouTube Channel.
The Fine Homebuilding Podcast embodies Fine Homebuilding magazine's commitment to the preservation of craftsmanship and the advancement of home performance in residential construction. The show is an informal but vigorous conversation about the techniques and principles that allow listeners to master their design and building challenges.
Other related links