Podcast 190: Becoming a Contractor, Patching Old Siding, and Strengthening a Building With Spray Foam
Matt, Patrick, and special guest former FHB editor Andy Engel take listener questions on how to become a good remodeling contractor, the strength of spray foam, and adding to an existing deck.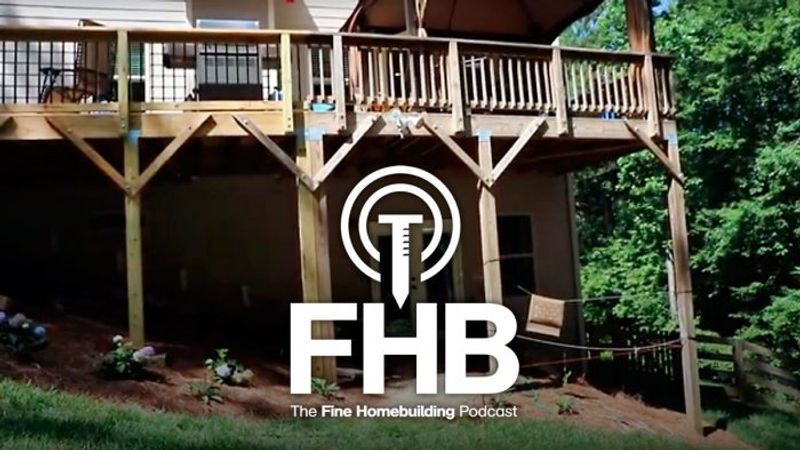 Follow the Fine Homebuilding Podcast on your favorite app. Subscribe now and don't miss an episode:
The guys hear from listeners on clearing cellulose from soffit vents, building watertight rooftop decks and nationwide sewer rate increases, before taking listener questions on how to become a remodeling contractor, using spray foam to strengthen a building made from jet engine crates, and adding a sunroom to an existing deck.
---
Editor Projects
Andy: Return to carpentry.
​Matt: Auger rental and improved rain-barrel flow.
Patrick: Likes his painted bedroom.
---
Reader Feedback
Anonymous writes, Long time listener and magazine subscriber. I am a retired engineer and consultant with the hobby of house hacking (flipping, restoration, Spec Homes, SmartHome, Efficiency mods, etc.), that I turned into a solo-preneur role.
During a recent build, I was frustrated by the local Water District's requirement that all new sewer taps must be conducted by a "certified tapper". I dug deeper and found it was just a simple test, a fee and a performance bond. So I enlisted.
It's a long story but I now have a Sr. Advisory Role with the water district, and I have uncovered a topic that "Surprisingly" your show or magazine has not discussed. In a nutshell your sewer bill is (or soon will be) the fastest growing expense in your house with no way stop it. Here's why.
Revenue is declining in most water districts. Efficient water usage is now common, and most homeowners update their appliances when they leak or break, these new appliance are low flow. This trend will continue for years. New turn-on's can't keep pace with the reduction in water usage.
96% of the cost of running a treatment plant (and pipe maintenance, etc.) are FIXED COSTS. Most utilities bill on consumption (Cubic feet of water used). That's changing and most municipalities will go to a BASE RATE. (FYI, it'll be a rate increase for low to mid usage households), since the high water users under the variable model where subsidizing the lower water users. Surprisingly our research shows that low income residents will get the price reduction (WHY? They rarely purchase new/efficient appliance and tend to live with leaks….e.g. They are high water users)
Most Pre-1960 infrastructure is a "combined storm and sanitary" system. Given climate change and the intense rainfall, most systems overflow and contaminated water fills basements and streets. The Clean Water Act of 1978 requirements water districts to fix this…..and its not cheap to upsize pipes, or add catch/retention basins in existing metro areas. Back flow valves help the homeowner, but that just results more overland flooding.
Given, your experience (and wit), I thought I's throw this topic out for you to discuss and brainstorming. FYI, extra points if you can work sheathing into the discussion. Cheers and keep up the good work!
Trodgor writes, In response to our discussion of bug repellent in episode #186…
Permethrin is an insecticide, which is skin-safe once dried. DEET is a repellant, which is skin-safe wet or dry, but which rapidly dissipates. Studies show the DEET alone is a lot more effective at preventing bites than permethrin alone, but a combination couldn't hurt. Permethrin, pyrethrin, deltamethrin, zeta-cypermethrin, cyhalothrin, and a whole bunch of other chemicals ending in -thrin, are all synthetic patented cousins ('pyrethroids') of a natural insecticide found in lemongrass, geranium, citronella, and chrysanthemum oil and used for thousands of years. When you have a mosquito repellant candle or torch, you're evaporating pyrethroids into the air.
We asked listeners for help with building watertight rooftop decks in episode #187
Ben Bogie who's a lead carpenter for Kolbert Building in Portland, Maine answered our call: Regarding roof top decks- I've dealt with this a few times and here's my SOP… if going over a level surface you need to create pitch, on a wood frame I use pre-pitched poly-iso roof insulation which slopes 1/4 in. per foot. If we're going over a concrete slab system- we apply a bond coat and a create a pitched "dry" packed mortar bed like an old school shower pan. Then an EPDM or TPO glue down membrane tied into the wall WRB and terminated at the edges with a sheet metal drip edge. On top of the membrane I use Bison or MRP deck pedestals spaced on a 16" or 24" grid with 2x sleepers on the flat on top of the pedestals. The pedestals are screw adjustable for level and once everything is "tuned" the pedestals are glued down with a high quality compatible exterior adhesive like OSI quad max or similar. If there is a concern of wind uplift, I install 4x guard posts before starting any of this, tied into the structural framing, flashed and counter flashed at membrane install and then the outer courses of sleepers are tied to those guard rail posts.
It's not the lowest cost method but it works and is pretty simple for the average carpenter to pull off correctly.
We also heard from our friend Bob Hastings of Home Remodeling Pros in Annapolis, Maryland
He says to check out Dduradek or Dec-Tec.
---
Question 1: Is it acceptable and practical to hone my skills while working on other people's homes?
Sean from Fort Saskatchewan, Alberta writes,Hello podcast hosts, whoever it may be today, My name is Sean and I reside in Fort Saskatchewan, Alberta.
Here's my situation: I began my carpentry career at the age of 22 (6 years ago) at an ICF installation company. The work was about 75% ICF and the remaining 25% was framing. I was put through trade school while working there, but began my final (4th) year feeling a real lack of diversity in my skill set and experience. During that 4th year of school I ran into an old friend who was running a small, high-end renovation company, and ended up leaving the ICF industry to work with him. I was there for about 7 months doing a wide variety of work – it was during this time that I really grew to love carpentry and was introduced to this podcast. Long story short, it didn't work out on my end because of money, so I went back to the ICF company in December of 2018. It used to be a stable job for me, but with a recent house purchase, our second child being born, and my wife at home with the children, our expenses have increased. A combination of a sketchy economy and poor business practices has now led to some recent pay cuts, which have now become too much for me to endure.
Here's the current situation and my question: I quit that job last week out of necessity and have now turned my work on the side into my full-time Carpentry Business. My goal is to be a one-stop-shop for kitchen/bath renovations. I like the indoor work with our brutal winters and the fact that weather can't interfere with my consistency on the job site, not to mention the variety of design and skills involved. The thing which gives me pause is this: there are many skills which I have yet to acquire for doing that kind of work, such as drywalling (I've done a very little of it), tiling (none), flooring (again, done a little), and some other odds and ends. I really think that a good general sense of carpentry has given me the ability to learn these things quickly and well, and I truly desire to give clients a great finished product.
What are your thoughts on how to go about learning skills while working on other people's homes? I never intend to leave people with a crummy product, but where is that fine line between being naive and foolish (NOT ill-intentioned), and realizing that you will often be doing something for the first time on a large number of jobs? Thank you for all that you do! FineHomebuilding has been so encouraging, inspiring, and instructional to my career.

Related links:
---
Question 2: Can spray-foam insulation improve the rigidity of a building?
Brad writes, Hello. Are you aware of any information on the contributions of spray foam to the strength of the physical structure? If so- where can I find this information? I poked around a bit on GBA but there is a lot on spray foam there and it's hard to not get lost in the weeds looking for this information.
I had a local spray foam contractor state to me that 1" was the strength equivalent of 1/2" sheathing. (He was going to forward the info for my review- I gave up the prodding after several weeks of weekly re-requests for the info) (he also never showed up to give my building a look for bids) (answer was always call back next week).
I have an old warehouse with a "questionable" skin and I am thinking about insulating with spray foam with the idea that it will strengthen the structure in addition to the higher r-value. The building is in Salt Lake City Utah.
So dry climate but hot summer and somewhat cold in the winter-only an occasional spell of single digits and rare below zero.
The skin is 3" thick corrugated aluminum panels which are recycled jet engine shipping crates. The corrugated middle is cardboard like- with some type of resin on it. (Sucks all the heat out in the winter- and think frying pan in the summer.)
The framing is 4×6's "about 4' on center with 2×4 x bracing in each bay.
The panels are working loose- I think big expansion contraction issues with the aluminum panels. I'm refastening as I do exterior repair and paint with long timber lock screws and washers. This portion of the building was built in the early 70's
Do you think the spray foam would help it hold together long term?
The spray foam option is expensive and I'm trying to figure out if it's worth saving and scrimping for in this case. Thanks
Related Link:
---
Question 3: Can I make my deck larger without completely reframing it?
A listener writes, Hey guys, I wanted run a question by you about our back deck.
I recently extended our deck all the way across the back of our house to add onto the existing deck. This brought the new deck across the sloped backyard to the level area behind the garage. Now we only have 4 steps down to grade which is nice. We plan on building a screened porch where the existing deck is.
The one negative I hate about the deck is that it's only 10.5' from wall to railing. Gets a little tight out there with furniture. It's ~16' wide but the depth isn't ideal.
I'm trying to figure out a creative way we could extend the deck's depth without tearing the whole thing down and starting over.
The new deck can remain 10.5' deep, we would just prefer some added depth to the screened porch.
Here's a video of the deck: Deck Question
Related links:
---
Question 4: How can I patch siding after removing a porch railing?
Cooper in Southeast Wisconsin writes, Hello, I've been listening to your podcast for quite some time now. I am an avid DIY'er and have been working on my home on and off for the last 2 years. I want to thank you guys for all the good knowledge that you've made so easily accessible. Now off to the issue at hand:
My 1905 craftsman-style home has a north facing deck. The way the deck and railings were constructed have caused the composite deck to bow in the middle and the railings to rot enough that you can push your thumb through it. Another part of the house is under construction for a new room for my new 2nd daughter and I had extra room in the dumpster, so naturally before finishing the new bedroom, I ripped into the railings on the deck and created another problem for myself.
| | |
| --- | --- |
| | |
The railings were integrated into the siding of the house right at the corner for whatever reason. Whenever the builder of this railing decided to construct the railing, he or she opted also to destroy the 2 sets of aluminum siding, insulation, clapboards, and tar paper on the outside of the house as well. I have spent the last 4 years and thousands of dollars gutting, insulating, and air sealing this house. What is the right way to close up the hole? Keep in mind I've become a FHB air sealing fanatic. My plan is to do a more modern open aluminum railing.
Related link:
---
Closing Points:
From Ross AIA Birmingham, Alabama: In episode 186, you mentioned "archispeak" and it reminded of this spreadsheet someone made. Thought you might get a laugh.
"One might say the energy conservation regulations must utilize and be functionally interwoven with the final qualitative analysis."
---
Learn more and register for the Fine Homebuilding Summit.
---
#KeepCraftAlive

KeepCraftAlive hats help celebrate the value of true craftsmanship–plus 50% of all proceeds from every hat sold go to the #KeepCraftAlive Scholarship Fund, supported by Fine Homebuilding and SkillsUSA.
Buy a #KeepCraftAlive hat or t-shirt
---
We hope you will take advantage of a great offer for our podcast listeners: A special 20% off the discounted rate to subscribe to the Fine Homebuilding print magazine. That link goes to finehomebuilding.com/podoffer.
The show is driven by our listeners, so please subscribe and rate us on iTunes or Google Play, and if you have any questions you would like us to dig into for a future show, shoot an email our way: [email protected]. Also, be sure to follow Justin Fink and Fine Homebuilding on Instagram, and "like" the magazine on Facebook. Note that you can watch the show above, or on YouTube at the Fine Homebuilding YouTube Channel.
The Fine Homebuilding Podcast embodies Fine Homebuilding magazine's commitment to the preservation of craftsmanship and the advancement of home performance in residential construction. The show is an informal but vigorous conversation about the techniques and principles that allow listeners to master their design and building challenges.
Other related links