Podcast 191: Matching Hardware, Out-sulation Under a Roof, and Insulating a Band Joist in Termite Country
The crew hears from listeners about radon tests and whole-house ventilation before taking questions on mixing and matching hardware finishes, fastening foam over roof sheathing, and SIP roof waterproofing.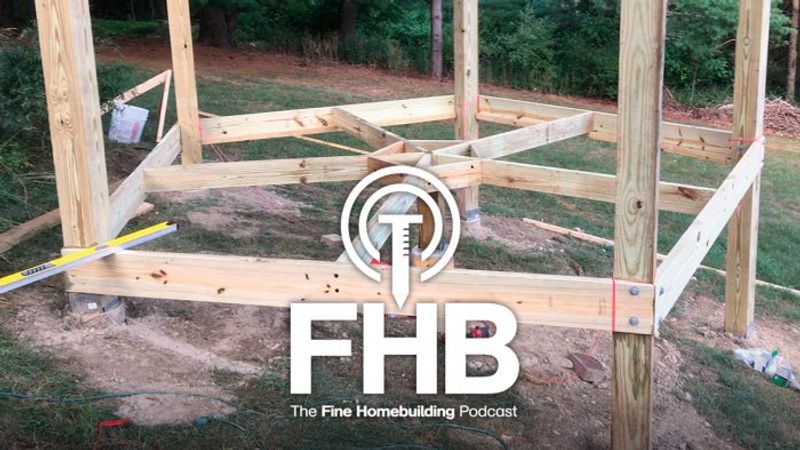 Follow the Fine Homebuilding Podcast on your favorite app. Subscribe now and don't miss an episode:
In this episode of the podcast Matt, Kiley, and Patrick hear from a listener that reveals how to get inexpensive radon test kits. Other emailers talk about the dangers of tight houses without adequate ventilation and a worldwide shortage of sand suitable for building. Matt talks about his gazebo's progress and Patrick has updates on his bedroom and new patio. Nate, a commercial construction manager writes in about the many finishes available in builder hardware  and whether it's necessary to match everything. Chris asks about insulating under a metal roof in a new home. Michael wants to know how to insulate the band joist in his Atlanta home and maintain the required gap for regular termite inspections. Finally, the team hears from Jeff who is looking for guidance on how to update an old farmhouse for a new century of service.Reader Feedback
---
Listener Feedback
Art writes, Although the Home Center stores carry Radon test kits, they cost around $30. Some Kits only cost $10 but charge separately for the testing and report.
You can cut the cost in half by going though Kanas State University's National Radon Program Services. Short term kits (2-4 days) are $15 and long term kits (3-12 months) are $25
Lori from London, Ontario writes, Hi People, I listened to podcast #188 where the panel was extolling the virtues of an essentially airtight house. There was no discussion of installing an air exchanger. An airtight house is unhealthy – occupants use up all the oxygen and air pollutants accumulate – leaky houses allow oxygen rich air into the house to replace stale, oxygen depleted air.. Here in Ontario new houses are required by our building code to install heat recovery ventilators (HRVs) which exhaust the stale air and bring in fresh outside air without losing the heat in winter or the cool air in summer. I do not know what your building codes require but please point out to your listeners the dangers of an airtight house without an HRV.
Since 2015 the IRC has addressed ventilation rates in Chapter 15, Exhaust Systems. The ventilation rates are based house size and the number of bedrooms. In the 2015 version of the IRC, the ventilation rate is specified in Table 1507.3.3(1).  The 2018 ventilation rates can be found in Tables 1505.4.3(1) and 1505.4.3(2). Ventilation rates are lower in the 2018 version of the code than they are in 2015.
We also heard from Chris, who writes, Hi all, I thought you may find this 99 Percent Invisible podcast episode interesting since it deals with one of the most common building materials, concrete. Apparently, we've used up most of the cheap and easily available sand on the planet for things like concrete, glass, and computer chips. As companies have to move to more expensive sand sources like the bottom of lake beds, concrete costs are going to go up, the environmental impact will get worse and worse, and there will be an increase of sand related theft and even murder. How long until we see the first engineered wood skyscraper?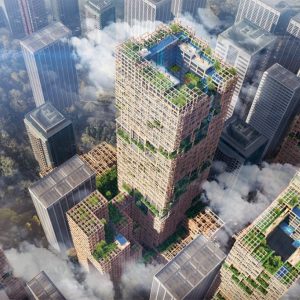 The reporter is the same one who was on NPR about a year ago when I was first learned of the incredible demand for sand.
---
Editor Projects
​Matt: Gazebo.
Kiley: Drywall surface repair.
Patrick: Paint and Carol's patio.
---
Question 1: How picky should I be about matching hardware and fixture finishes?
Nate from metro Detroit writes, Good morning, I am a commercial construction project manager but have always been obsessed with residential work and have enjoyed your podcast from day one.
I've been considering new hardware throughout the home I just purchased and wanted to hear your design thoughts on coordination between door hardware finish, and all other fixtures within a room or within the house. Should cabinet hardware match the faucet match the light fixture match the tub? Should door hardware match every other room? I've even got doorhandles with Chrome on one side and brass on the other!
I heard you mention that your questions were running low so I thought I'd help! Thanks,
Related links:
---
Question 2: How should I detail the roof installation for a SIP house in Oregon's high desert?
Chris near Bend, Oregon, writes, Hello FHB Podcast! My wife and I recently started construction on a small house near Bend Oregon. It's 1300 sq ft, slab on grade with smooth concrete floors; SIP panels except for the east wall, which is 2×6 because of the number of windows; 12″ thick SIP 2.5/12 single pitch shed roof; mini split for heating and cooling; and a Zehnder ERV. Exterior finish will be either fiber cement panels or a combination of metal shiplap siding and corrugated metal, with metal standing seam roofing.
My question is how to detail the roofing installation. SIP roofs are more sensitive to trapped moisture than a vented roof assembly, so we will be careful with air-sealing the interior. For the roof assembly I'm planning OSB-Vapor permeable underlayment-either 2×4 strapping on 24″ parallel to the eaves or a grid of 1×4 on 24″- then the standing seam roofing.
How do people seal the nail penetrations through the WRB when installing metal roofing? Solitex advertises double sided butyl tape, I haven't found what other companies recommend.
Is ice and water shield necessary near the bottom or the gable edges?
How does the dry environment (high desert), change WRB perm requirements?
Thanks for your help, I'm pretty excited to start building and will be taking lots of photos.
PS, I've attached a picture of a conference room table at the company I just started at. They could literally buy anything, but use these everywhere, not exactly a construction site table, but a neat use of unistrut.
Related Link:
---
Question 3: How can I safely insulate rim joists in a crawlspace in termite country?
Michael in Atlanta writes, Hey guys, Love the show. I have to make a correction on something that's come up a time or two. It seems that you consistently suggest that vents in a crawlspace have no constructive purpose. Well, I beg to differ. I recently had to put 8,000 pounds of gravel in my own vented crawlspace to complete the French drain I installed, and without being able to drop the bags in through the vents around the perimeter of the house, the whole process might have killed me. Heck, it almost killed me as it was! OK, so it's not a justification for having vents in the first place, but at least it's looking at the bright side.
Seriously though, I'm trying to finish up a DIY encapsulation of this crawlspace now that I've got my bulk water issues handled. My question involves insulating the rim joist. Normally you suggest rigid foam sealed around the edges with spray foam. The problem is that I live in Atlanta and need to leave my rim joist visible to satisfy inspections by the company that holds my termite bond. Is there some way to insulate that would leave the rim joist accessible? I was thinking about sealing the edges of the joist bays with acoustic caulk and then placing rigid foam or mineral wool on top of that. In that case the inspector could pull the insulation out and replace it after inspecting within the bay itself. This isn't an ideal solution of course, but maybe it's better than leaving the rim joist completely exposed. Any help would be appreciated.

Related links:
---
Question 4: What's the best way to insulate an old roof from the outside?
Jeff from Kentucky writes, Greetings Podcast. Love the show and I listen to a podcast almost every day!
I am renovating a 1902 house which was built by my wife's great, great, great Grandfather, and it has been in the family, along with the farm, all of this time.
My problem is with how to insulate the roof upstairs. I am going to insulate the house from the outside and was trying to keep the weight down as much as possible for the roof. If I insulate the roof, above the existing decking, I would need to use something light, such as Polyiso foam because Rockwool is too heavy for those 2×4 oak rafters. I believe in the building science and green building advisory community except with one issue, they do not recommend a fastener or a method of install for what they prescribe as a resolution to the problem.
I had planned on using zip roof sheathing ½" thick and I would need to go through the sheathing, through 6" of foam and into the framing 1.5". I would need an 8" fastener to do this. What would you recommend? Keeping in mind and 8" fasteners are a dollar each.

Related link:
---
Closing Points:
---


Learn more and register for the Fine Homebuilding Summit.
---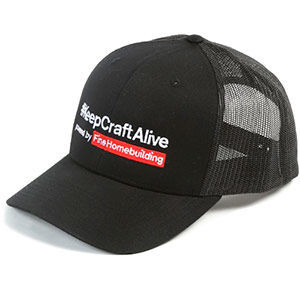 #KeepCraftAlive

KeepCraftAlive hats help celebrate the value of true craftsmanship–plus 50% of all proceeds from every hat sold go to the #KeepCraftAlive Scholarship Fund, supported by Fine Homebuilding and SkillsUSA.
Buy a #KeepCraftAlive hat or t-shirt
---
This episode of the podcast is brought to you by Feeney and Benjamin Obdyke
Feeney has been making it easy for more than 70 years. Our stylish and innovative railing systems, architectural rods, cable railing kits, awnings, and garden trellises offer innovative, sophisticated accents to any custom home or commercial space. All Feeney products are precision crafted from highly recyclable materials, engineered to stay beautiful for years with little maintenance. Feeney's focus on clear and quick installation will save you and your team labor on the job site. Feeney makes it easy. Visit feeneyinc.com to learn more and find your nearest Feeney dealer. That's feeneyinc.com.
This episode of the Fine Homebuilding Podcast is brought to you by Benjamin Obdyke would like to use the special occasion of our 150th anniversary to thank the nuisances that builders and homeowners despise. Our premium products protect from those pesky things like rain, snow, UV rays, and the neighbor's sprinkler system. Take HydroGap, a drainable housewrap that eliminates moisture from your wall assembly. Or the new InvisiWrap UV, an all-black WRB, perfect for long-term moisture protection behind open joint siding. Find out more at www.benjaminobdyke.com.
---
We hope you will take advantage of a great offer for our podcast listeners: A special 20% off the discounted rate to subscribe to the Fine Homebuilding print magazine. That link goes to finehomebuilding.com/podoffer.
The show is driven by our listeners, so please subscribe and rate us on iTunes or Google Play, and if you have any questions you would like us to dig into for a future show, shoot an email our way: [email protected]. Also, be sure to follow Justin Fink and Fine Homebuilding on Instagram, and "like" the magazine on Facebook. Note that you can watch the show above, or on YouTube at the Fine Homebuilding YouTube Channel.
The Fine Homebuilding Podcast embodies Fine Homebuilding magazine's commitment to the preservation of craftsmanship and the advancement of home performance in residential construction. The show is an informal but vigorous conversation about the techniques and principles that allow listeners to master their design and building challenges.
Other related links