How-To
Job-Site Protection
Remodeling experts Doug Horgan and Tom Johnston demonstrate the methods and materials they use to keep every surface in a client's house clean and safe.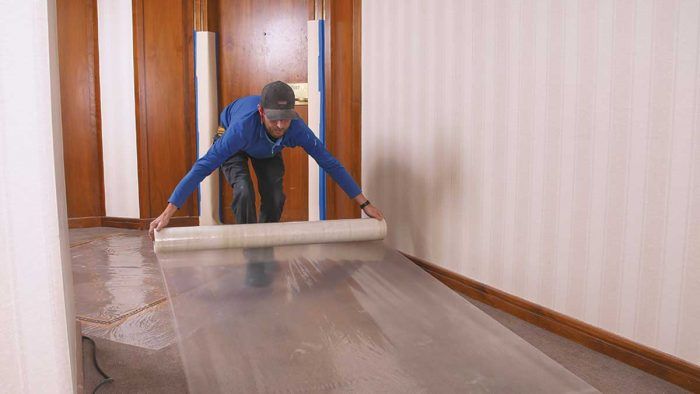 Synopsis: Dust control, cleanup, and surface protection are important parts of any remodeling project and they keep clients happy and expenses down. This article is a list of techniques and products for covering assets; protecting floors, stairs, entrances, and common areas; and controlling dust and debris.
---
There's a very important reason to do a great job with dust control, cleanup, and surface protection during a remodel: our clients. Dust, mess, and damage to their homes makes them crazy, and they judge us for failures. Proper protection is also less expensive and much faster than repairing stuff we weren't there to fix. No contractor wants to sand floors two weeks after a project has finished. Over the years, we've made enough mistakes that by now we have a good set of techniques and materials for protecting our clients' homes and belongings when we're remodeling.
The list of tricks and products is always evolving. When we present this information at trade shows, we always learn something new we can use. We couldn't possibly cover all of the scenarios in the print magazine, so look below to see a menu of our favorite products for protecting almost anything you'll come across on a residential site.
Covering assets
Our clients are often living in the homes we're remodeling, so we have to protect and show respect for their possessions. Before a job starts, the project manager walks the entire area affected by the proposed construction and identifies all the objects to be left in the space and those that must be removed. We also identify what trim or other building materials are to be saved and which are to be donated or disposed of. Different colors of tape or spray paint identify different categories.
| | |
| --- | --- |
| Clients will remove furniture and decorative objects from work areas, but we have to protect pieces in adjacent spaces too. We cover artwork and wallpaper with 3-mil poly secured with painter's tape. Don't apply tape directly to art, wallpaper, or any other surface that's impossible or difficult to repair. | Belongings can often be left in closets, if the space is fully closed off with taped 4-mil poly. We use two layers of tape on most surfaces—we put a layer of painter's tape on the wall or painted surface, and then we tape the poly to that tape with duct tape. |
Some additional products to protect almost anything you'll come across on a residential site:
More on job-site protection: 
From Fine Homebuilding #285

To view the entire article, please click the View PDF button below.
View PDF