Podcast 192: Garage Workshop Conversion, Contractor Web Marketing, and Saying No to Clients
The editors hear from listeners about bogus blower door tests, pellet stoves, and steel siding before discussing insulating a garage, using the web to start a remodeling business, and client communications.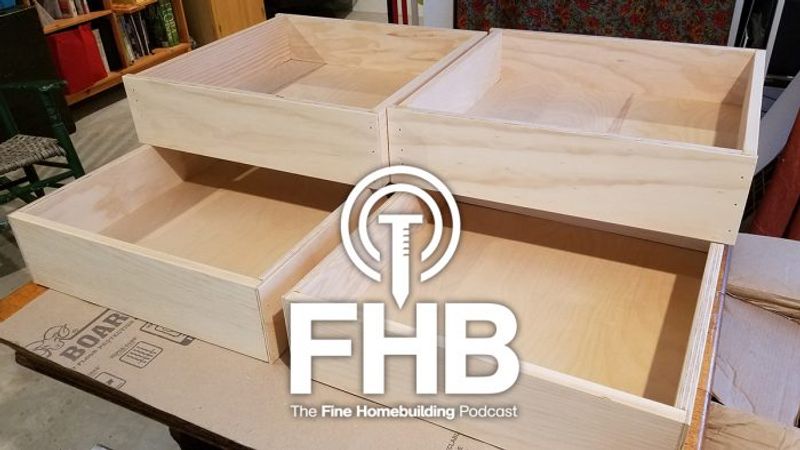 Follow the Fine Homebuilding Podcast on your favorite app. Subscribe now and don't miss an episode:
In this episode of the Fine Homebuilding podcast, Matt, Rob and Patrick hear from James in New York who claims that auditors are getting their blower door tests wrong. Josh wrote in to alerts us to the availability of woodstoves with stone inserts, which are basically somewhere between all-metal woodstoves and masonry heaters. We also heard from Zephan who wanted to tell us about his steel siding that he's using on his new ICF house in Washington State. Rob provides an update on his solar install. Matt talks about his irregularly-shaped, five-sided gazebo. And Patrick discusses Carol's bluestone patio and making drawer boxes in a home shop. Andrew in Cleveland asks the crew the best way to convert his two-car garage into a year-round woodshop. Art from Austin emailed to describe how he switched from a scraping-by adjunct professor to a successful kitchen and bath contractor in three years using web marketing. Andy from Charlotte, NC, writes in asking how to best say no to clients who want free work. Finally the crew talks about training stone masons to rebuild Notre Dame.
---
Listener Feedback
James writes, In addition to what the other fellow in upstate NY mentioned about the energy codes with blower door testing is that I've seen testing firms not doing the blower door test correctly. It appears that firms are doing single point tests and just reporting the airflow based off that. That's acceptable for an energy audit to get you in the ballpark but could easily be 20% off the real number. If the testing is done to the ASTM standards called for in the code you need to a 10 point positive pressure and another 10 negative pressure points. The math to calculate the results is a little heavy, but there is at least one free software option to calculate the results. Some factors likely being ignored are total building height, indoor/outdoor temperature delta, wind speed, and altitude. I've attached an image of the form I created for doing the tests accurately. Feel free to share on your website or others. I wouldn't mind helping fix this oversight.
​James' blower-door testing forms:
Josh writes, I wanted to mention a middle child between a standard cast iron woodstove and a custom-built masonry heater, which is a soapstone and masonry stove kit. The one brand I know of is Tulikivi, but I believe there are others. They're comparable in price to high end wood stoves – between 5 and 10,000 dollars – but have better efficiency and don't use catalytic combustors. The smaller ones may not require foundational footings like a typical masonry heater.
Overall you get a nicer even heat, lower emissions, and more heat for your fuel dollars compared to a standard wood or pellet stove. A final note about any masonry stove is that they require well-aged wood, split much smaller than typical firewood, almost kindling sized.
Thank you for your insightful discussions every week.
Zephan writes, I was just listening to episode 187 on the way to work. I wanted to share some info on steel siding that we are installing on our ICF house we are building in SW Washington state.  They make steel siding that tries to look like cedar siding. They have lots of colors and lots of profiles. We decided to use it because I can install 12′ panels by myself (as most of house has been a one man show). My wife liked the idea that it wont need paint for many many years with the baked on paint. I was interested in steel over vinyl because of greater resistance to fire and less likely to break if damaged. Also we like to buy things at the worst time and steel tariffs had just impacted the cost of the product so that help finalize my decision.
As with all the decisions I have made on this house, steel siding is one I question, but it is what we have now and we will see in time how it fairs.
Just wanted to share. Thanks for the podcast. It has been a great educational tool.
---
Editor Projects
​Matt: Gazebo.
Rob: Solar update.
Patrick: Drawer boxes.
---
Question 1: How does my plan to air seal, insulate, and condition my currently unconditioned, uninsulated detached garage sound?

Andrew near Cleveland, Ohio writes, Hey FHB podcast crew – My wife and I recently moved from Seattle to the greater Cleveland, OH area. I am a serious hobbyist woodworker with a very modest background in light construction (I grew up dragging boards for my contractor father and have since taken on a couple of full-gut remodels as a supposed grown-up).
I hope you can weigh in on my plan to air seal, insulate, and condition my currently unconditioned, uninsulated detached garage. The garage will be my year-round woodshop, and my wife will also occasionally park in it.
My goals are: tolerable environmental conditions for myself/tools/projects, low material costs, and low ongoing energy needs (in that order). My strong preference is to do the work myself.
The 19'x26' garage appears to be newer than the home (house was originally built circa 1923), but not by much. Some basic maintenance and improvements have kept it standing so far, but I will need to replace the two man doors and eventually the full width roll up due to rot. The studs and rafters appear to be largely free of major issues, but with daylight visible through the siding and sheathing, and no roof overhangs, I know they've been wetted repeatedly for years and years.
Happily the nearly flat, low-sloping roof was recently redone and the garage does not leak. The building has 2×4 walls, 2×6 rafters, plank sheathing on the walls and roof, painted cedar shingle siding with 11" reveals, and three tab roofing on the little decorative roof peak in front and some kind of continuous asphalt(?) sheeting on the main roof deck and parapets. There is no insulation and the eaves are not vented.
My current plan is to:
– air seal walls and underside of roof sheathing (the roof material is visible through gaps and knotholes in the sheathing, either just with big box canned spray foam or cutting and cobbling rigid foam with canned spray foam
– per my reading on FHB and GBA, it sounds like I should go the unvented route and fully fill the rafter cavities (I would like to use mineral wool). Do I need to cobble on 2x material to deepen the rafter bays?
– insulate the walls with mineral wool, potentially adding closed cell foam strips to the studs to deepens the cavities if advisable
– insulate the roll up with closed cell panels
– apply 1/2" cdx to the walls and maybe ceiling (or 1/2" gypsum there)
– run a 100amp sub-panel in the garage, and replace all the current wiring, potentially running it all in conduit on the new wall surfaces to limit penetrations
– condition the space with an appropriately-sized Mr. Cool DIY mini-split
How does this sound? I would like to avoid deepening the rafter bays if possible as the "ceiling" height is already rather low. I understand I am not likely to hit code conditions from an R-value standpoint, but I don't want to rip off the roof and apply foam there. Also any recommendations on specific air sealing products would be welcome.
Thanks in advice for any advice you can provide!
-Andrew, Chagrin Falls, Ohio
Related links:
---
Question 2: Episode #188 you asked for contractor feedback/experiences with social media advertising.
Art from Austin writes, Howdy! First time long time. Great podcast and even better shownotes. Episode #188 you asked for contractor feedback/experiences with social media advertising (Yelp, HomeAdvisor, Angies List, etc). Here's my experience.
Quick context: I'm a solo bath and kitchen remodel contractor in Austin, TX, specializing in custom tile work. Unlike a conventional GC, I do whole bath and kitchen remodels (including complete guts and rebuilds) by just doing all the work myself (except for plumbing and electrical that needs permitting). Here in TX, you only need a license for plumbing and electrical work requiring inspection. Even structural carpentry can be done by anyone so long as it doesn't fall down. Also, I started from scratch three years ago. Before that I taught college business writing. Adjunct teaching paid $35k/yr. In the last 12 months I've cleared $80k net from remodel work, with plenty of vacation.
No employees, no subs, no GC, no overhead aside from tools and a beater full-bed pickup, and no advertising costs at all aside from a basic wordpress.com blog and an even more basic wix.com website. I am based in Austin, TX, which helps make my 'bespoke reno' business model go. But I'm definitely not exceptional in any sense.
So here's my experience with social media advertising: In 2016 I moved to Austin and made a free Yelp business account advertising myself as a general handyman with tile install experience (skills I had picked up doing DIY work out of necessity to renovate my own previous 3bed/3bath home pretty much from the studs up).
I also made a basic logo, a basic website, and got some business cards. In retrospect, the business cards were unnecessary.
Three things happened immediately.
First, yelp "account executives" (entry-level salespeople, basically) started calling about once a month to pitch me advertising packages starting at $300/mo for guaranteed yelp search placement. Second, random "SEO service experts" started calling several times a day offering 'the best google ranking'. And third, salespeople from HomeAdvisor and Angie's List and Porch.com (and other services, most of them never identifying themselves) started calling every couple weeks pitching customer leads for a fee.
The SEO spam calls are just the cost of having a listed business phone number.
The HomeAdvisor etc calls are actually more annoying because the cold call salespeople these companies employ seem to think that they are in a Mamet play where they're playing the Baldwin character every single day. Salesperson: "I've got thirty customers in Austin looking to get tile install jobs done." Me: "Gee, that's great for you, but I'm booked up for the foreseeable future." Salesperson: "So, you're telling me that you don't want to make money?" Me: "Yes, you are completely right on that!"
It's the only efficient way I've found to efficiently shut down high-pressure sales calls — quickly complement their acuity for diagnosing precisely how much of a wimp you are. Blows up their call center script.
In contrast, the yelp salesperson calls evolved over time. In the first ~6months when I had no reviews, the calls were every couple weeks and the rep would pitch a 'walkthrough demo' of how yelp could grow my business with yada yada yada (insert $$ amounts here). In the next ~6months when I had just a few reviews, the calls were once a month or so and the rep pitch would be 'you have these great reviews, but yelp can make sure potential customers can actually find your business'. Then after a year or so (and after I'd finally collected more than a half dozen reviews), the calls went down to once every couple months and the rep pitch would be pretty much a basic 'just checking in to see if there's any advertising you want to buy.'
So, here's my perspective on google search rankings, HomeAdvisor etc, and yelp
Google Search: Pretty much completely worthless for general searching for tradespeople and contractors in your area. If you're researching a specific business name, then the google business page for that business may have useful customer reviews. But if you google "Austin custom tile shower installers" thinking that the first page of links will be chock-full of quality contractor options then you'll be wrong. In my experience, the best quality working contractors know little about SEO, but some of the worst definitely do.
HomeAdvisor, Angie's List, Houzz, Thumbtack, Porch, Google HomeServices, etc: These are sites that either require a fee to be listed or a fee to see customer leads. Either way, it's the opposite of transparent crowdsource. And in my experience with them from the contractor side, they're probably the best source for finding contractors from a Mamet play.
Yelp: There's a lot for a small business to not like about yelp. Their ranking algorithm is completely opaque. They pretty clearly play games with business reviews (and legally can, thanks to a 2014 "9th U.S. Circuit Court of Appeals [ruling] that even if Yelp [does] manipulate reviews to penalize businesses, the practice [does] not constitute extortion" https://www.businessinsider.com/court-rules-yelp-can-manipulate-reviews-2014-9).
My own positive yelp reviews from real customers describing actual work I've done regularly disappear (sometimes to later mysteriously reappear) from my business page. Yelp sales folks still regularly call to solicit paid ad packages. And of course your star rating is always at the mercy of that one or two (or more if you're a volume business) whackjob wingnut reviewer — there is no appeal for removing even completely insane negative reviews.
But, from my experience so far Yelp is probably the least of weevils from both a business and customer perspective.
For small contractor businesses like me, it offers an advertising platform where you can start from scratch for free. In my case it took a year and a half or so before I started getting projects where I was making good money for quality work, but just three years in it's a working business. I don't think that there was any similarly straightforward way to make a zero-advertising-budget transition from underpaid college teacher to freelance solo reno contractor in less than three years without yelp, annoyances notwithstanding.
From a customer standpoint, it offers a search platform where you can suss out quality contractor options with just a little bit of common sense. Even if yelp manipulates reviews to promote positive customer feedback over negative, it's still easy to ignore top search results labeled "sponsored results" and businesses that have detailed negative reviews written by reasonable people.
The 'Word of Mouth' option
Maybe this is just from my experience building business in a fast-growing metro area, but the adage that there's no advertising better than word of mouth definitely hasn't applied to me. I have gotten plenty of inquiries in the past two years from folks who got my info from past clients, but literally none of those inquiries have resulted in actual work. Once or twice this has been because of timing (I'm now booked out for at least three months at any given time). But almost always it's because civilians think that a contractor who's good at one thing (renovating kitchens and baths) is good and/or interested in getting good at literally everything else (roofing, foundation repair, whole-house siding installation, tree removal, etc etc etc). In my experience, word of mouth has been great for making the phone ring, but terrible for filtering jobs.
The Future!
All that being said, my guess is that yelp (or word of mouth, homeadvisor, etc) will eventually die in favor of Instagram searching. Just like Tinder killed OKCupid. Pretty pictures and easy scrolling will likely displace directed search and reading research. I've already squatted on @austintilepro. My best tip? Post pics of every client's dog and/or cat, especially if they're posing in front of tile work.
Hope this info is helpful for y'all's podcast riffing and please please please keep it going to episode 1,000 — you're super freakin' #1 in my podcast feed no matter what Chartable says.
Sincerely,
Art in Austin
---
Question 3: When do we say no to clients and how can I help get my team comfortable having those conversations?
Art from Austin writes,  Hi FHB Podcast Team, I know you'll be terribly disappointed that my question isn't about attic ventilation, sealing a crawl space, or work trucks. While I have opinions about all of those, I'm writing with more of a topic of discussion than a question that has a right or wrong answer.
I'm a Project Manager for a real estate/tech start up. We offer a program where we will buy you a new house with cash on your behalf and do improvements on the home you currently own, but want to sell. Once the old house sells then you buy your new house from us for the original sale price plus the cost of any improvements we did on your old house.
This leads to sticky situations where homeowners are interacting with crews or myself asking for additional work to be completed that are outside the scope of work we agreed upon. Usually I don't mind doing a little something here or there and the crews we partner with are good about helping out when they can. What is hard is when you finish the job and everything is done. The customers then see additional things they want done or they feel should have been included in the scope of work we agreed upon. We try to be very detailed with our scopes giving precise lists of what we will and won't be doing, documenting it all along the way. This creates multiple call backs for crews and we end up having to pay our crews for this additional stuff all in the name of customer service.
Don't get me wrong I don't enjoy telling people no. It's not always a hard no, usually the conversation is "sure we would be glad to do that work for you but it wasn't in your contract so it will be a change order." I'm really struggling to get the other Project Managers, and the Project Coordinators I work with to feel comfortable having those conversations.
All that is to say, when do we say no? Maybe most importantly how can I help get my team comfortable having those conversations?
---
Closing Points:


Learn more and register for the Fine Homebuilding Summit.
---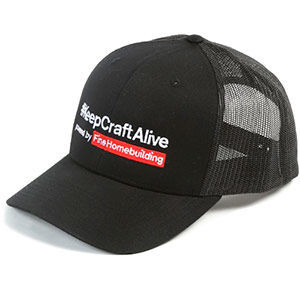 #KeepCraftAlive

KeepCraftAlive hats help celebrate the value of true craftsmanship–plus 50% of all proceeds from every hat sold go to the #KeepCraftAlive Scholarship Fund, supported by Fine Homebuilding and SkillsUSA.
Buy a #KeepCraftAlive hat or t-shirt
---
This episode of the podcast is brought to you by Feeney and Benjamin Obdyke
Feeney has been making it easy for more than 70 years. Our stylish and innovative railing systems, architectural rods, cable railing kits, awnings, and garden trellises offer innovative, sophisticated accents to any custom home or commercial space. All Feeney products are precision crafted from highly recyclable materials, engineered to stay beautiful for years with little maintenance. Feeney's focus on clear and quick installation will save you and your team labor on the job site. Feeney makes it easy. Visit feeneyinc.com to learn more and find your nearest Feeney dealer. That's feeneyinc.com.
Benjamin Obdyke would like to use the special occasion of our 150th anniversary to thank the nuisances that builders and homeowners despise. Our premium products protect from those pesky things like rain, snow, UV rays, and the neighbor's sprinkler system. Take HydroGap, a drainable housewrap that eliminates moisture from your wall assembly. Or the new InvisiWrap UV, an all-black WRB, perfect for long-term moisture protection behind open joint siding. Find out more at www.benjaminobdyke.com.
---
We hope you will take advantage of a great offer for our podcast listeners: A special 20% off the discounted rate to subscribe to the Fine Homebuilding print magazine. That link goes to finehomebuilding.com/podoffer.
The show is driven by our listeners, so please subscribe and rate us on iTunes or Google Play, and if you have any questions you would like us to dig into for a future show, shoot an email our way: [email protected]. Also, be sure to follow Justin Fink and Fine Homebuilding on Instagram, and "like" the magazine on Facebook. Note that you can watch the show above, or on YouTube at the Fine Homebuilding YouTube Channel.
The Fine Homebuilding Podcast embodies Fine Homebuilding magazine's commitment to the preservation of craftsmanship and the advancement of home performance in residential construction. The show is an informal but vigorous conversation about the techniques and principles that allow listeners to master their design and building challenges.
Other related links