Podcast 199: Roof-insulation Retrofit, Codes for Existing Buildings, and Air-sealing Tape Choices
The Fine Homebuilding Editors discuss framing details for adding rigid foam over a roof, when a remodeler needs to refer to the International Existing Building Code, what tapes work well for weatherizing an attached garage, and more.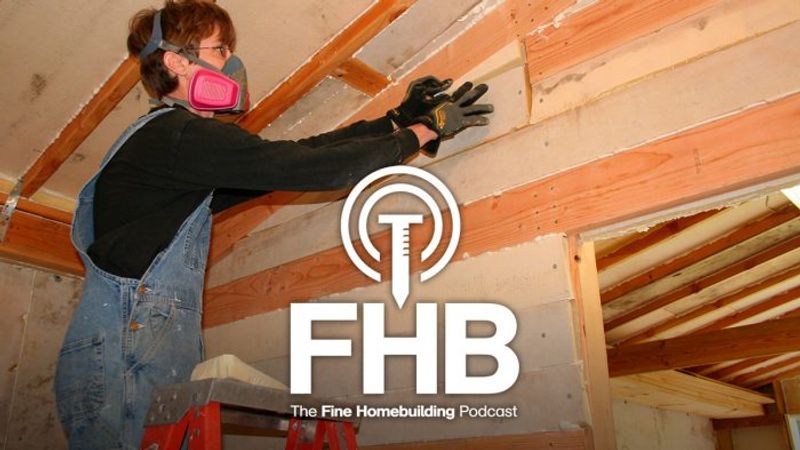 Follow the Fine Homebuilding Podcast on your favorite app. Subscribe now and don't miss an episode:
Patrick, Kiley, and Matt start the show with more feedback about cool stuff people find in old walls before getting schooled by an infrared-camera expert on the phenomenon of emissivity and how it skewed their beer-koozie experiment. Then it's on to questions about building gable-end roof extensions for an insulation retrofit, why there's a separate code for old buildings (and whether or not anyone even uses it), how to make an attached garage part of a home's conditioned space, and options for attractive gutters when there's a tight budget.
We'd like to reminding everyone that there are only a few days until the Fine Homebuilding Summit and there are still a few tickets available for this educational event focused on the fundamentals of high-performance, high-quality home building.
---
Listener Feedback:
Listener feedback #1
Ian of Hudson Valley Preservation sent us some photos of the stuff he found in his house in response to our conversation in episode #195.
Listener feedback #2
Barbara in Atlanta and Kevin English from Flir: Both said that our numbers with the IR thermometer and camera were off because of the phenomenon of emissivity. Because the can was somewhat reflective, it was picking up the reflected heat from Matt's arm and other objects in the room, including the LED and fluorescent studio lights.
Listener feedback #3
Dennis writes, In Podcast 196 you spoke of the Pacific NW and mentioned Oregon, horribly mispronouncing the last syllable like the word "gone." True Oregonians are now annoyed with you. The last syllable is pronounced like the word "gun." If you say   "or'- uh – gun"    or    "or'- I – gun"  you should be safe from the wrath of the natives.
Editors' home project updates:
Kiley's design charrette
Patrick's new water filter, finished wardrobe, and painted barn
Matt's gazebo roof
---
Question 1: What's the best way to frame rake overhangs for a roof-insulation retrofit?

Connor from Paso Robles, CA, writes, Hey Guys, Love the podcast, have listened to all the episodes on my commute, good stuff.
My wife and I are in the initial planning stages of a down to the studs remodel and I had a quick question about the exterior rigid insulation retrofit outlined here, basically building a cold roo
My question is how are you supposed to frame the rake overhang (fly rafters) when using this approach? My assumption is that you cut them off at the same time you cut off the rafter tails to insulate an air seal the building envelope.
I suppose you could put 2x4s on the flat running perpendicular to 2x4s over the main rafters, that extend out over the rake but that would block the vent channel on the 2 or 3 rafters that you need to get stability for the overhang.
Just wondering if there is a good way to do this?
For context we are in Paso Robles, CA, so the cold roof in intended to vent heat not prevent ice damns, also snow load on the rake overhang is not a concern.
Related links:
---
Question 2: When should I reference the International Existing Building Code instead of the International Residential Code?
Zachary in Connecticut writes, Hi gang, I am currently preparing to submit a building permit application to my town for a complete gut and remodel of a bathroom and bedroom/office. While filling out the permit I noticed that the Building Official asks for a statement on "which code the redesign will adhere to, the International Residential Code or the residential portion of the International Existing Building Code, both as defined by the 2018 Connecticut State Building Code." Could you guys and gal shed some light on the differences between the two and any particulars I should look out for in selecting a code for my specific application of a bathroom and bedroom?
Attached is the form where the statement is requested. Thanks!
Related links:
---
Question 3: What's the best product for air-sealing exiting sheathing when insulation an attached garage?
Mark writes, Hey everyone, I have an upcoming project of making a one car attached garage part of the house. There is little to no insulation in the garage walls and I'll be tearing out the old drywall and sealing/insulating the wall cavities. I never use duct tape on anything because it's terrible, foil tape works better but tends to lift up from any surface that isn't really clean (I was using it between sheets of XPS on another project, maybe not the best tape for that).
How would you air seal the corners of the cavities at the sheathing? Should I use caulk? (If so, what kind?) or is there a good tape that sticks well to sheathing, osb, and less than perfectly clean surfaces? Really enjoy the show. Thanks
Related Links:
Which are the best tapes according to Backyard Tape Test?
Three of the most impressive tapes were Siga Sicrall, Siga Wigluv, and 3M All Weather Flashing Tape. Siga Sicrall was the best-performing tape on XPS.
Siga Wigluv and 3M All Weather flashing tape clung tenaciously for 10 months to both plywood and OSB.
---
Question 4: What are some affordable options for adding gutters to a house with a copper standing-seam roof?
Comer writes, My wife and I renovated an old house, and back when we had money we thought it would be a good idea to put on a copper roof. Fast forward about 18 years later, now we have less money, and can't afford to have professionally installed gutters (quotes north of 20k). The house siding is architectural Hardy Plank, and pretty solid skin overall. We are now getting some water damage around some poorly built sills, but the house in general is in good shape.
I have to find a solution for gutters: I have considered ordering the copper pieces myself from one of these gutter direct sites, and put them up myself. Still expensive but a lot less. Can you think of other options?
I live in Virginia, and will have to use snow guards.

Related Links:
---
And finally…
Links:
---
Learn more and register for the Fine Homebuilding Summit.
---
#KeepCraftAlive

KeepCraftAlive hats help celebrate the value of true craftsmanship–plus 50% of all proceeds from every hat sold go to the #KeepCraftAlive Scholarship Fund, supported by Fine Homebuilding and SkillsUSA.
Buy a #KeepCraftAlive hat or t-shirt
---
This episode of the podcast is brought to you by MiTek and The Bilco Company
Brought to you by MiTek ProSeries Structural Wood Screws, the new standard in wood screws. MiTek's ProSeries Screws are code compliant, reduce labor time, and are available for many fastening needs. And now the MiTek ProSeries line includes the WSTS Truss/Stud Screw. The WSTS includes an installation angle tool and driver bit to help you drive every screw at the exact angle needed without complicated jigs or measuring. Reverse thread angles on opposite ends of the screws provides higher load capacity while a fully threaded shank allows for more flexible installation. Get through the job faster, easier, and stronger with MiTek ProSeries WSTS Truss Stud Screw. Visit Mitek-Us.com and search Pro Series for more information.
And by The BILCO Company. Basement improvements are one way for homeowners to add livable and saleable square footage to their homes. BILCO basement doors and egress window wells provide access to finished basement areas and add light, ventilation and code-compliant emergency egress. Whether it's a family room, game room, home gym or even an extra bedroom, get more out of your basement with BILCO. For more information visit BILCO.com.
---
We hope you will take advantage of a great offer for our podcast listeners: A special 20% off the discounted rate to subscribe to the Fine Homebuilding print magazine. That link goes to finehomebuilding.com/podoffer.
The show is driven by our listeners, so please subscribe and rate us on iTunes or Google Play, and if you have any questions you would like us to dig into for a future show, shoot an email our way: [email protected]. Also, be sure to follow Justin Fink and Fine Homebuilding on Instagram, and "like" the magazine on Facebook. Note that you can watch the show above, or on YouTube at the Fine Homebuilding YouTube Channel.
The Fine Homebuilding Podcast embodies Fine Homebuilding magazine's commitment to the preservation of craftsmanship and the advancement of home performance in residential construction. The show is an informal but vigorous conversation about the techniques and principles that allow listeners to master their design and building challenges.
Other related links