Design
Rethinking a Kitchen
This kitchen remodel improves function and flow—and bucks the status quo.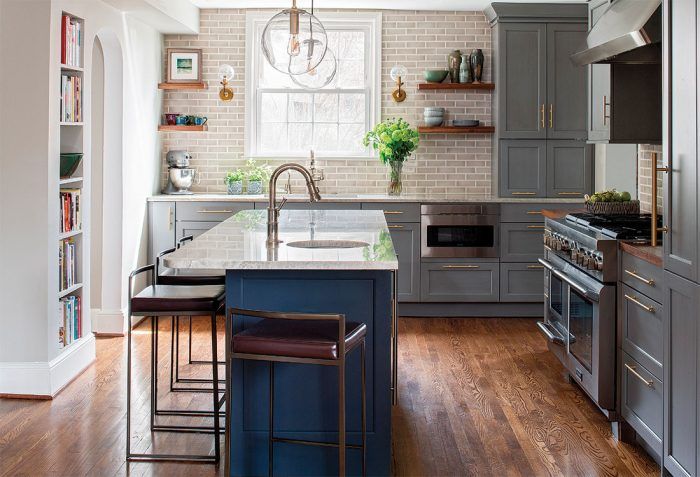 Synopsis: Designer Nadia Subaran of Aidan Design made a number of unusual decisions for this kitchen remodel, including removing a window, separating the refrigerator and freezer, and adding wood next to the stove in place of stone countertop. The creative workarounds and unique design ideas make the kitchen and mudroom addition truly shine.
---
Contrary to current trends in kitchen design, there are times when omitting a window is the right solution to a problem. Such was the case for this Silver Spring, Maryland, kitchen and mudroom project by Aidan Design. "The push is to create spaces that are more light-filled, open, and connected to all of the adjacent spaces," says principal Nadia Subaran, "but the first thing I told these homeowners was that they should close up a window in the dining area."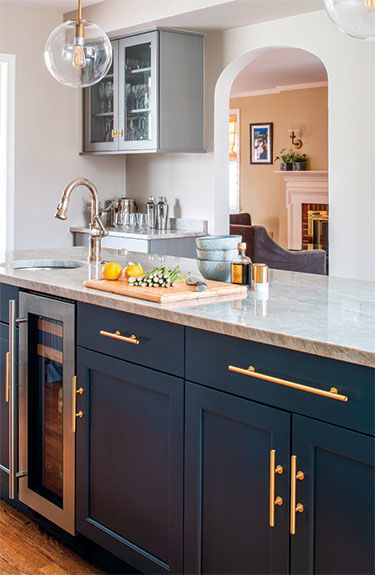 The window was a sticking point for a few reasons. Working around it created a tight squeeze for a 36-in. range, and the dimensions of the adjacent mudroom were limited by the window's location. Plus, the view was the side of a neighboring house. Removing the window and forfeiting the light wasn't an easy sell, but Subaran appealed to the couple's culinary proclivities, noting that with the window out of the way, there would be room for a 48-in. range, which would be a game-changer. Additionally, the mudroom would be able to expand, which was critical to improving its capacity to function on multiple levels.
Space was taken from the dining area to enlarge the kitchen, which meant it could now accommodate a dry bar and a large center island. The bulk of the cabinetry is full-overlay maple in Wood-Mode's Vintage Shadow Gray, while the island cabinets are Navy. "We didn't want wood finishes because we already had wood floors," Subaran notes, explaining that natural wood was used for small accents, such as the floating shelves. She concedes that navy in the kitchen has been trending for the last couple of years, but explains her choice this way: "When it comes to cabinets and countertops, we always think about materials and colors that will have longevity. We've been doing navy for about eight years and custom grays for about 18 years—they are not a trend; they are part of the classic color palette."
Sources:
CABINETRY Brookhaven Edgemont Recessed by Wood-Mode
APPLIANCES Thermador range, Sub- Zero refrigeration and wine unit, Zephyr range hood, Sharp microwave, U-Line undercounter refrigerator
FAUCET Mountain Plumbing Products
SINK Franke
COUNTERS 3-cm Victoria Falls Quartzite for sink, island, and dry bar; walnut for range wall and mudroom
BACKSPLASH 2-in. by 6-in. Encore Ceramics C22 Silver Crackle Glaze ceramic field tile; 1/4-in. by 6 1/2-in. miniquarter- round with Laticrete grout and caulk in Sauterne
CABINET HARDWARE kitchen, Lewis Dolin; mudroom, Top Knobs Aspen
More kitchen remodels:
7 Ways to Save on a Kitchen Remodel – Interior designer Melissa Prevost shares some straightforward alternatives to traditional budget busters.
From Kitchen Refresh to Extensive Renovation – When a kitchen remodel grew in scope, the entire first floor was reconfigured for graceful aging in place and hosting visiting relatives.
Kitchen Remodel Under $20k – A Labor of Love: Do some work yourself and be selective with your spending for an elegant kitchen remodel on a tight budget.
---
From Fine Homebuilding #287
To view the entire article, please click the View PDF button below.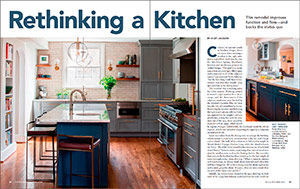 View PDF